Will Changes to Medicaid Affect Ohio Drug Rehab Patients?
Last Updated: November 10, 2022
Jump to Section
Ohio residents who receive Medicaid should take note that significant changes are coming to the program that will affect accessibility and the terms of what services they can access with their coverage. This will involve a requirement that mandates Ohio Medicaid recipients to work in order to receive healthcare. However, most people currently receiving taxpayer-funded health coverage already work or will be exempt from the mandate due to disability, age, or other conditions.
This article examines a recent change to Ohio's Medicaid program regarding a work requirement for certain services. Will addiction treatment coverage change? What does Medicaid cover now in the way of addiction treatment?
What This Means for Ohioans
According to Gov. Kasich's Director of Health and Transportation, Greg Moody, most Ohioans who receive Medicare are working or not subject to the requirements due to extenuating circumstances. However, the new mandate is likely to displace at least 36,000 enrollees from the system, or about five percent of total recipients. The idea behind this requirement is that work will provide dignity and a means to move forward economically while no longer depending on benefits for healthcare.
However, critics of the bill fear it will have the opposite effect, particularly for those in low-wage fields with irregular hours such as fast food, landscaping, retail, and direct care. Currently, the requirement means that you have to work at least 20 hours a week to qualify, unless you are elderly, chronically ill, or a caregiver. However, if someone does not know how many hours they may work in a particular week, this can quickly get complicated.
How it Affects Ohio Drug Rehab
For Ohioans struggling with drug or alcohol addiction, there is good news. The Medicaid work requirement will not extend to those who are participating in a drug or alcohol addiction treatment program. With this in mind, there is no better time to seek addiction help if you are not already doing so. Enrolling now in a certified treatment program will get you the help you need, and it can help you to keep your health coverage until you are back on your feet and able to work at least 20 hours a week.
If you are currently able to work and still seeking addiction help, Ohio offers an array of options for Medicare recipients, including preventative care, screening/analysis, ambulatory detoxification, individual/group counseling, intensive outpatient therapy, and so much more to help you manage your condition and live a healthier life.
---
Are you ready to change your life and get help today? Stop battling addiction alone. The Recovery Village Columbus will work with you to find the treatment and payment option that works best for your unique situation. Contact us to learn about admission or outpatient counseling and see how we can help you get on track to a life free from addiction.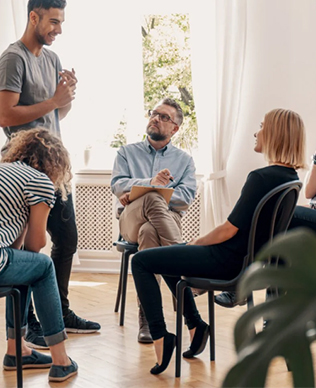 Questions?
Our Recovery Advocates are ready to answer your questions about addiction treatment and help you start your recovery.