Does Alcohol Affect Birth Control?
Last Updated: April 25, 2023
Jump to Section
Alcohol does not interact with birth control, but you must still be able to take your birth control as directed while drinking.
Alcohol has many well-known drug interactions with prescription drugs like opioids, benzodiazepines and over-the-counter supplements like St. John's Wort. If you take birth control, you may wonder about the impact of alcohol on your contraception. Fortunately, alcohol has no known interactions with birth control that would make your birth control less effective. However, it is important to retain the ability to use birth control appropriately while drinking.
Can You Drink Alcohol While on Birth Control?
You can drink alcohol while on birth control in many cases. Unless your doctor advises you to avoid drinking for another medical reason, such as a medical condition or other medication, there is no evidence that alcohol impacts the effectiveness of birth control.
Populations at Higher Risk for Complications
Although alcohol is not known to affect birth control, many types of birth control require the appropriate use, like remembering to take daily birth control pills. Because alcohol use may impair your motor skills and memory, drinking may stop you from using your birth control appropriately.
In contrast, other types of birth control, like an IUD or implant, do not require any specific action on your part after your doctor has administered it.
How Alcohol Affects Different Types of Birth Control
No evidence exists that alcohol impacts any form of birth control. In fact, the Centers for Disease Control and Prevention (CDC) specifically recommends birth control if you are a female of childbearing age who drinks alcohol.
In addition, the American College of Obstetricians and Gynecologists (ACOG) describes no concern with using alcohol with contraception in their guidelines. Further, the CDC does not list alcohol use as a factor for doctors to consider while prescribing birth control, nor does it factor alcohol use into their recommendations about choosing specific contraceptives.
Lastly, there are no known drug interactions between alcohol and birth control. However, conflicting reports show that women on contraceptives may be predisposed to higher blood alcohol levels than those who are not.
That said, being drunk may interfere with remembering to take a birth control pill or use a condom correctly. As a result, even though alcohol is not known to impact birth control, it may affect your ability to use it properly. When used appropriately, birth control is generally very effective, but the effectiveness can differ depending on the type you use:
Implant, 0.05% failure rate
IUD, 0.2%–0.8% failure rate
Sterilization, 0.15%–0.5% failure rate
Injection, 6% failure rate
Birth control pill, 9% failure rate
Patch, 9% failure rate
Vaginal ring, 9% failure rate
Diaphragm, 12% failure rate
Male condom, 18% failure rate
Female condom, 21% failure rate
Cervical cap, 17%–22% failure rate
Sponge, 12%–24% failure rate
Fertility-awareness only, 24% failure rate
Spermicide, 28% failure rate
Considerations for Drinking on Birth Control
If you drink while on birth control, it is important to use your birth control appropriately, be it remembering to take your birth control pills or retaining the ability to use a condom correctly. Becoming pregnant while drinking alcohol can put a fetus at risk of fetal alcohol syndrome, a disorder with lifelong complications.
---
Heavy drinking increases the risk of engaging in reckless behavior, such as unprotected sex. If this sounds like you, it may be a sign to check into an addiction treatment program. The Recovery Village Columbus can help you detox safely and maintain sobriety long after you leave our facility. Contact a Recovery Advocate today to learn more about our evidence-based treatment.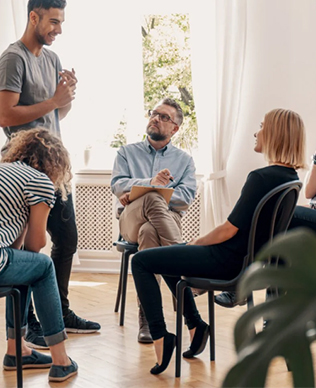 Questions?
Our Recovery Advocates are ready to answer your questions about addiction treatment and help you start your recovery.