Neonatal Abstinence Syndrome and Ohio's Babies
Last Updated: October 26, 2022
Jump to Section
In the United States, a baby is born with neonatal abstinence syndrome (NAS) every 25 minutes as a result of drug use throughout pregnancy.
In fact, the use of opioids in pregnancy has dramatically increased over the past two decades, causing a significant rise in the number of babies that are born suffering from withdrawal to opioids.
What Is Neonatal Abstinence Syndrome (NAS)?
Also referred to simply as "NAS," neonatal abstinence syndrome is a group of conditions that causes a baby to experience withdrawal symptoms as a result of being exposed to specific drugs in the womb. It's more often caused when a woman takes opioids during pregnancy. And based on the prevalence of opioid use, addiction and overdose deaths in Ohio and across the country as of late, the rise in NAS among babies is part of the progression of substance use.
Pregnant women who take opioids or other hard drugs can inadvertently pass these drugs onto their unborn babies through the placenta. This, in turn, can cause serious issues and complications for the fetus. The placenta is what feeds the baby both food and oxygen through the umbilical cord. As such, anything else that may be in the woman's system — including drugs — can also be passed onto the baby.
What Are the Signs and Symptoms of NAS?
Babies who are born with NAS may exhibit a number of different symptoms. In fact, every baby will experience their own unique symptoms as a result of NAS. Further, some babies might start showing signs of NAS right after birth, while others might not show signs until as much as a week after birth.
Signs and symptoms of NAS can include:
Tremors
Seizures
Twitching
Irritability
Constant crying
Poor feeding
Slow weight gain
Problems sleeping
Blotchy skin
Congestion
Digestive system issues
Fever
Sweating
The exact symptoms that are experienced and expressed will depend on the specific type of drugs that were used during pregnancy. They'll also depend on how long the drug was taken and how much of it was used throughout the pregnancy. How the woman's body metabolizes drugs also plays a role, as does whether or not the baby was premature at birth.
What Can Be Done?
Preventing NAS in infants is best done by avoiding drug use throughout pregnancy. While certain mild pharmaceutical medication might be safe to take (under the supervision and direction of a doctor), most others are not. Opioids do not typically fall under the umbrella of safe drugs to take during pregnancy.
Unfortunately, many women are addicted to opioids long before they even become pregnant. Because of their addiction, they may find it extremely difficult to stop using drugs one they've conceived.
Pregnant women who are addicted to opioids are encouraged to seek Ohio addiction treatment for their substance use disorder.
Addiction Treatment During Pregnancy Can Help
Pregnant women suffering from an addiction to opioids can prevent their babies from being born with NAS by seeking help long before they give birth. In Ohio drug rehab, mothers-to-be can be given appropriate medication to help them detox and minimize withdrawal symptoms while learning the tools needed to overcome their addiction.
There are centers that specialize in treating women who are pregnant and addicted to opioids, so those who participate in such programs in Ohio drug rehab can get help that's specifically designed for their unique situation.
If you or someone you love is looking to get pregnant, or a new mom, The Recovery Village Columbus can help. Contact The Recovery Village today to learn about admission to treatment programs in Ohio and beyond.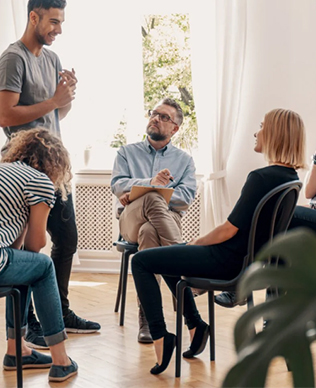 Questions?
Our Recovery Advocates are ready to answer your questions about addiction treatment and help you start your recovery.