Toledo's Battle with Heroin and Fentanyl: Where We Are Now
Last Updated: January 17, 2023
Jump to Section
The state of Ohio was second only to West Virginia in the number of drug overdose deaths per capita in 2016.
That year, Ohio reported 39.1 overdose deaths per 100,000 people, nearly twice the national rate of 19.8 per 100,000. In Lucas County, the rate was 24.1 per 100,000 people—lower than the state average, yet higher than in any other county in northwest Ohio.
In a region composed of 21 counties in northwestern Ohio and southeast Michigan, 112 of 288 confirmed opioid overdoses were due to fentanyl, which is a synthetic opioid that is 100 times more potent than morphine. Fentanyl is 50 times more potent than heroin.
Not All the News is Bad
While overdoses in northwest Ohio due to Fentanyl increased sharply from 2015 to 2016, deaths from heroin overdose remained flat during that same time period. Deaths from prescription drug overdose dropped to the lowest level since 2009. This drop is attributed to stricter prescribing guidelines for opioids, as well as greater awareness, and community programs such as drop boxes for leftover painkillers.
In late 2017, new rules limited doctors to prescribing seven days of opioids to adults for the treatment of acute pain. For children, such prescriptions are limited to five days. This rule is designed to address one of the root causes of opioid addiction, which is the development of addiction while taking prescribed opioids for various medical conditions.
The Bad News: Illicit Fentanyl
From 1999 to 2015, the number of opioid overdose deaths in the US rose from 8,050 to a staggering 33,091, and then rose again to roughly 64,000 in 2016. But fentanyl is a powerful painkiller that was typically reserved for the most severe pain, such as that suffered by late-stage cancer patients, so how are ordinary people getting it?
Chinese labs churn out fentanyl far faster than U.S. authorities can seize it. From China, the drug is sent to Mexico, and from there, traffickers and truckers deliver it along well-known narcotics pathways into the U.S. Once in cities and towns, it is often street gangs that deliver the fentanyl to drug users. While the FDA, DEA, and CBP agents do their best to stem the tide of fentanyl coming into the U.S., it quite often isn't discovered until it's found in overdose victims.
Heroin Addiction in Lucas County
Lucas County is the largest county in northwest Ohio, and in 2015, Lucas County had the state's eighth highest number of unintentional fentanyl-related deaths. Fentanyl is desirable in northwest Ohio, but it is not as easy to obtain as other opioids like oxycodone, Percocet, and Vicodin.
Regardless of which prescription opioid a person may use, if addiction takes hold and the user bumps up against their doctor's prescribing limits, the next step may be heroin, which is cheaper than prescription opioids and easier to obtain. And when heroin is laced with fentanyl, the results are often deadly.
Six Building Blocks of Successful Ohio Drug Rehab Programs
Evidence-based treatment is the foundation of heroin addiction treatment in Ohio, and is based on the Substance Abuse and Mental Health Services Administration's (SAMSA's) recommended treatment improvement protocols. Addiction treatment planning is based on a six-dimensional approach:
Determining a person's past and current experiences with substance abuse and withdrawal
Assessing their health history and physical condition
Assessing their mental health, emotional, behavioral, and cognitive state
Determining an individual's readiness for change and interest in changing
Learning if the person has experienced relapse of substance use
Exploring their current living situation with an eye toward their return to the community
None of these dimensions can be skipped over or given short shrift if the person's chances for succeeding with recovery are to be maximized.
Goals and Objectives for Reducing Opioid Misuse
The overarching goal in Lucas County and northwest Ohio is to reduce the misuse of opioid drugs. Four desired outcomes support that goal:
Reducing the costs to the healthcare system and the economy of opioid misuse
Reducing opioid-related crime
Reducing the numbers of babies born with an addiction to opioids
Reducing opioid deaths
The Northwest Ohio Opioid Addiction Treatment Planning Task Force was established in April 2016 to address lack of access to Toledo addiction treatment resources for people who misuse or overdose on opioids. The task force focuses on increasing access to community-based detox and rehabilitation, and it has made several recommendations.
Biggest Service Gaps Currently at Sub-Acute Treatment Phase
Often, a person's first exposure to Ohio drug rehab resources is in an overdose emergency, when they undergo stabilization in a hospital emergency department. Once the patient's situation is non-life-threatening, sub-acute care is the next preferred step. Three main problems present themselves at this point. First, there simply aren't enough beds available for sub-acute care at the right time for many people. Second, health insurance may not cover sub-acute care. And finally, once a patient has been stabilized, they're often uninterested in further treatment, and will leave the facility against medical advice.
Proposed Changes to Federal Laws
For Ohio drug rehab resources to become available to more people and make a real impact on opioid misuse, several federal laws will need to be updated:
42 CFR Part 2 – which controls sharing of information concerning an addiction treatment patient's information, which is currently more stringent than controls on physical health diagnoses.
An exclusion that prohibits Medicaid from reimbursing inpatient treatment in facilities with more than 16 beds, or for longer than 15 days
DATA-2000 – which restricts how many patients that doctors certified to prescribe medication-based treatment like Suboxone can treat, particularly in their first year of certification
Changes to these laws would be expected to open up access to more people with substance use disorders, allowing more people with heroin addiction to receive the treatment they need to recover.
Ohio Drug Rehab Options
Ohio has been hit hard by the opioid epidemic, and has already taken some steps, such as stricter prescriber requirements to reduce abuse of opioids. But that doesn't help when drugs like fentanyl and heroin make it onto the street. Heroin addiction can be overcome, with proper medical, mental health, and social services treatment. If you are interested in your Ohio drug rehab options, we encourage you to learn about admissions today.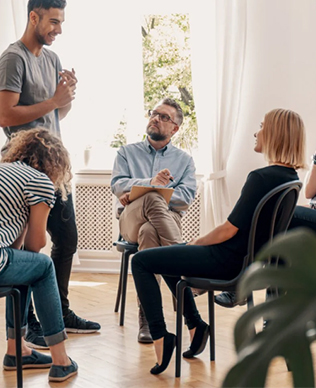 Questions?
Our Recovery Advocates are ready to answer your questions about addiction treatment and help you start your recovery.