Humana Insurance Drug & Alcohol Rehab Coverage in Ohio
Last Updated: September 19, 2022
Humana drug and alcohol rehab coverage is available for those seeking addiction treatment services at The Recovery Village Columbus.
As one of the nation's biggest health insurance companies, you may wonder, does Humana cover rehab? While the answer is yes, your coverage depends on your location, your plan and the treatment facility you go to. Your out-of-pocket costs will probably be much less if you go to an in-network rather than an out-of-network facility.
Humana Provider Overview
Based in Louisville, Kentucky, Humana is one of the country's largest insurance companies, covering more than 16 million people. As is true with other private insurers, it's required to cover mental health and addiction treatment as an essential benefit because of the Affordable Care Act. Along with medical plans, Humana is also a pharmacy, vision and dental plan provider.
Humana Coverage Levels and Plans
Like other providers, Humana requires you to pay a particular amount of your out-of-pocket expenses towards your health care costs every year before your coverage kicks in. If you need addiction treatment and have Humana, you'll have to meet your deductibles and copays out of pocket. Then the insurer will cover the rest once you've met your financial responsibility based on your plan.
Specific details can differ depending on your state and other factors, but Humana offers several plans, including:
Bronze: A bronze plan usually covers around 60% of your care costs.
Silver: Silver plans provide about 70% coverage.
Gold: A gold plan goes up to 80%.
Platinum: A platinum plan with Humana may cover around 90% of the costs of your care.
Does Humana Insurance Cover Addiction Treatment?
Addiction is a chronic brain disease often accompanied by co-occurring mental health disorders. Under the Affordable Care Act, private insurance companies, including Humana, must cover treatment for addiction and mental health disorders as essential health benefits.
Does Humana Cover Inpatient Rehab?
An inpatient rehab program offers an intensive, immersive level of care where you can focus entirely on your treatment and recovery. You live onsite in a residential setting, taking you out of your environment of substance use. Much of the inpatient rehab costs will likely be covered if you have Humana. What's not covered can be worked out with the treatment facility, and there are often flexible payment options.
Does Humana Cover Outpatient Care?
Humana may cover inpatient and outpatient addiction treatment and mental health services. Outpatient care may be a standalone treatment for addiction in situations where it's mild or shorter-term. You might also first complete a higher level of care, such as an inpatient program, and transition to the flexibility and responsibility of outpatient treatment as you're ready.
Does Humana Cover Mental Health Services?
The ACA requires Humana to cover mental health services, which may include:
Talk therapy
Cognitive-behavioral therapy
Medication management
EMDR (eye movement desensitization and reprocessing)
Drug & Alcohol Addiction Treatment Types Humana May Cover
When someone participates in a drug and alcohol addiction treatment program, different intensity levels are available. Some types of treatment Humana may cover include:
Medical detox: This part of a treatment plan is when you're stabilizing, substances are leaving your system and you may be experiencing withdrawal symptoms. Your Humana plan may cover medical detox, including medications to help reduce symptoms of withdrawal and substance cravings.
Intensive inpatient: This high level of care is residential, and Humana often offers some coverage.
Partial hospitalization: After an inpatient program, or as a starting point in a treatment plan, may be a partial hospitalization program with inpatient and outpatient rehab elements. Humana health insurance typically covers this hybrid type of treatment at some level.
Intensive outpatient: Intensive outpatient programs are a high level of treatment offered on a more flexible outpatient basis, with some coverage from Humana.
Outpatient: The most flexible and least intensive level of care, your Humana plan may cover an outpatient program or ongoing outpatient treatment after completing a higher level of care.
What Length of Treatment Does Humana Cover?
Your addiction treatment plan should be tailored to your needs, and when deciding the length of treatment to cover, Humana assesses many factors. These factors include:
The insurance plan and location
The center where you will receive treatment
Your medical history
Your medical needs
Whether you've previously received addiction treatment or gone to another rehab program
Ohio Rehab Facility That Accepts Humana Insurance
The Recovery Village Columbus is in-network with Humana insurance. If you're unsure of the details of your plan or what's covered, our Recovery Advocates can help verify your insurance and work with your insurer on your behalf. You can also contact Humana directly or use our convenient insurance verification tool. If you're ready to learn more about what a life free of addiction could look like for you or how to cover rehab costs, contact us today.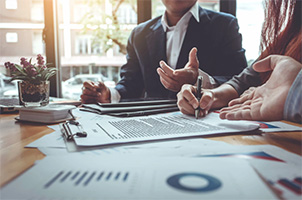 Verify Your Insurance Online
See if your insurance will cover treatment at The Recovery Village Columbus.