Substance Abuse and Addiction Treatment Resources in Cleveland – Locations & Support
Last Updated: February 28, 2023
Cleveland is a waterfront city in northeastern Ohio and is situated along the southern shore of Lake Erie. Once part of the industrial Steel Belt, the city is transitioning into an art-heavy, metropolitan area teeming with professionals working in the medical, technology and finance fields. The city is the home of three professional sports teams — the Cavaliers of the NBA, the Browns of the NFL and the Indians of the MLB — and Cleveland is also home to the Rock and Roll Hall of Fame and Museum.
Yet this progressive and thriving culture does not make the city — or the entire state of Ohio — immune to the country's problem with substance use disorders. In 2016, Ohio ranked second in the nation in drug overdose deaths, according to the Center for Disease Control. In total, there were 4,539 people in the state that year who died due to drug overdoses.
Overcome addiction with evidence-based, expert care.
In 2016, heroin and fentanyl killed more people in Cuyahoga County, where Cleveland resides, than homicides, suicides or car crashes. In the same year, there were 666 deaths in the county, due to those two drugs. There also were 260 people who died of cocaine overdose in 2016.
The city's position along the Cuyahoga River, Lake Erie and four interstates makes it a convenient link for the drug trade between Chicago, Detroit, New York City and Canada. The regions centralized location makes it a hub for drug activity that continually impacts the lives of innocents. The Ohio Perinatal Quality Collaborative reported that during one 18-month period, hospitals in the state treated more than 4,000 newborns for neonatal abstinence syndrome.
There's still reason for hope. If you or someone you know is in need of drug and alcohol rehab in Cleveland, there are resources available to provide the necessary levels of care.
Our Closest Facility:
The Recovery Village Columbus Drug and Alcohol Rehab
3964 Hamilton Square Boulevard Groveport, OH 43125
(614) 362-1686
Finding Drug and Alcohol Rehab in Cleveland, Ohio
Regardless of where you find drug or alcohol addiction treatment, some of the most common levels of care people enroll in are:
Inpatient residential treatment programs take place at a rehabilitation center, where patients receive 24-hour medical supervision. This level of care is often the best choice for clients beginning their recovery from drugs or alcohol addiction because they can receive the support and care necessary to build a solid foundation for their recovery. Doctors and nurses provide necessary medications, when applicable, and safely mitigate and monitor withdrawal symptoms. Clients typically stay in this program for between a few weeks and a few months, although the specific length of time varies on each individual's physical characteristics, genetics and level of addiction.
Partial Hospitalization Programs
Partial hospitalization programs are less restrictive for patients than inpatient programs and are at times recommended for people who have already experienced detoxification and previously completed the inpatient treatment level of care. A partial hospitalization program provides clients with housing and the medical staff provide constant care to watch for any dangerous withdrawal symptoms.
Outpatient treatment programs are significantly different from inpatient programs, because the clients can choose where to live and with whom, including by themselves or with family members. People who are in outpatient programs often continue their day-to-day responsibilities, including house chores, schooling or employment.
Alcohol Rehab Centers and Drug Rehab Centers
Alcohol rehabilitation centers and drug rehabilitation centers help people suffering from substance use disorder overcome their addiction and learn coping strategies for a healthier lifestyle. Many rehabilitation centers in Cleveland and the surrounding areas provide treatment for co-occurring disorders such as mental illnesses and anxiety attacks.
These facilities often house other people struggling with the same disease and can provide a supportive peer network for individuals to explore the roots of their addictions. Whether it's seeking alcohol rehabilitation or drug rehabilitation, these programs are often the key to a successful recovery.
Break Free From Alcohol Addiction
We are dedicated to your recovery. Let us build a treatment plan that is tailored to your needs today. Commonly Abused Drugs in Cleveland, Ohio
The Ohio Department of Health and Addiction Services reports that cocaine, heroin, marijuana and sedative-hypnotics are predominant drugs in Cleveland. Crack cocaine and powdered heroin are specific concerns for law enforcement officials in the city. Those are two of the most powerful drugs and are responsible for many of the overdoses that occur in Cleveland. Much of the heroin available to people has additives like fentanyl, which increase the drug's potency and danger.
Similar to other cities in the United States, prescription drugs can be highly addictive and dangerous because people who receive prescriptions from their doctors might believe they are safe to misuse.
Substance Abuse Hotlines
A substance use disorder can be a humongous struggle for people. The disorder can control a daily routine and negatively affect relationships with family and friends. Fortunately, help is available for individuals who want to improve their lives. Hotlines can put people in touch with experts who can provide useful information about commonly misused drugs, their potency and dangers, and potential for addiction. Some of the most common hotlines that can help people who live in Cleveland, Ohio, are:
Opiate Crisis Line: 614-724-HOPE (4673)
Netcare Access Crisis Hotline: 614-276-CARE (2273)

Ohio CareLine: 1-800-720-9616
Cleveland Drug and Alcohol Detox Centers
Understanding the impact an addiction to drugs or alcohol can have is one of the earliest stages of recovery. Knowing the negative effects of addiction could deter someone from misusing a prescription drug or seeking illegal substances. However, even if a dependence forms, it's never too late to find a supportive environment and work toward personal healing and growth.
Once the decision is made to begin drug or alcohol rehabilitation, detoxification is one of the first stages of the process. Cleveland has numerous drug detox centers and alcohol detox centers where people can complete their medical detox under the guidance of trained medical professionals. At these facilities doctors and nurses can provide 24-hour attention and administer medications when necessary to provide patients as much comfort as possible during the detox process.
Local Recovery Meetings Near You
Even when detoxification and rehabilitation is complete, a person's recovery from drug or alcohol addiction doesn't end. In fact, recovery is never truly finished. Recovery is a lifelong disease and affects millions of people each day.
People in recovery must continue to be proactive with their recovery by working through any co-occurring disorders and by attending individual and group therapy sessions. Another supportive measure is attending recovery meetings, which places individuals with other people who also struggle from substance use disorders. Finding and building a supportive network can be vital to the person's long-term success. There are several kinds of recovery meetings in Columbus, Ohio, and people can find the one that best suits their specific needs. Some of the regular meetings include:
Alcoholics Anonymous (AA) Meetings
Alcoholics Anonymous (AA) provides recovery support for people who are addicted to alcohol in the Cleveland area, and elsewhere throughout Ohio. These group settings can be productive for people who wish to stay on track after completing detoxification and rehabilitation from drugs or alcohol. The 12-step program provides a positive reinforcement and peer support network for individuals struggling with addiction. The following groups are available in Cleveland:
Cleveland District Office
1557 St. Clair Ave. NE
Cleveland, OH 44114
St. Timothy Missionary Baptist Church
7101 Carnegie Ave.
Cleveland, OH 44103
St. Vincent Charity Medical Center
2351 E 22nd St.
Cleveland, OH 44115
Narcotics Anonymous (NA) Meetings
Narcotics Anonymous is a support network for people who were addicted to narcotic drugs. Similar to Alcoholics Anonymous, this 12-step program is for people who have undergone detoxification and completed a rehabilitation program. The counseling and support groups can be helpful resources in overcoming the disease of substance use disorder. Cleveland's available meetings include:
Lee Heights Community Church
4612 Lee Rd.
Cleveland, OH 44128
Lonnie Burton Center
2511 East 46th St.
Cleveland, OH 44104
Prince Hall Masonic Temple
13512 Kinsman Rd.
Cleveland, OH 44120
SMART Recovery Meetings
SMART, which stands for Smart Management for Addiction Recovery, helps people overcome drug and alcohol addiction. The program provides people self-empowerment, self-reliance and education. SMART Recovery has many in-person meetings and peer-support groups in Cleveland and provides online sources for 24-hour communication with staff members for people experiencing cravings or setbacks in their recovery. The SMART Recovery meetings available in Cleveland include:
Cleveland Clinic WO Walker Building
10524 Euclid Ave.
Cleveland, OH 44195
Highland Springs
4199 Mill Pond Dr.
Highland Springs, OH 44122
Lakewood Library
4199 Mill Pond Dr.
Highland Springs, OH 44122
Al-Anon and Nar-Anon Meetings
Addiction can be a struggle for many people, including the families and friends of people who suffer from this disease. These people could often benefit from counseling and support, which are provided at Al-Anon and Nar-Anon meetings in Cleveland. The purpose of these meetups is to help people who know someone struggling with a substance use disorder. Living with, or continuing a relationship with, someone who is addicted can be a constant challenge, but Al-Anon and Nar-Anon meetings can help. Some of these meetings in Cleveland are:
Al-Anon
Murtiss Taylor Service Center
13422 Kinsman Rd.
Cleveland, OH
Nar-Anon
Brook Park United Methodist Church
6220 Smith Rd.
Brook Park, OH 44142
Since alcohol and drug addiction often results from the environments in which people live, many clients elect to attend a rehabilitation facility and recovery meetings outside of their home city. When looking for drug addiction treatment.
Need to Talk to Someone Now?
Our Recovery Advocates are available 24/7 to help connect you to the resources you need.
All calls are 100% confidential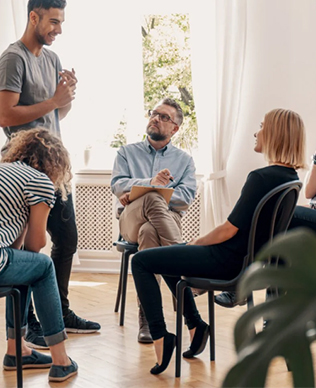 Questions?
Our Recovery Advocates are ready to answer your questions about addiction treatment and help you start your recovery.