Getting Help at The Recovery Village Columbus
Opioid addiction often starts with a prescription for pain medication. As your body becomes dependent on it to function, you may find you'd do anything to take more. According to the Ohio Department of Health, 2020 surpassed 2017 as the year with the most unintentional drug overdose deaths in Ohio, with many of these deaths attributed to opioids. Ohio Attorney General Dave Yost also says that Ohioans are dying at a devastating rate because of opioid overdoses.
Opioid overdoses have taken thousands of lives, but evidence-based addiction treatment saves lives and can help you start a new life in recovery.
What Is Opioid Use Disorder?
Opiates and opioids are highly addictive drugs. A person with an opioid use disorder has lost control of their opioid or opiate use and continues to take these drugs despite negative consequences. Willpower alone may not improve this medical condition; it often takes opioid addiction treatment.
Taking more or larger doses than prescribed
Withdrawal symptoms
Hiding opioid use from others
Hurt relationships
Needing higher doses for the same effects
"Doctor shopping"
Behavior or mood changes
Poor work or school performance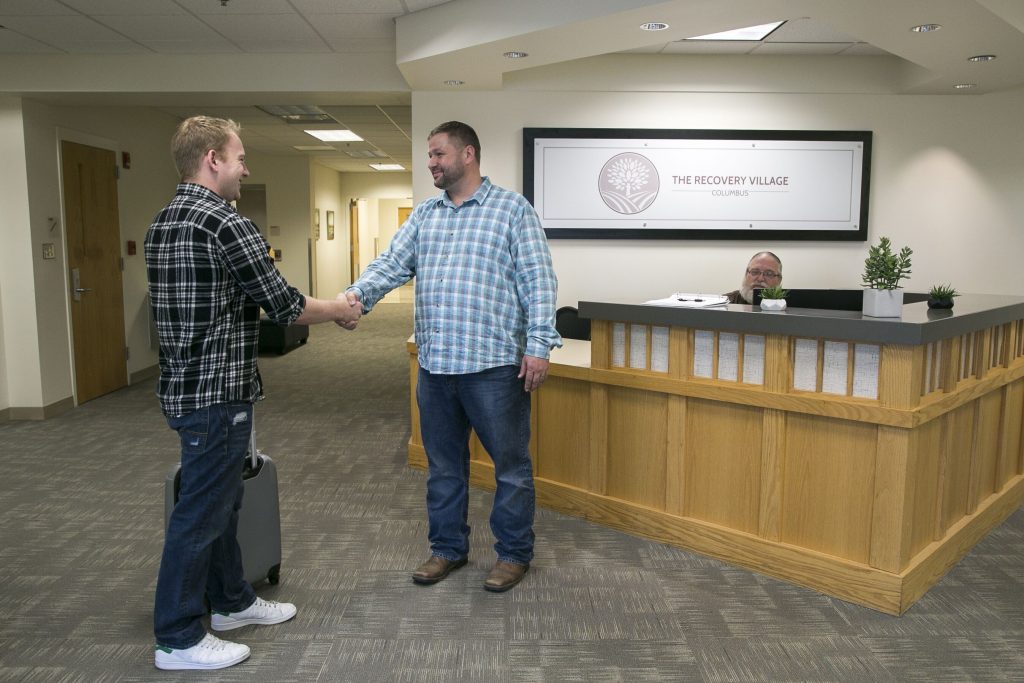 Why Choose Our Addiction Treatment Center?
Over 40,000 people have trusted The Recovery Village treatment centers with their addictions and co-occurring mental health conditions. Clients at The Recovery Village Columbus graduate from our evidence-based opioid rehab with the tools, self-awareness and support needed for an opioid-free life. Anyone can overcome opioid addiction if they devote themselves to their recovery and receive patient-centric, personalized care.
Opioid Rehab Programs in Ohio
Successful opioid addiction treatment has several steps. Our programs help you tackle the physical, emotional and mental symptoms to give you the best chance at lifelong recovery.
What Happens in Opioid Rehab?
At The Recovery Village Columbus, we treat the whole person — not just their addiction. Our methods are backed by research and results, then personalized to meet each person's needs.
Personal Therapy
Our counselors work with each client one-on-one to address their symptoms and thought patterns to find the root of their addiction.
Peer Support
Clients have regular group therapy sessions for support, guidance and fellowship with their peers in recovery.
Continuum of Care
People are more likely to relapse if they leave treatment too early. Clients step down to lower levels of care as their condition improves so they always have the right amount of support.
Supportive Downtime
Recreational therapies, sports and invigorating vistas help people build relationships with drug-free peers and develop hobbies that support recovery.
Invigorating Meals
Opioid misuse can wreak havoc on your health. Our chef creates delicious, nutritious meals designed to boost recovery and motivate inpatient clients.
Relapse Prevention
At every stage of care, we're preparing you for graduation. We'll build a relapse prevention plan and connect you with vital post-treatment resources.
Your Recovery Is Our Mission
The opioid epidemic is real, but you're not alone. Read our reviews and learn why The Recovery Village Columbus may be the best place for your recovery.
Explore your insurance benefits to pay for opioid rehab:
Most health insurance providers cover opioid rehab.
We're in-network with most insurance providers.
Verify your insurance coverage for opioid rehab with us.
We'll help you understand your coverage and benefits.
Paying for rehab without insurance is also an option.
Ready to start your recovery?
We'll be here to answer any questions, verify any insurance benefits, and book personalized treatment that works for you.