Co-Occurring Disorders & Dual Diagnosis Treatment
Last Updated: March 20, 2023
Jump to Section
Co-occurring disorders treatment is beneficial for those with both a mental health condition and an addiction, as the two conditions are treated together.
Dual diagnosis treatment centers in Ohio help patients who have a substance use disorder or addiction and a mental health condition. Many clients can benefit from receiving this evidence-based care at The Recovery Village Columbus.
What Are Co-Occurring Disorders?
Co-occurring disorders treatment and dual diagnosis treatment are phrases often used interchangeably. In simple terms, co-occurring disorders exist when a person has both a mental health condition and a substance use disorder. According to the National Institute on Drug Abuse (NIDA), 7.7 million adults in the United States have both a mental health condition and a substance use disorder. Furthermore, of those with a substance use disorder, 37.9% also have a mental health disorder.
Common Co-Occurring Disorders
While "co-occurring disorders" can refer to any mental health condition that exists alongside a substance use disorder, certain mental health conditions are more common than others with addiction.
From a research report from NIDA, the following mental health conditions are common in those with substance use disorders:
Anxiety disorders like generalized anxiety disorder, panic disorder and post-traumatic stress disorder
Mood disorders, including depression and bipolar disorder
ADHD
Schizophrenia and other psychotic disorders
Borderline personality disorder
Antisocial personality disorder
Need to Talk to Someone Now?
Our Recovery Advocates are available 24/7 to help connect you to the resources you need.
All calls are 100% confidential
Treating Co-Occurring Disorders
If you have a co-occurring disorder, it's important that you receive integrated treatment to address both conditions at the same time. Integrated treatment is often more effective than treating each condition separately. Common treatment methods for co-occurring disorders include the use of medication as well as cognitive behavioral therapy (CBT), which is a specific counseling method that can help people improve their coping skills.
At The Recovery Village Columbus, our staff are trained in the following approaches, all of which can be beneficial in co-occurring disorders treatment:
CBT
Dialectical Behavior Therapy (DBT)
Eye Movement Desensitization and Reprocessing (EMDR)
Neurocognitive Therapy
FORTITUDE
We also offer the FORTITUDE program which is designed specifically to meet the needs of veterans and first responders with co-occurring disorders. This program is a specialty track that offers a full continuum of care using evidence-based, trauma-informed approaches. We offer medical detox, residential treatment, outpatient care and group therapy specifically for veterans and first responders.
Our Approach to Treatment
At The Recovery Village Columbus, we use a multi-dimensional approach to recovery. We address all areas of life affected by addiction, including a person's physical, emotional and spiritual functioning. During your time in one of our treatment programs, you'll have the opportunity to participate in individual therapy to change negative thinking patterns and develop coping skills, as well as group therapy to learn how to interact with others in a healthy manner. You'll also receive support through nutritious meals, art therapy and yoga therapy for a well-rounded recovery.
What To Expect in Our Program
Our evidence-based dual diagnosis treatment is offered in both our inpatient and outpatient programs. We believe in holistic recovery, so you'll receive services to help you recover both physically and psychologically. Our team will create an individualized treatment plan that simultaneously addresses mental health and substance abuse because we know your best chance of recovery occurs when these conditions are treated together. After you complete a program, we'll link you to aftercare services to help you stay committed to recovery.
Start Your Recovery Journey Today
If you or a loved one is living with a co-occurring mental health condition and a substance use disorder, The Recovery Village Columbus offers dual diagnosis treatment. Contact our Recovery Advocates today; we're ready to answer your questions or help you begin the treatment process.
Break Free From Addiction
We are dedicated to your recovery. Let us build a treatment plan that is tailored to your needs today.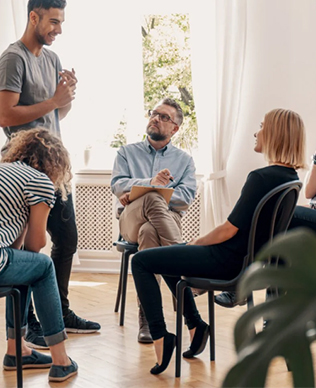 Questions?
Our Recovery Advocates are ready to answer your questions about addiction treatment and help you start your recovery.