Dayton Sober Lounge Part of Sober Curious Movement
Last Updated: February 16, 2023
Jump to Section
A new trend is now finding its way to bars and other locales that are typically associated with drinking. Instead of hosting alcohol-fueled parties, more and more establishments are beginning to cater toward sober partygoers. These pop-up events are part of what has been called the "sober curious" movement.
In Dayton, Ohio, Tonic Dayton has recently begun a weekly event at Glasz Blue Oven called True Nature Sober Lounge. The alcohol-free parties take place each week at the location with a goal of fostering addiction awareness while providing sober fun and peer support.
Sober Lounge Pop Up in Dayton
Sober curious bars like True Nature offer food, mocktails, entertainment, music and plenty of fun without the presence of alcohol. However, these lounges aren't only for those who are in recovery from an alcohol use disorder. To the contrary, sober curious events are also geared toward people who would simply like to feel the benefits of periodical sobriety.
What Is the Sober Curious Movement?
The sober curious movement is a trend driven by people who do not have an alcohol use disorder but still practice sobriety. These people may abstain in the long-term or simply stop drinking alcohol from time to time. Often, they're looking to experience the health benefits and have fun that comes with abstaining from alcohol use.
To help foster this movement, many bars and venues are hosting sober lounges. At these events and places, people can still go out and have a great time without the pressure to drink. As a side benefit of Tonic Dayton's endeavors, all proceeds from their events go toward helping community members affected by addiction.
Why Sober Events Are So Important in Recovery
For many newly sober people, it can be hard to go to social events that include alcohol. Concerts, sports games and simple hangouts with friends can easily cause anxiety in people who are recovering from an alcohol use disorder. This is why sober events and gathering spots like True Nature Sober Lounge Sober can be so helpful. They allow people to find sober fun and be able to have social outings without the temptation of using alcohol.
Peer support is an important part of recovery, and these events can help people find a community of others who are also sober. When someone feels they have no one to turn to, they can easily run the risk of experiencing a relapse. By providing options for sober social events, bars and restaurants can help people avoid these risks.
Finding Sober Fun
There are many benefits to being sober, but some people may worry that they'll be unable to enjoy social events like they used to. Luckily, there are plenty of ways to find sober fun in your area — even in places the sober curious movement hasn't yet reached. You can find sober events near you by searching online or browsing upcoming Facebook events. For example, community centers, coffee shops and art collectives often have family-friendly events where substances are strictly prohibited.
As your motivation to stay sober strengthens, you can gradually begin to attend events where alcohol may be present. However, it's important that you know what kinds of situations you can handle. If all else fails, make sure you have an exit plan at the ready.
The sober curious movement can help people see the benefits of sobriety, but it's not a replacement for addiction treatment. If you or a loved one is struggling with an alcohol use disorder, The Recovery Village Columbus can help. Contact us today to learn more about treatment plans and programs that can work well for you.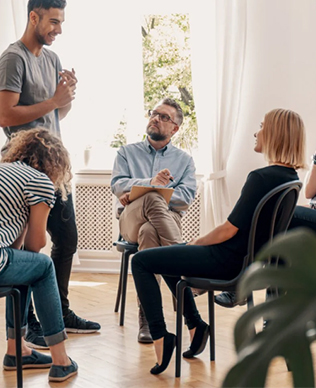 Questions?
Our Recovery Advocates are ready to answer your questions about addiction treatment and help you start your recovery.