Reduce Dementia Risk in Ohio Alcohol Rehab
Last Updated: February 17, 2023
Jump to Section
Did you know that alcohol abuse and dementia are potentially connected?
Recent research published in The Lancet has linked the abuse of alcohol and dementia. Though not a specific disease, dementia is more of a general term to refer to the decline in cognitive capacity that can impede on the ability of a person to function normally in every-day life.
The prevalence of dementia in the US among those 71 and older is almost 14%; for those between 71 to 79 years, that number increases slightly to 5%, and for those over the age of 90, the number jumps to 37.4%.
Symptoms of dementia may often include:
Memory loss
Mood changes
Confusion
Faulty sense of direction
Alzheimer's disease is the most common form of dementia and accounts for approximately 60% to 80% of all cases. This disease is a terrible one, stripping patients of their memories and their lives.
What is the Importance of the Association Between Alcohol Abuse and Dementia?
There are risk factors associated with the onset of dementia that are already somewhat well-known, including age, smoking, and depression. But how alcohol correlates with the risk of developing dementia is less understood. The Lancet study is providing much-needed insight into the role that alcohol abuse may play in the development of dementia.
While some studies have suggested that light alcohol use may actually help protect against dementia, moderate to heavy use can have harmful effects on the brain's structure. As such, it may increase the risk of developing the disease.
The question is, why does heavy alcohol use increase dementia risk?
How Does Alcohol Lead to Dementia?
Alcohol produces acetaldehyde when it is broken down in the body. This chemical is toxic to the brain cells, which is why drinking heavily may negatively affect brain function over time. Alcohol abuse is also linked to the increased risk of vascular dementia, which is a common type of dementia that is caused by a lack of adequate blood supply to the brain.
According to the recent study, alcohol abuse is defined as the overuse of alcohol on a chronic basis. The study's scientists looked at database information on hospital admissions, including why patients were admitted and the type of treatment they received. The information which was specifically looked at included admissions and discharges of people with brain damage related to alcohol use, as well as other types of dementia.
Approximately 3% of the dementia cases were directly associated with alcohol use. More importantly, the percentage was a lot higher – nearly 40% – when the researchers looked solely at cases of early-onset dementia and alcohol abuse.
How Can Ohio Alcohol Rehab Help Lower the Risk of Dementia?
Although alcohol abuse can negatively impact the brain health of an alcoholic, stopping its use early enough may be able to reverse some of these consequences. The prognosis for alcohol-related dementia largely depends on how early the condition is identified, as well as how early the heavy alcohol use stops.
People who beat their addiction before dementia has had the opportunity to progress stand the best chance of making a full recovery and slowing down the onset of this debilitating disease. Treating alcohol-induced dementia requires the assistance of a medically-based Ohio alcohol rehab facility.
Ohio alcohol rehab programs guide alcoholics through an effective and safe detox under medical supervision, followed by the appropriate type of counseling that focuses on the reasons behind alcohol abuse.
Treatment options for alcohol abuse vary, and the ideal choice is dependent on the addict. Regardless of which path you choose, it is possible to overcome alcoholism and thereby reduce your chances of developing alcohol-related dementia.
Contact us if you are struggling with alcoholism and need treatment to help beat your addiction.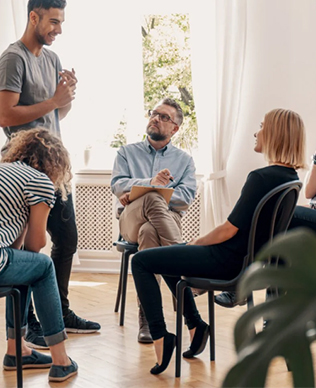 Questions?
Our Recovery Advocates are ready to answer your questions about addiction treatment and help you start your recovery.