LSD Treatment and Rehab in Ohio
Last Updated: January 17, 2023
Jump to Section
Article Overview
LSD does not cause physical dependence but may result in psychological dependence on the drug.
Although there is very limited scientific research concerning the treatment of addiction to hallucinogens, behavioral approaches may be effective in the treatment for LSD use
Detoxification at an inpatient or medical detox may be necessary for cases of severe dependence or in cases involving co-occurring substance use or mental health disorders
Treatment at a rehabilitation center immediately after completing detoxification can reduce the chances of a relapse
A treatment period of at least 90 days at an inpatient rehab is necessary for the treatment to be effective
Understanding LSD Addiction Treatment and Rehab
LSD is a synthetic hallucinogen that is used recreationally. Long-term use of LSD only results in psychological dependence characterized by a belief that one needs the drug to function normally. Although LSD is not considered to be addictive, psychological dependence may be severe and may require treatment at a rehabilitation center.
Addiction Treatment Options
Prolonged use of LSD does not lead to physical dependence on the drug, unlike other substances. The intake of LSD does not result in the adaptation of the body, necessitating regular intake of the drug to function normally. In contrast, individuals may develop a psychological dependence on LSD driven by the belief that they need the drug to function normally.
There is scarce scientific research on effective treatments for dependence and addiction to hallucinogens. However, individuals with a dependence on LSD may benefit from psychosocial treatments. This treatment may include cognitive behavioral therapy that involves teaching individuals to recognize thoughts that lead to drug use and learning coping strategies to resist drug use. Other forms of behavioral approaches and participation in support groups and 12-step programs may also help individuals to overcome their dependence on LSD.
Chronic use of LSD can also lead to adverse effects that may persist even after abstinence from its use. Such persistent effects are rare and include psychotic behavior and frightening flashbacks involving hallucinations experienced during drug use.
Certain antidepressants and antipsychotics have been shown to be effective in the treatment of psychotic symptoms, whereas behavioral therapy is recommended to help individuals overcome the fear associated with the flashbacks. The medical supervision and behavioral therapies provided at a rehab center can help individuals overcome their psychological dependence on LSD and cope with the persistent effects of LSD intake.
Medical Detox: Long-term use of LSD does not result in physical dependence, like other psychoactive substances including cocaine or opioids. However, prolonged use of LSD may lead to psychological dependence on the drug. Abstinence from LSD involves psychological symptoms including restlessness, irritability and anxiety that generally resolves within a few days. Treatment at a medical detox, however, may be necessary in case of severe dependence on LSD and simultaneous dependence on other substances. Medical detox involves round-the-clock supervision provided by trained medical staff in a safe and supportive environment. Treatment at a medical detox involves treatment in the form of medications for emergent symptoms and behavioral counseling.
Residential Rehab: Residential or inpatient rehab involves residence at the drug rehab center and involves 24-hour care in a structured and supportive environment. Inpatient rehab involves intensive treatment in the form of individual and group counseling, family therapy, participation in support groups and activities. Treatment at a residential rehab is necessary for severe cases of dependence and in instances of co-occurring substance use or mental health disorders. In the case of co-occurring disorders, the symptoms of the co-occurring disorders may influence each other and simultaneous treatment or dual diagnosis is necessary for the effective treatment of both disorders.
Outpatient Rehab: Outpatient rehab does not require residence at the treatment facility and allows the individual to resume working or continuing education. However, treatment at an outpatient rehab may be less intensive and increases exposure to triggers that may lead to drug exposure. Treatment at intensive outpatient rehabs may offer comparable services to inpatient rehab and may be suitable for individuals who have finished inpatient rehab but need considerable supervision. Treatment at a standard outpatient rehab also includes both individual and group counseling but may involve a greater emphasis on therapy in a group setting.
Aftercare and Sober Living: Maintaining sobriety after finishing inpatient rehab requires active effort and recovery from substance use disorder is a life-long process. Aftercare may involve behavioral therapy at an outpatient or participation in support groups like 12-step programs. Sober living communities may also help individuals transition to an independent life after finishing inpatient rehab. Sober living communities provide affordable residence to such individuals and provides a drug-free and supportive environment as they practice the skills they have acquired in rehab. Sober living communities provide a structured environment and have rules regarding chores, curfews, visitor hours and mandatory participation in 12-step programs.
How Long Does Rehab Take?
The duration of treatment at a rehab varies from person-to-person and is influenced by the severity of dependence on the drug and the individual's responsiveness to the treatment provided. Severe dependence associated with the frequent use of large doses of the drug over a prolonged period of time requires a longer duration of treatment. Similarly, co-occurring substance use disorders or psychiatric disorders can prolong the treatment duration. A treatment duration of fewer than three months tends to be ineffective and is associated with a higher risk of relapse than programs that last longer.
How Much Does LSD Rehab Cost?
The cost of treatment for LSD dependence or addiction at a rehabilitation center can vary from facility to facility. The cost of treatment is dictated by the quality of care and the amenities provided. Certain rehab centers provide luxurious living facilities and amenities but provide the same level of care as less expensive treatment facilities. The cost of treatment at an inpatient rehab ranges between $16,000 to $50,000 for a three-month program. Treatment at an outpatient clinic can cost $2,000 for an eight-week program.
Does Insurance Cover Rehab?
Health insurance plans may cover part of the cost of treatment at a rehab or even the entire cost incurred once the deductible is met. Many health insurance plans involve a copay of 10% to 50% of the total cost of treatment. For individuals without health insurance, one option is to purchase insurance through the Affordable Care Act marketplace. One of the benefits of the Affordable Care Act is that insurance companies cannot penalize individuals for preexisting conditions including substance use disorders. Other options for individuals without health insurance include enrollment at state-funded rehabs and federal assistance programs that provide financial assistance for treatment at a rehab of choice. Some rehabs may also offer treatments on a sliding payment scale.
Choosing a Rehab Facility for LSD Abuse in Ohio
A multitude of factors may inform an individual's decision to receive treatment at a particular rehabilitation facility. One of the key factors to keep in mind while choosing a treatment facility is the quality of care provided by a facility. The rehab center must provide individualized treatment that is tailored according to the patient's drug use history and other associated problems. The treatment approaches adopted by the rehab center must be based on scientific evidence supporting their effectiveness.
Treatment must be provided by accredited and experienced medical staff and the rehab center should have a low staff-to-patient ratio to provide the requisite level of care and attention to each individual. Besides the quality of care, one must also ensure that treatment at a specific rehab center is covered under the individual's health insurance plan. Choosing a treatment facility near one's city of residence over a distant location can facilitate family visits and therapy sessions involving family members. Emotional support from family members can play an important role in recovery from drug addiction.
Sources
National Institute of Drug Abuse. "Hallucinogens." April 2019. Accessed September 6, 2019.
National Institute of Drug Abuse. "Principles of Drug Addiction Treatment: […]ide (Third Edition)." January 2018. Accessed September 6, 2019.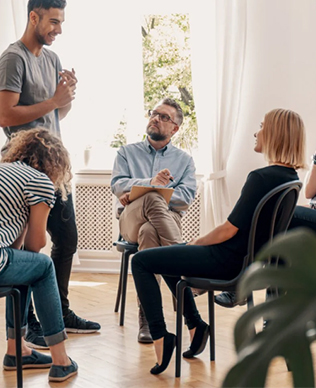 Questions?
Our Recovery Advocates are ready to answer your questions about addiction treatment and help you start your recovery.