2023-2024 Marijuana Abuse Resource Guide
Last Updated: October 25, 2022
Jump to Section
Finding reliable information about marijuana is difficult. Whether you're seeking a center to help you overcome an addiction or just need more information about the potential dangers of marijuana use and abuse, you'll find what you need here.
DrugAbuse.com: Find information about marijuana abuse, the signs and symptoms of addiction, statistics on teen use, and ways for family and friends to seek treatment.
National Institute on Drug Abuse: What is marijuana and what different forms can it take? How can you identify those who use it casually or chronically? Find out the facts about marijuana use and abuse.
Healthline: Learn more about the symptoms of marijuana abuse and what you should do about teen use. Get facts, dispel myths and learn what to do if a pot smoker finds out they are pregnant.
Narconon: The rehabilitation program does not consider people addicts for life or see substance use disorder as a disease. The program is a non-medical, drug-free withdrawal system focused on all aspects of addiction.
Quit Marijuana: The blog helps people overcome present and previous cannabis addiction. The site offers a community of like-minded people who provide support and understanding.
The Hurt Healer: The author of this blog initially struggled with alcohol addiction, but can offer insights to those who are looking to quit cigarettes, marijuana, heroin or any other drug.
Drug Class: It's easy to feel isolated. Find out how many people struggle with marijuana addiction and seek ways to distance yourself from old habits, friends and mistakes.
Tommy Rosen: Tommy's site is dedicated to helping others overcome addiction through wellness and exercise. Learn to face addiction head-on and find ways to make recovery a lifelong lesson.
Marijuana Harmless? Think Again: The names says it all. Learn the facts, risks, true stories and ways to recover from marijuana addiction.
Prevent Teen Drug Use: Find the facts related to how marijuana influences young children and does damage to their brain and social skills. Find links to prevention, treatment and recovery resources.
How to Quit Smoking Weed (Help): Quit smoking with the help of inspirational guidance from someone who has been in your shoes. A self-proclaimed former "pothead" writes about their journey to becoming a clear-eyed, productive part of society, and bent on helping you do the same.
Marijuana Anonymous: While this site is dedicated to finding support for those in Australia, the information on it is useful for all to read and share.
DrugFreeWorld.org: Find information related to quitting drugs and alcohol. Read true stories, learn ways to turn your back on addiction, and live a drug-free life.
Just Think Twice: Gather facts and stats, read true-life stories of those who struggled and recovered, and get the latest on developments related to alternative rehabilitation.
Get Smart About Drugs: Learn about drugs, identify paraphernalia, and get involved in your neighborhood watch. Get Smart About Drugs is a great resource for parents and students.
Drug Enforcement Administration (DEA): The DEA's mission is to enforce existing drug laws. Get the latest facts and information on legalization, as well as government's crackdowns on use and smuggling.
Office of National Drug Control Policy: The office provides support and bolsters ongoing plans to combat the spread of drugs in America. It aims to lower drug-related deaths, injuries and financial hardships.
Above the Influence: The site is dedicated to helping kids find an alternative to a life of drug use and abuse. Rather than focus on the problems with drugs, the site helps kids adopt healthy pastimes.
DrugFree.org: The site is connected to a non-profit that seeks to help family members who struggle with drug addiction and marijuana use.
KidsHealth.org: The site is dedicated to young children and teens. Get answers to questions related to drug use, rehabilitation and recovery. Kids are never too young to learn about how to avoid drugs and live a healthy lifestyle.
D.A.R.E.: For years, this organization has focused on educating the public about the dangers of drugs and alcohol. Get links to government sites, blogs from leading authors, and ideas on how to start anti-drug campaigns in your neighborhood.
Citizens Against Legalizing Marijuana: The all-volunteer committee is focused on educating the public about the dangers of widespread marijuana use. Get facts and learn how you can get involved in your community.
Smart Approaches to Marijuana (SAM): The SAM website seeks to educate the public on the potential dangers of marijuana legalization.
Save Our Society from Drugs: This organization seeks to promote health throughout America's communities. Being active and educating lawmakers on the dangers of legalizing marijuana are its primary goals.
Parents Opposed to Pot: The community of parents and advocates seeks to burst the bubble of recent marijuana hype.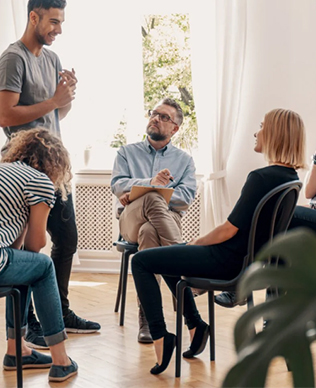 Questions?
Our Recovery Advocates are ready to answer your questions about addiction treatment and help you start your recovery.