Marijuana Addiction Treatment & Rehab in Ohio
Last Updated: October 28, 2022
Jump to Section
Marijuana has become legal in many U.S. states. While marijuana laws continue to evolve, marijuana addiction is possible. Understanding marijuana addiction and the risks associated with abusing marijuana is important. If you or someone you love has a marijuana use disorder, there are many treatment options that can help.
Is Rehab Necessary for Marijuana Addiction?
Although the long-term clinical effects are not as negative as some other substances, marijuana abuse can lead to long-term mental health and social consequences. According to doctors at Yale Medicine in Connecticut, marijuana may have harmful long- and short-term effects, such as paranoia and memory loss. It can also become addictive and disrupt a person's life and relationships.
About 10% of people who use marijuana will become addicted, and 30% of people who currently use it meet the clinical criteria for addiction. According to the National Institute on Drug Abuse, people who are seeking treatment for marijuana use have used marijuana almost daily for more than ten years and have tried to quit more than six times.
The limited number of studies completed on marijuana abuse indicate that behavioral health therapies have promising outcomes. These include:
Cognitive-behavioral therapy
Contingency management
Motivational Interviewing
Signs of Marijuana Addiction
Someone may be addicted to marijuana if they constantly think about getting and using marijuana. A lack of control over marijuana use frequency can also indicate someone may be addicted. Other signs of marijuana addiction can include:
Using more marijuana than intended
Inability to stop using marijuana
Continuous marijuana use for long periods of time
Craving marijuana
Continued use despite causing social or relationship problems
Inability to do normal activities without marijuana use
Continuing to use marijuana despite physical or psychological problems
Needing to use more marijuana to feel the same high
Experiencing withdrawal when not using marijuana
In any of these cases, if you or a loved one is suffering, marijuana treatment is usually appropriate.
Marijuana Addiction Treatment Options
Many facilities offer both inpatient and outpatient treatment programs. Those who experience severe physical withdrawal symptoms may require inpatient treatment. If someone is not in withdrawal and can manage their symptoms, outpatient treatment may be sufficient.
Inpatient and outpatient treatment share many of the same treatment approaches, such as group and individual therapy, cognitive behavioral therapy, substance use courses, healing activities like yoga and meditation, exercise, recreational therapy and more.
Inpatient Marijuana Rehab
Inpatient treatment at centers like The Recovery Village Columbus is a higher level of care that can include medical detox for those who need it. Inpatient care allows for round-the-clock care to help those with a marijuana use disorder begin their recovery in a supportive environment.
Inpatient treatment can include:
24-hour monitoring
Individual therapy sessions
Group therapy sessions
Individualized medication management
Recreational therapy
Nutrition support
Outpatient Marijuana Rehab
Outpatient treatment allows patients to live at home and travel to a facility, like The Recovery Village Columbus, for scheduled medical treatment or counseling. ​​It is a non-residential, less-monitored form of treatment that keeps the patient accountable for continued growth and sobriety.
Programs in outpatient treatment can include:
One-on-one counseling
Group and family therapy
Medication management as needed
Psychiatric care for those with co-occurring disorders
Fitness and nutritional counseling
Relapse prevention plans
Does Insurance Cover Marijuana Addiction Treatment and Rehab?
Insurance companies may cover all or a portion of rehab. Factors that can determine the cost of coverage include:
Level of treatment
Location
In and out of network benefits
Length of treatment
The cost of treatment can range from $2,000 to $10,000 dollars or more. Non-treatment-related costs, such as loss of employment, medical expenses and legal costs, can drastically raise the cost of continued marijuana addiction without treatment.
Contacting your insurance company is the best way to determine what is covered for marijuana abuse treatment. You can also work with the admissions department of any facility you are interested in to determine potential treatment costs based on your coverage.
Marijuana Rehab Centers in Ohio
If you are considering treatment for yourself or a loved one, it's important to choose a professional facility with qualities that include:
Accreditation from a nationally recognized organization
A multidisciplinary team of licensed, experienced professionals
A full continuum of care, ranging from medical detox to aftercare
Evidence-based approaches to treatment
Dual diagnosis care for co-occurring mental health disorders
A comfortable, supportive environment that fosters healing
Amenities that support the recovery process
The Recovery Village Columbus is a licensed and accredited facility one mile from Interstate 270 and ten miles from downtown Columbus. The Recovery Village is conveniently located for easy access to both John Glenn Columbus International Airport and Rickenbacker International Airport, so treatment is available to patients from all over the United States.
The Recovery Village Columbus uses evidence-based treatment to help those struggling with marijuana abuse and addiction. We offer a full continuum of care, including:
Medical detox
Inpatient care
Outpatient treatment
Long-term aftercare services
Telehealth
All forms of treatment are provided by a multidisciplinary staff of doctors, psychiatrists, mental health professionals, nurses and trained addiction experts.
Depending on the level of care needed, amenities at The Recovery Village Columbus include:
Two fully equipped gyms
Basketball court
Paved volleyball court
Outdoor pickleball court
Art studio
Recreation room
Computer lab
Outdoor fire pit
Marijuana addiction recovery is possible. If you or someone you love is ready to find treatment for marijuana abuse and addiction, The Recovery Village Columbus is here to help. Contact us today to learn more about treatment programs that can work well for your recovery needs.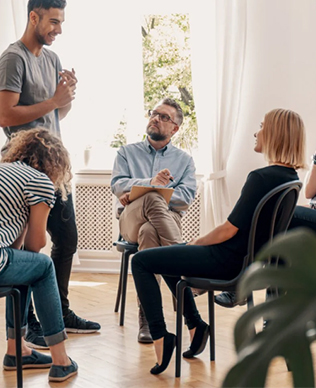 Questions?
Our Recovery Advocates are ready to answer your questions about addiction treatment and help you start your recovery.