CDC Report Sounds the Alarm about American Opioid Use
Last Updated: November 10, 2022
What is the state of opioid addiction in the US? Recently, a CDC report provided a snapshot of this serious and growing problem. Is the fight against overdose deaths working, or does the US continue to have more and more overdose deaths each year?
What Does the CDC Report Show?
While data from more recent years is not yet available, the CDC report provides a look at opioid trends in the recent past. From 2014-15, overdose rates changed by over 11 percent. This is primarily due to the increase in synthetic opioids. In 2016, there were 63,632 overdose deaths, and 60 percent of these involved an opioid.
There was a 21 percent increase in the number of overdose deaths in 2016 when compared to 2015. The CDC report calls this a significant increase. Although the doubling of synthetic opioid deaths is of most concern, there were also increases in overdose deaths due to cocaine and psychostimulants. Fentanyl use was one of the worst problems, and since it is 100 times stronger than morphine, it is easy to see how people are overdosing when they use heroin mixed with fentanyl.
Why Is There an Opioid Crisis?
Why has the opioid crisis become so large so quickly? There are a number of different factors involved:
The prescription of opioids as pain medication for surgery and for chronic problems such as back pain
The addictive nature of opioids
Prescription medication accessible in the home and available to others who might be prone to experimentation or addiction
Doctors who have been giving people multiple prescriptions for opioids
The tendency to turn to street drugs over prescription medication for monetary reasons
Heroin's adulteration with other drugs that are more powerful, such as fentanyl and carfentanil
Stopping this crisis of overdose deaths is about more than managing overdoses through naloxone. It is also about addressing the causes of opioid addiction, such as the prescription and overprescription of opioids as pain medication and the accessibility of these medications to others, such as teens.
Where Can You Get Help From Opioid Addiction?
Opioid addiction can be challenging to manage, but it is possible to move toward sobriety and recovery. By working in individual and group therapy and alternative programs such as art therapy, you can take steps toward a better future for yourself and your family. Medical assistance will help you on your way to becoming sober by making it easier to take the first step away from opioids. Look for a recovery center that has a wide range of programs that give you different options for engagement, so that you can move from a more intensive inpatient or outpatient program into a part-time program that allows you to live at home or work at the same time as you are in recovery.
At The Recovery Village Columbus, our goal is to support you in your recovery from substance misuse. From intensive inpatient and outpatient programs all the way to aftercare to support your integration back into your community and your life, we will be there every step of the way. Contact us and learn about admission today.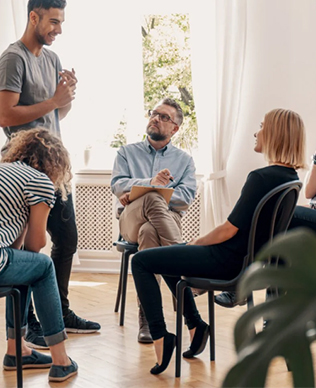 Questions?
Our Recovery Advocates are ready to answer your questions about addiction treatment and help you start your recovery.