The Recovery Village Columbus is part of the nationwide Advanced Recovery System's network of addiction treatment facilities. Our Columbus facility is centrally located in Ohio, delivering high-quality care for people with substance use disorders and co-occurring mental health disorders. We're passionate about helping people achieve recovery.
Addiction in Marion, OH
Residents of Marion, OH, as well as people throughout Ohio, have seen the devastating impact of the opioid epidemic for more than a decade. Since 2007, accidental drug overdoses have been Ohio's leading cause of injury deaths, surpassing car crashes. This troubling trend continued through 2020, which eclipsed 2017 as a record-setting year for accidental drug overdose deaths. Fentanyl was involved in an estimated 81% of overdose deaths in 2020, frequently combined with other drugs, including cocaine and methamphetamine.
Methamphetamine (or meth) was once considered a drug on the decline regarding use prevalence. That trend has reversed. In 2021, meth was involved in at least 25% of overdoses in Ohio. In 2020, a record number of meth overdose deaths were reported in the state.
Our Nearest Treatment Center
If you're looking for drug or alcohol rehab near Marion, OH, The Recovery Village is conveniently located in central Ohio. We're part of the Columbus metro in Groveport, and our facility is around 1 ½ hours from Marion by car.
Local Addiction Resources in Marion, OH
Some of the best local addiction resources in Marion, OH, are 12-step support groups. We often refer patients to these groups as part of their aftercare plan. These groups help you create a network you can depend on. If you're interested in Marion, OH, Alcoholics Anonymous meetings, you can search for options online. There are also Narcotics Anonymous meetings in Marion. Visit the NA website to learn more.
Why Choose The Recovery Village?
At The Recovery Village, we are a physician-led and science-driven facility but always with compassion. Our approach to addiction follows current research, treating it as a complex disease with symptoms that can manifest physically, mentally and emotionally. We also believe that successful recovery from addiction means that we identify what will work best for you and your unique needs, always considering the complexity of addiction.
Our Process
While everyone's treatment plan is created just for them, our patients often follow a particular trajectory: our continuum of care. According to The American Society of Addiction Medicine (ASAM), the levels in a continuum of care are seamless. You'll work at your own pace and transition to the next level only when you and your treatment team feel you're ready.
The steps in your treatment process might look like this:
You start with a comprehensive intake assessment and then a medically-supervised detox.
After your body has fully detoxed from all substances and you're stable, you move to your next level of care — usually residential inpatient treatment.
Once you're ready, you'll transition to a level of care that will allow you more flexibility and the chance to explore your newly developed coping skills in the real world. This might mean that you begin outpatient treatment.
As your outpatient programming ends, you'll implement your aftercare plan. You return home and begin to explore building a self-directed life of recovery, relying on the local support services highlighted in your aftercare plan.
Our Facility
When you're going through something as challenging as detox and addiction treatment, it's important that you're comfortable and supported at every level, which is what we aim to deliver at our Columbus facility. We also offer well-appointed treatment areas and rooms and are staffed by highly trained, expert medical professionals. You have the space to start healing in a quiet and relaxing environment. There are state-of-the-art equipment and amenities that support holistic well-being, such as an art studio and workout facilities.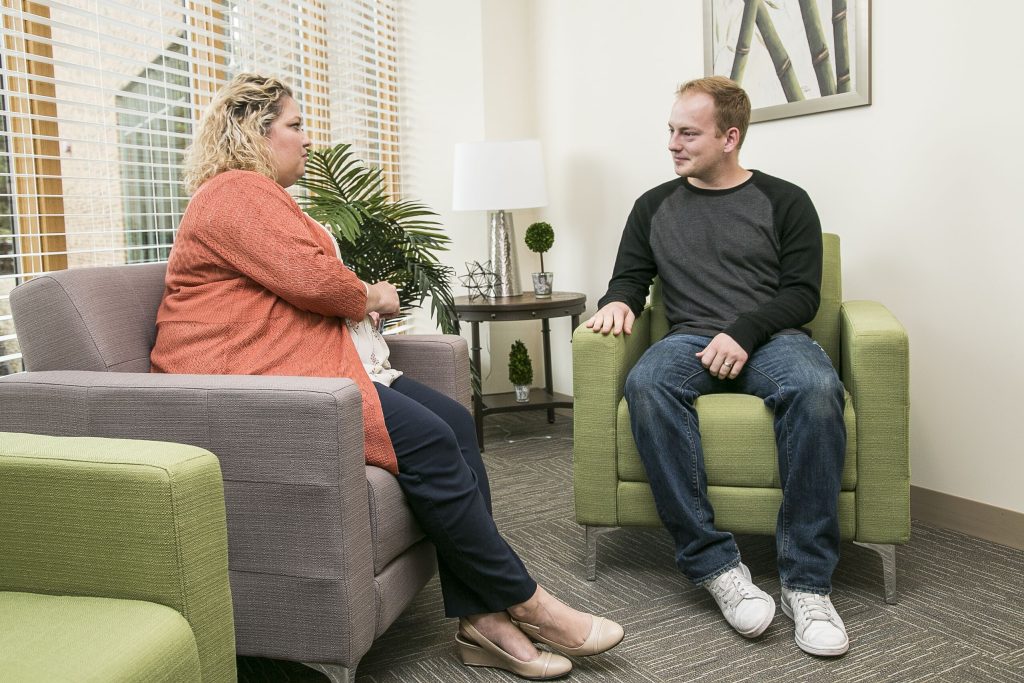 When you choose rehab at The Recovery Village Columbus Drug & Alcohol Rehab, you can expect:
A full continuum of care programs, from medically assisted detox to outpatient and aftercare
Innovative traditional therapies such as cognitive behavioral therapy (CBT) and 12-step groups
Recreational options like yoga and art therapies
A full staff of licensed doctors, nurses and clinicians specializing in addiction and recovery
Care that is 100% confidential
The Recovery Village: Your Destination for Wellness
If you or a loved one is looking for drug treatment in Ohio or beyond, The Recovery Village is a great option for rehabilitation care. This acclaimed facility has locations across the country, including Groveport, OH.
Whether you're searching for medically assisted detox, outpatient care or any level of care in between, The Recovery Village has a treatment for any type of substance use disorder. At every Recovery Village location, each patient is cared for physically and mentally, with each program including counseling for co-occurring mental disorders.
Fill out our contact form to have a recovery advocate reach out to you or call (614) 362-1686.