Ohio Rehab Romance: Why You Might Want to Think Twice
Last Updated: November 10, 2022
Jump to Section
You have settled into a treatment program for your drug addiction and things are going well. You are building strength and confidence every day and you feel newly energized.
You are also likely finding friends in rehab who understand what you are experiencing and who are going through their own battle with addiction as well. As you develop new friendships, you might find yourself romantically attracted to someone else in rehab. Is budding romance in Ohio rehab a good idea?
Understanding the Dangers of a Rehab Romance
As tempting as it may be to start a relationship with someone you meet in a rehab program, it is not encouraged for you to pursue romance in rehab. You may see this person as someone sharing an experience with you, and it is natural to be drawn to him or her. However, there is a lot more than a romantic feeling at stake when you are involved in addiction treatment.
Here are some reasons why most treatment centers highly dissuade patients against rehab romances.
The primary reason is that you need to focus on yourself right now. Rehab is the time to focus on you, not someone else. It is natural to focus on a new relationship when one is blossoming, but this is not the time for it.
Another reason is that this is also a time to physically take care of yourself. Many people coming off of drugs have engaged in risky sexual behavior and may have STDs or other issues that need to be addressed. To protect yourself and the other person, remember that rehab is not the time to become intimate with anyone.
Most treatment programs, including Alcoholics Anonymous, recommend waiting one full year to make any major life decisions, and this includes dating and sex. Even at the best of times, romance can be fraught with stress and anxiety, both of which can lead to relapse for recovering addicts.
You are changing and may not know what type of person you want in the long run. Through treatment, you are going to change. Your priorities, goals, and even your hobbies will probably transition now. You do not want to get involved with someone who may not even be compatible with you in a short time. This will not be good for your recovery.
A breakup could set you back. Even if the relationship seems to be working and you can still focus on yourself, if you break up, that can set you back and you may find yourself using again.
Friendship Rather than Romance
With the above being said, though this is not the best time to form a new romantic relationship, making a new friend may do wonders for you and your recovery. You will want someone to talk to who can relate to what you are going through. It is not bad to make friends in rehab; just keep it at friends.
Many centers have guidelines about relationships within the programs and will even actively try to prevent them. Of course, you are the one making the decisions, but be smart. Use your time in rehab to take care of you and get on a healthy path.
Once you have been in successful treatment for a considerable length of time and see where it is taking you, you will be in a better place to find a healthy relationship for yourself, one that will support your recovery and not impede it.
Call us now to learn about admission and discuss your addiction treatment needs with a professional, courteous addiction specialist today!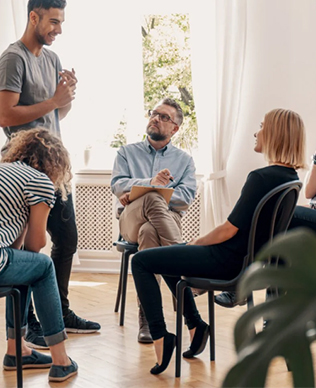 Questions?
Our Recovery Advocates are ready to answer your questions about addiction treatment and help you start your recovery.