Ohio Residents Ask: Can I Join the Military after Addiction Treatment?
Last Updated: November 10, 2022
Jump to Section
For some people, joining the military is a lifelong dream. This dream can be sidelined by a substance use disorder. If you are working on getting treatment, can you still fulfill that dream in the future? Is it possible to join the military after your addiction treatment?
If you are planning to join the military, the best plan is to avoid drug and alcohol misuse. You will be tested for drugs and alcohol through a urinalysis test at initial processing and at basic training. Over the years, it has gotten more difficult to get into the military if regular substance use has been part of your life. If you have used drugs and alcohol, there are different regulations related to this use that you need to be aware of before you try to enlist.
The Military's Guidelines Around Substance Dependency
The military is interested in whether or not your past substance use will impact your ability to serve. One of the ways that they examine this potential impact is by looking at your past dependency on drugs and alcohol. According to The Balance, "the exact number of times drugs were used is not necessarily as important as determining the category of use and the impact of the drug use on the user's lifestyle, the intent of the user, the circumstances of use, and the psychological makeup of the user." If you have been psychologically or physically dependent on drugs or alcohol, you may not be able to enlist.
Getting a Waiver
If you have experimented with drugs but have not taken them frequently or have not been dependent on them, then you may be able to enlist. For example, if you have experimented with marijuana and have used it less than 15 times, then you will not usually require additional paperwork to enlist. However, if you have been dependent on hard drugs or have used marijuana more often, you will likely need to seek a waiver that could allow you to enlist. Underage drinking could also lead to the need for a review and a waiver. Any use of drugs could be disqualifying, even if you are currently substance-free. You will need to complete a screening form outlining your past drug use, and the military will decide whether or not that substance use could be a barrier to service.
Different Drugs Have Different Implications
While the military would prefer that you not use drugs, they do look at different types of drugs in a different way. According to the Military Authority, "the military is more lenient towards alcohol use and soft drugs like marijuana than it is towards hard drugs like cocaine and heroin." Other drugs such as steroids are also on the list of drugs that the military looks for when screening for drug use.
Military Guidelines Related to Drug Offenses
If you have been charged with a drug-related offense such as possession of a hard drug, then answering "yes" to this question will lead to a review via a drug screening form. The military will review that record. They will determine whether you are eligible based on your screening.
Staying Healthy Before Enlisting
Serving in the military takes a lot of physical and psychological stamina. You will be called upon to be at your best, and those who are considering enlisting or are going to be deployed need to take special care of their health. If you have already served, you may experience post-traumatic stress that can lead to substance use as well. Luckily for those in Ohio, there are many Ohio addiction treatment options available.
If you are concerned that your drug use might be moving from experimentation into addiction, now is the time to get help. This is especially important if you want to join the military in the future. At The Recovery Village Columbus, we are here to be your allies as you work to become substance-free. Take a look at our military addiction treatment resources and learn about admission today.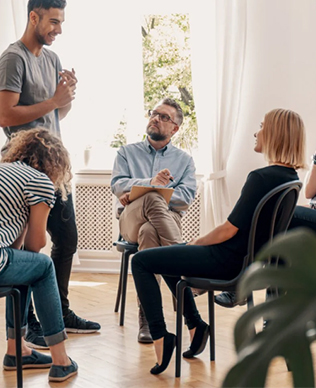 Questions?
Our Recovery Advocates are ready to answer your questions about addiction treatment and help you start your recovery.