Does Religion or Spirituality Play a Role in Ohio Addiction Recovery?
Last Updated: November 10, 2022
Jump to Section
Faith-based drug and alcohol treatment has a long history in America. Although it is not the right path for everyone suffering from an addiction, it is proven to be part of a positive treatment model for many who have an unhealthy relationship with drugs, alcohol, or both.
Since the early 1900s, the well-known organization Alcoholics Anonymous has intricately woven faith through the fabric of their philosophy. Since then, many addiction treatment programs have either focused heavily on spirituality or at least offered faith-based support for people who needed it.
As part of a whole-person program, drug rehab in Ohio offers the option of spiritually-focused treatment options. For many, faith can make all the difference.
Spirituality and Religion Are Not Always the Same
For people without a religious affiliation, faith in treatment might go against the grain. However, spirituality and religion are not always the same. They can be, and often are, exclusive of each other. Lance Dodes, M.D., writes at Psychology Today that "addiction is often described as a 'spiritual, physical and emotional' problem." However, he goes on to say that spirituality is hard to define.
Many years ago, spirituality and religion were practically defined the same way. Now, there is a better understanding of how people can feel connected to the universe or a higher being without religion. "Addiction is not a spiritual problem," says Dodes, and that assertion has made recovery more difficult for people who do not feel spiritual. For people who do, spirituality can offer additional tools for recovery success.
Faith in Treatment Helps Many People Reconnect with Ingrained Values
For people without a religious background, the idea of incorporating faith or spirituality into drug rehab in Ohio might seem unusual. There is nothing wrong with that. However for others, it is a perfectly logical approach.
DrugRehab.com says people who attend some type of religious service regularly and those who "identify with being spiritual" tend to have fewer drug and alcohol addiction problems than those who do not. While religious lessons such as abstinence, values, and ethics are certainly not exclusive to religion in general or to any religious faith, they are common threads in many religions. They do align with addiction recovery.
Spiritual Treatment Components Help Some Addicts Get and Stay Sober
Spirituality and religion cannot eliminate addiction. It is a disease for which there is no cure. However, incorporating religious or spiritual components into treatment and aftercare can help addicts with a spiritual background find peace and coping mechanisms. That helps addicts manage the symptoms of addiction and modify behaviors into a drug- and alcohol-free lifestyle.
In a study by the National Center on Addiction and Substance Abuse at Columbia University, researchers found that both teens and adults with a religious background are less than half as likely to experiment with drugs and alcohol. In treatment, the mere belief that spirituality can help could make all the difference in success.
Drug rehab in Ohio is by no means church. There is no spiritual or religious requirement for entering treatment and success does not depend on whether or not you align with a higher power. For people who feel a strong spiritual or religious connection, there are treatment options to support recovery and possibly increase your odds of living drug- and alcohol-free for life.
If you are struggling with addiction, contact us to learn about admission and the wide range of treatment options that make up a holistic program uniquely suited to you.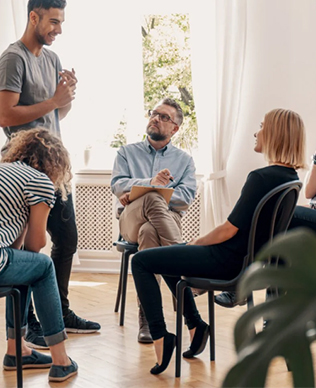 Questions?
Our Recovery Advocates are ready to answer your questions about addiction treatment and help you start your recovery.