How to Fight Food Addiction in Ohio Rehab
Last Updated: February 16, 2023
Jump to Section
For many people, having a healthy and balanced relationship with food can be a struggle. Some are not particularly food-motivated and may find it easy to adopt the "eat to live" mindset of having a utilitarian, measured approach to eating. However, for those struggling with food addiction, eating can serve as an escape from boredom or a way to manage stress or deal with unsatisfying circumstances in our professional or personal lives.
Parallels with Drug Addiction
The correlation between drug and food addiction is only beginning to gain traction in the research community but already has become a hot topic in addiction and recovery publications. The way the brain reacts to food can have surprising similarities to how it reacts to drugs and other substances, triggering the same reward centers and causing the organ to release an abundance of feel-good chemicals like dopamine and serotonin. Unlike illicit drugs and alcohol, food is essential to our survival and health. This only serves to complicate your relationship with food when you start using it as a means to get high. However, similar to drugs and alcohol, this feeling is short-lived, thus setting victims of food addiction down the same spiral of seeking a fix as any other addict.
The Role of Society
Unfortunately for those struggling with food addiction, society does not make their lives any easier. Food is prominently featured in commercials and print ads for restaurants and fast food businesses and is often photographed close-up in lurid colors and astonishing detail. The food industry is also adept at churning out appealing new offerings that many experts refer to as being hyper-palatable — i.e., laden with so much fat, salt, and sugar that many people cannot help but crave them on sight.
Social media platforms like Instagram and Yelp also play a prominent role in getting Americans to obsess about food, with many bloggers, restauranteurs, and amateur "foodies" photographing and sharing the latest and most decadent in must-see food trends such as the "turducken" or the "cronut" that have swept the nation at numerous points in recent years.
Addiction Transfer
While you have heard that quitting smoking can sometimes lead to increased appetite and weight gain, it is also possible for recovery from drugs or alcohol to produce a similar effect. This is called "addiction transfer" and occurs when a recovering addict replaces one addiction for another. This makes a lot of sense when you consider the fact that coming off of certain substances can decrease your mood and make you likely to look for something to fill that void. For many, eating can be rationalized as a legal and seemingly less destructive way to do just that.
Ohio Drug Rehab for Substances and Food
With attentive treatment and a holistic approach, it is possible to recover from both substance and eating addiction. The Recovery Village Columbus is dedicated to helping Ohio residents overcome a variety of addictive behaviors with prescription treatment, one-on-one and group counseling, and ongoing support. Contact us today to learn about admission and see how we can help you or a loved one with drug dependence, eating disorders, and a number of other mental health concerns.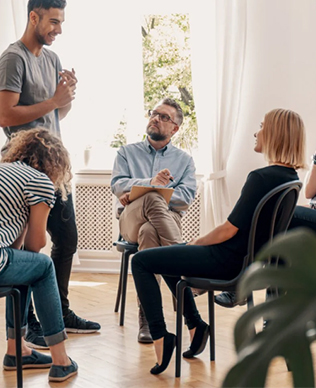 Questions?
Our Recovery Advocates are ready to answer your questions about addiction treatment and help you start your recovery.