Ohio County Court Recognizes Link between Addiction and Mental Illness
Last Updated: January 17, 2023
Jump to Section
As Ohio's most populous county, Franklin County has its fair share of exposure to the intersecting issues of addiction and mental health in the community. To help residents struggling with mental health and substance dependence get help, the Franklin County Municipal Court mental health program is giving defendants brought up on drug charges a way to access resources and turn a new page in their lives.
A New Approach to Mental Health and Addiction
Alongside two program coordinators, Judge Cindi Moreheart has been instrumental in the lives of those whose psychological health has driven them to commit misdemeanor offenses and especially those who have carried out crimes such as petty theft to support a drug habit. Unlike most judges, Moreheart does not wear stern black robes or sit up high on a bench. Instead, she makes it a point to interact one-on-one with defendants under her supervision. Sometimes she dishes out a scolding, but in happier times, she also provides hugs, high-fives, and words of encouragement for those who are benefiting from the county's new mental health docket.
Founded in 2004, the mental health court program was Franklin County's response to dealing with repeat offenders as an alternative to just sending them back to jail. Since then, the program has also expanded to include a veteran's court and other specialty programs. Besides providing emotional support to defendants, the mental health court program works alongside probation officers to ensure that participants are abiding by court orders, passing drug tests, taking their prescribed medication, and receiving mental health and job counseling as needed. For those who successfully complete the program, the incentive is to receive probation instead of jail time as well as the potential to have their charges dismissed altogether.
Staying Accountable
However, the mental health court program is far from an "easy way out" for those looking to avoid serving time for their crime. Defendants are required to adhere to strict requirements to participate. They are expected to go to treatment for their addiction and mental health problems, abstain from drugs and alcohol, submit to frequent drug tests, and avoid new offenses. Those who fail to comply face consequences such as being required to undergo a drug test every day or even serving jail time.
For some defendants, this program can be a life-saver. Many who have participated have gone on to get clean, avoid more legal trouble, and live healthy and fulfilling lives.
Co-Treating Addiction and Mental Illness 
If you are looking for an Ohio addiction recovery center that holistically treats the co-occurring disorders of mental illness and substance abuse, The Recovery Village of Columbus is here for you. For those living with both addiction and mental illness, recovery begins with a comprehensive treatment plan that covers both disorders. Want addiction help for yourself or a loved one? Contact us to learn about treatment options.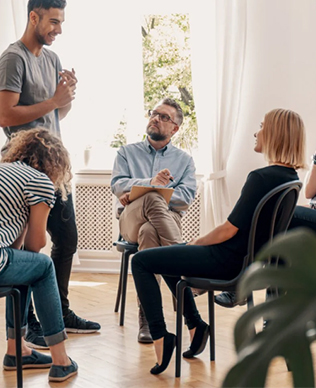 Questions?
Our Recovery Advocates are ready to answer your questions about addiction treatment and help you start your recovery.