3 Common Barriers to Addiction Treatment in Ohio
Last Updated: February 16, 2023
Ohio has one of the highest rates of opioid-related overdose deaths in the United States. More than 13 people in Ohio die every day from a drug overdose, and the rate continues to climb.
According to a state report, drug deaths in Ohio increased to 4,854 in 2017, up from 4,050 overdose deaths in 2016, 3,050 in 2015 and 2,531 in 2014.
Ohio spends approximately $1 billion to combat the drug problem in the state, which includes about $600 million spent on treatment. In 2017, more than 70 percent of the overdose deaths statewide stemmed from illicit fentanyl and other related drugs, which is up from a 58.2 percent increase in the prior year.
Barriers to Addiction Treatment in Ohio
People in need of addiction treatment often find that there are significant barriers to treatment that they must overcome to get help for a substance use disorder. What are some of the most common barriers to treatment, and how can they be overcome?
Barrier One: Paying for Treatment
Addiction treatment can be prohibitively expensive, especially for those without insurance. Depending on the type of treatment being sought, people requiring treatment can spend tens of thousands of dollars on care if they do not have adequate insurance to cover the costs.
Even those who have insurance may still have difficulties getting coverage for treatment for their substance use disorder. Unfortunately, many insurance plans place limits on the types of addiction treatment people can receive and the length of time for which treatment will be covered.
Solution: There are a number of Ohio addiction treatment resources that can be accessed at various price points. You may find that your treatment facility can work with you to plan payments that fit your budget. Additionally, it is good to remember that failing to get addiction treatment when you need it is often far more costly in the long run than choosing treatment now.
Barrier Two: Shortage of Trained Health Care Providers
Many physicians and health care providers lack the necessary training needed to effectively treat addiction.
Some doctors may want to treat addiction, but they are not always encouraged to do so because of low insurance reimbursement rates. In addition, many health care providers might not even be fully aware of the types of care available for substance use treatment nor how to choose the best type of treatment for their patients.
Solution: When trying to find the right addiction treatment facility, look for one that is fully accredited to offer addiction treatment. Such facilities typically have medical professionals on staff to appropriately provide a variety of addiction treatment services.
Barrier three: Low Quality of Care
Not every addiction treatment facility provides the highest standard of care. Some facilities offer treatments that have not been scientifically proven to be effective rather than offering evidence-based strategies to manage a substance use disorder.
Solution: Many accredited treatment centers rely on evidence-based methods of treating substance use and mental health disorders. Doing a bit of research to determine if the facility you are considering is accredited can save you time and help ensure that you receive high-quality care.
Where Can Ohio Residents Turn For Help?
Although there may be a few obstacles that patients may face when trying to get the right treatment for their addiction, there is a simple way to get the help required; call The Recovery Village Columbus.
Representatives at The Recovery Village Columbus understand the barriers that people may face when trying to obtain treatment, and they can offer solutions to any one of these obstacles by referring you to centers that employ trained counselors and physicians, use proven treatment methods, and may work with individual financial situations to make addiction treatment financially accessible. Contact The Recovery Village Columbus today to discuss your options for treatment.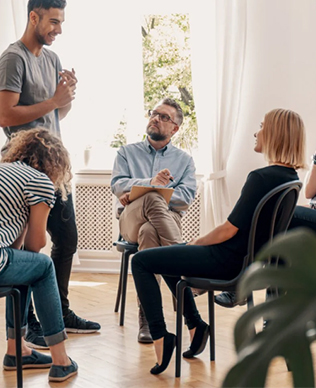 Questions?
Our Recovery Advocates are ready to answer your questions about addiction treatment and help you start your recovery.