Medicine in Jail to Help Inmates with Addiction
Last Updated: January 17, 2023
Jump to Section
Health care providers at Hamilton County Jail in Ohio are working to help inmates stop using drugs through the administration of certain medications. A recent story in U.S. News & World Report highlighted the efforts of Hamilton County staff members to help people currently incarcerated stop using opioids and prevent future relapse.
Fifty-two inmates in the facility are receiving buprenorphine, a medication approved to help reduce or stop opioid cravings. That's an estimated 3% of the population of the jail. While that may not seem like a significant portion of the jail, NaphCare — the health care provider at the jail — is following a nationwide trend. Around the country, jails and prisons are utilizing medication-assisted treatment, although it's been a slow transition.
What Is Medication-Assisted Treatment?
Buprenorphine is just one medication approved by the Food and Drug Administration (FDA) for use in medication-assisted treatment (MAT). MAT is an approach the federal Substance Abuse and Mental Health Services Administration (SAMHSA) touts as being effective for people who use opioids, including heroin and prescription pain medications.
The idea is that medications like buprenorphine can be used along with counseling and behavioral therapy to help someone who struggles with opioid addiction. Unlike other MAT options such as methadone, buprenorphine was the first approved drug of its kind that didn't have to be administered in a structured clinic environment. Buprenorphine can be prescribed in a doctor's office, which means increased accessibility to MAT for many people.
Some of the benefits of buprenorphine that make it particularly beneficial as a tool in MAT include the fact that it has a reduced abuse potential compared to other options like methadone. Buprenorphine can reduce withdrawal symptoms and opioid cravings. It also has a ceiling effect, which lowers the risk of abuse and overdose.
Buprenorphine is a type of medication-assisted treatment that works by activating the same receptor sites as other opioids without eliciting a high. There are other types of MAT options called opioid antagonists that occupy the same receptor sites as other opioids and block their effects. For example, if someone were to use an opioid antagonist and relapse, they wouldn't feel the pleasurable effects of the opioid.
Proponents of medication-assisted treatment say outcomes are better than is the case when medication isn't used. Opponents of MAT see it as a slippery slope that involves the replacement of one substance dependence with another.
Will Medication Help Inmates?
According to the U.S. Substance Abuse and Mental Health Administration, 75% of people in prison or jail with an opioid use disorder experience a relapse. Despite this statistic, only around 1 in 20 jails and prisons around the country currently offer addiction medication, according to the Department of Justice. Only 1 in 200 offer buprenorphine combined with the opioid-blocker naloxone, which is available under the brand name Suboxone.
In Albany, New York, Sheriff Craig Apple regularly speaks about the effects of the opioid crisis for the National Law Enforcement Action Partnership. Apple started the Sheriff's Heroin Addiction Recovery Program in 2012 as a way to provide a combination of counseling and naltrexone to inmates in his jail. Following release, inmates go to treatment centers. Sheriff Apple says he saw a decline in the number of inmates who returned to jail as a result of the initiative. As of 2018, Apple's program expanded to include all medications approved by the FDA for the treatment of opioid use disorder.
Under the current plan in Hamilton County, inmates can continue using buprenorphine as a daily medication rather than ending it when withdrawal ends.
While it's been a relatively slow process, more jails and prisons around the country are not only starting to use medications like buprenorphine, but they're also working on developing training programs to help staff properly administer them. These efforts extend past jail as well. For example, the medical provider NaphCare works with organizations like Talbert House to help people connect with treatment and recovery services following their release.
The ultimate hope is that the more people who receive treatment for addiction, the fewer that return to jail. It could reduce not only crime but also other issues, such as overcrowding of jail facilities.
If you or a loved one are struggling with substance abuse, including opioids, contact The Recovery Village Columbus today.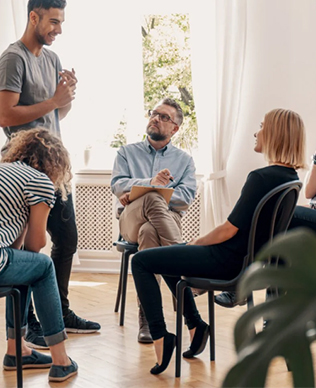 Questions?
Our Recovery Advocates are ready to answer your questions about addiction treatment and help you start your recovery.