Why Does Peer Support Work in Ohio Addiction Treatment?
Last Updated: February 20, 2023
Have you ever turned to a friend when you were in need of some support? Of course you have; that is what friends are for. It is this model that works well in Ohio drug rehab as well. When you are looking for a drug rehab facility, consider the opportunities for peer support as a part of your holistic treatment plan.
What Benefits Does Peer Support Provide?
What is peer support? According to the American Psychiatric Association, "peer support refers to people with the same types of problems helping each other." There are many types of peer support groups for different types of addictions, from drug abuse to eating disorders. Approaches can include support groups, counseling, and case management.
Peer support can provide many different benefits for you or your family member. It connects you with those who have experienced recovery, providing a positive role model and an example of success. It also connects you with those who have the training to tell their stories to support the recovery of others, something friends and family members may not know how to do as easily.
Those who have experienced peer support tend to have:
Lower needs for inpatient therapy
Increased hope for their own recovery
Fewer problems and a higher quality of life
It is easy to underestimate the power of hope and the impact that an experienced listening ear can have on a person in recovery. Peer support is a very powerful tool.
What Are Some Popular Peer Support Groups?
When you are in Ohio addiction treatment, there are many different support groups that you could access. What are they, and which one is the right choice for you?
Alcoholics Anonymous and Narcotics Anonymous meetings are 12-step programs that usually last for an hour and are coordinated by those in recovery. People come from all walks of life and are not required to subscribe to a specific religion, but there is a spiritual component to the steps of recovery in a 12-step program.
There are other support groups as well, from the Secular Organizations for Sobriety and another secular organization called LifeRing to church-based programs for those who would like to incorporate religious beliefs into their recovery. The Substance Abuse and Mental Health Services Administration (SAMHSA) website offers a support group finder that can help you find a program that is focused on your challenges and your beliefs.
Addiction can be a lonely struggle, and at the same time, it can make you feel like you are part of a group that is involved in the same activity, for better or for worse. When you decide to enter a rehab program, you might feel like you are losing the connection you have with others who are also addicts. After rehab, you can struggle to figure out who you are when you are not using drugs or alcohol and may lose hope that you can have a drug-free, productive, and meaningful life.
Peer support is an important part of your treatment plan. It allows you to find a network of people who have had a similar experience and are in recovery. Understanding their successes and challenges can help you find the strength to address your own.
Are you looking for Ohio drug rehab options? Talk with The Recovery Village Columbus. We are here to help you get started on your recovery journey. Call us to learn about admission today.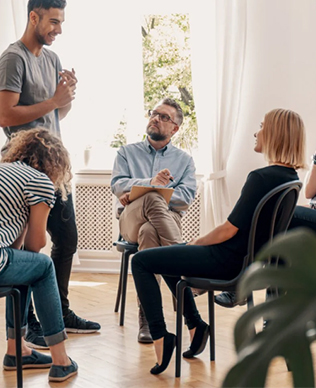 Questions?
Our Recovery Advocates are ready to answer your questions about addiction treatment and help you start your recovery.