Canton, Ohio: History, Drug & Alcohol Rehab Treatment
Last Updated: November 3, 2022
Jump to Section
Nicknamed the "Hall of Fame City," Canton boasts no shortage of arts, culture and entertainment. As one of the largest metropolitan centers in Ohio with a rich past and a modern appeal, Canton offers something to enjoy for both residents and visitors alike.
Located alongside the central and western branches of Nimishillen Creek, Canton is the county seat of Stark County. Canton is home to a number of historic sites, including President McKinley's former residence and the National First Ladies Library. As the host of the National Pro Football Hall of Fame, Canton serves an important role in the professional American Football community.
Article Overview
As a diverse service economy and center of culture, sports and arts, Canton is one of Ohio's most bustling cities.
As of 2016, the population of Canton, Ohio, was 71,323
Canton is the largest incorporated area in the Canton-Massillon, OH Metropolitan Statistical Area, with 404,422 residents
Canton is the eighth largest city in Ohio
History of Canton
The city of Canton, Ohio, was founded in 1805 by a man named Bezaleel Wells. By 1815, the community only had three-hundred residents, and continued to grow slowly through the first half of the nineteenth century. One of the primary reasons for this slow growth was the unwillingness of early residents to welcome new transportation routes through the city, including the Erie Canal and the Cleveland and Pittsburgh Railroads.
However, Canton's population and regional standing began to improve during the American Civil War. During that time, the community transformed into an important industrial center. By 1888, manufacturing had brought in almost five million dollars to the city, and machinery produced in Canton was shipped across the U.S. and the world. Around the same time, the city's watch-making establishments also began to gain traction, eventually employing roughly ten percent of the city's population. By 1890, the city's population has risen to 26,337, or nearly double the number of residents just ten years earlier.
While Canton continued to serve as a major center for steel, iron, agricultural and watch manufacturing, some of these industries began to decline after World War II. However, some businesses have continued to prosper, including many dairies. A diverse industry economy also emerged in recent years, including education, retailing, finance and healthcare. In 1920, the first professional football league in the city was founded. Shortly after, the Pro-Football Hall of Fame was constructed in the city. A small tourism economy exists in the city because of this attraction.
Canton Population and Demographics
In the past few decades, the population of Canton has declined significantly, falling from 110,053 in 1970, to 71,323 in 2016. Today, there is no clear sign that this decline will stop any time soon. The current median age of residents is 35, with a median household income of $29,418. The poverty rate in the city is 32.3 percent.
As of 2016, 66.8 percent of the population is White. African American residents make up 23.3 percent of the population, while 6.07 percent of residents are two or more races, 3.4 percent are Hispanic, .5 percent are Asian, and .1 percent are American Indian. Only 3.79 percent of people in Canton speak a non-English language, and 98.8 percent are U.S. citizens. According to the 2010 census, the gender makeup of the city is 47.4 percent male and 52.6 percent female.
What to Do in Canton
As the largest principal city of the Canton-Massillon Metropolitan Statistical Area, Canton is a growing and bustling center of arts and urban development. A thriving arts district centrally located in the downtown area hosts weekly parties featuring music and art performances appropriate for the whole family. Canton is also home to the Pro Football Hall of Fame, an attraction that countless tourists travel thousands of miles to see every year. Every summer, the Pro Football Hall of Fame Enshrinement Festival is held in the city, which includes a hot air balloon festival, fashion show, ribs burnoff, community parade, enshrinee dinner, a Sunday morning race and various parades.
Canton offers a number of other attractions, including:
Canton Museum of Art
Canton Classic Car Museum
Beech Creek Gardens
Canton Palace Theatre
Gervasi Vineyard
National First Ladies Library
Escape rooms
Food tours
Arcades
Sports Teams in Canton
Home to the Pro Football Hall of Fame, thousands of football fans make the pilgrimage to Canton every year. While Canton no longer has a professional football team of its own, the city is home to what is considered to be one of the best rivalries in all of high school football: the Canton McKinley Bulldogs and the Massillon Washington Tigers.
Government, Crime and Education in Canton
Government
Canton has a mayor-council style government. Currently, it is the largest city in Ohio to operate without a charter. Canton is represented by State Senator Scott Oelslager and State Representative Stephen Slesnick in the Ohio state government. In the Federal Government, Canton is represented by U.S. Senators Sherrod Brown and Rob Portman, and U.S. Representatives Bob Gibbs and Jim Renacci.
Crime
Compared to most other cities in the United States, Canton has a fairly high crime rate. According to Neighborhood Scout, Canton, Ohio, is only safer than 3 percent of cities in the United States. The chances of becoming a victim of violent crime are 1 in 105 in Canton, compared to 1 in 333 in the state of Ohio.
Education
Students in grades K-12 in the city are primarily served by the Canton City School District. However, some areas of Canton are located in the Plain Local School District. Canton is home to several universities and state colleges, including Malone University, Walsh University and Stark State College.
Drug Addiction and Treatment in Canton
In recent years, much of the state of Ohio has been overrun by addiction and substance misuse, particularly in regards to opioids. Fortunately, there are a broad range of professional treatment options available for individuals ready to take the first step toward recovery. People looking for local options can find several to choose from in the Canton area. Individuals willing to travel for their treatment have a broad range of nationally-recognized options, including The Recovery Village Columbus. Located in nearby Groveport, Ohio, The Recovery Village Columbus offers a full continuum of care for drug addiction, alcohol addiction and co-occurring disorders. More information about treatment, as well as Canton drug and alcohol rehab statistics can be found here.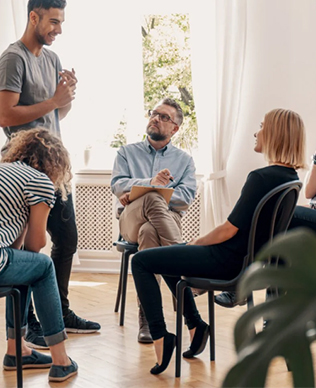 Questions?
Our Recovery Advocates are ready to answer your questions about addiction treatment and help you start your recovery.