Low-Income Drug Rehab Options in Ohio
Last Updated: February 19, 2023
For people with a substance use disorder, addiction treatment can often be a life-saving service. However, it's not always easy to find accessible care — especially when someone has lost their job, has no health insurance coverage or both. To put it in perspective, around 20.4 million people aged 12 or older did not receive the addiction treatment they needed in 2019. Whether it's due to insufficient funds, lack of accessibility or lack of information about resources, nearly 90% of people with a substance use disorder live without care.
When someone has a low income, drug rehab and mental health care can feel like it's out of reach. Fortunately, there are many free or affordable options in Ohio for no-insurance drug rehab services. Telehealth services have also made it easier for people to receive care anytime and anywhere, and certain teletherapy platforms cater specifically toward people with substance use disorders.
How to Find Rehab Treatment
Looking for drug rehab when you don't have insurance or employment can feel daunting, but addiction specialists, healthcare professionals and community leaders often have expert knowledge and connections to resources you can use. Addiction treatment professionals like social workers and counselors dedicate themselves to helping people get care and improve their well-being.
Facility representatives are also an excellent resource: if their treatment center is not the best fit, they often have contacts with other centers that can meet your needs. You may also find community leaders you trust who can make a recommendation. Talking to your doctor, pastor or a nonprofit organization in your area can point you in the right direction.
State-Funded Drug Rehab Programs
Another way to find free or low-cost drug rehab centers is to use the Substance Abuse and Mental Health Services Administration (SAMHSA) locator tool. By entering your city, state, or zip code, you can find information on your area's substance use and mental health treatment facilities. Your search can also be filtered to show facilities that accept payment assistance, sliding payment fees and many other categories.
In particular, state- and federally-funded rehab centers and nonprofit groups are often solutions for families without health insurance or income. To receive answers to your questions and referrals to low-cost or free rehab centers in Ohio, you can call the SAMHSA helpline anytime to speak with a representative. They can connect you with local clinics, nonprofit organizations, support groups, community resources and many other addiction treatment resources.
Teletherapy or Online Rehab
Teletherapy and online addiction treatment are growing in popularity, as it allows individuals to access care from home, avoiding travel costs and childcare arrangements. Platforms like Talkspace help clients find therapists who conduct remote therapy and counseling services for mental health disorders. Some take insurance, and some don't.
While these platforms may be popular, they are not all designed with addiction recovery in mind. The Recovery Village Columbus telehealth app was created specifically to treat people with substance use disorders or co-occurring conditions. Our addiction specialists can provide evidence-based therapy and teach effective strategies for lifelong recovery.
Grant and Loan Programs
Some Ohio treatment facilities may offer drug rehab grants, loans or scholarships. For example, SAMHSA has provided Ohio with a $64 million grant for substance use prevention and treatment. People who can not pay for addiction treatment may apply for fully-funded treatment or a loan they will pay back over time.
Get Help for Your Recovery
Addiction treatment and rehabilitation will always be less expensive than the cost of continuing to use substances. The Recovery Village Columbus works to help people of all backgrounds find the life-saving treatment they need. Whether it's through our facility or by referring to other clinics, we are happy to work with you to find a solution. Contact us today to start the admissions process or learn more about treatment plans and programs that can help you begin the journey to lifelong recovery.
Sources
McCance-Katz, Elinore. "The National Survey on Drug Use and Health: 2019." Substance Abuse and Mental Health Services Administration, September 2020. Accessed September 14, 2020.
Ohio Department of Mental Health and Addiction Services. "Substance Abuse and Mental Health Block Grants." Accessed September 14, 2020.
Molfenter T, Brown R, O'Neill A, Kopetsky E, Toy A. "Use of Telemedicine in Addiction Treatme[…]ion Characteristics." Int J Telemed Appl. March 11, 2018 Mar 11. Accessed April 12, 2021.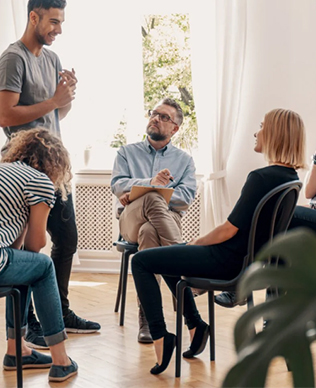 Questions?
Our Recovery Advocates are ready to answer your questions about addiction treatment and help you start your recovery.