Last Updated: January 6, 2023
Jump to Section
Lorain, Ohio, is known as "The International City" because the city is home to over 70 different nationalities. The city, located in Lorain County, is also sometimes referred to as "Steel City" because of its well-known steel mill. Lorain is Ohio's tenth largest city, the second largest in Greater Cleveland, and the largest in the County by population. Home to the Lorain Assembly Plant for Ford Motor Company, the Lorain Palace theatre, and the beautiful Lakeview park, Lorain has a small-town feel but is still close enough to the big city of Cleveland.
The city of Lorain is located in northeastern Ohio on Lake Erie, at the mouth of the Black River, approximately 30 miles west of Cleveland. The Charles Berry Bridge is located in Lorain, and is the second-largest bascule bridge in the world. Lorain has numerous historical sites and small-town activities to participate in for both residents and visitors.
Article Overview
At a Glance
63,778
As of the 2015 census, the city was 588th largest city in the United States.
27%
Lorain's poverty level is above the national average but lower than Cleveland's 36.2 %
-0.17%
Between 2014 and 2015 the population declined from 63,885 to 63,778.
$35,042
Lorain's Median household income
Lorain's aforementioned nickname, the International City is because the city is home to a diverse group of non-english speaking residents. The most common foreign languages in Lorain, Ohio, are Spanish (9,552 speakers), African Languages (192 speakers), Hungarian (120 speakers), other Slavic (174 speakers), and Greek (87 speakers).
History of Lorain
The city of Lorain was incorporated in 1874 by the town council. It was named after Lorain County itself, which had been named by Heman Ely, who thought the area looked very much like the province of Lorraine in France. Lorain's location next to Lake Erie and the early arrival of the B&O Railroad in 1871 made the city a hub for industry. The Hayden Brass Works even built a large plant on Elyria Avenue.
Captain Thew, a ship captain on the Great Lakes, developed an improved gear system for a steam shovel, and that developed into the Lorain Shovel Company that became known worldwide. Lorain grew tremendously in the 1890s. Construction of the Johnson Steel Rail Company started in 1894, and in just ten years, the population of the City of Lorain tripled. In 1984, the American Stove Works built a plant in Lorain, where they produced heaters and furnaces. Three years later, the American Shipbuilding Company built a yard and launched hundreds of ships before it closed in 1984.
Lorain, Ohio, certainly did its part during World War II. The shipyard was put to work by the government to build the USS Lorain, a frigate.
Ford Motor Company had the Lorain Assembly Plant in the city, mostly known for assembling the Ford Econoline (E-series) van, Ford Torino and Mercury Montego, and beginning in 1975 the Ford Thunderbird and Mercury Cougar. The plant ceased all production on December 14, 2005, because the United Automobile Workers and Ford management were unable to come to terms on a new contract. The sprawling United States Steel Mill stretches for nearly three miles on the city's south side. These mills operated in the city since 1895 and employed thousands of local residents. Though the blast furnaces were idled in late 2008, Republic Steel announced in December of 2011 that they would be building electric arc furnaces to once again make steel in Lorain. Ultimately, Republic Steel closed its doors for good in July 2016.
Lorain's Population and Demographics
Lorain has a population of 63,778 and is the 588th largest city in the United States. Between 2014 and 2015, the population of the city declined from 63,885 to 63,778, a -0.17% decrease.
In 2015, there were 1.96 times more white residents (34,788 people) in Lorain than any other race or ethnicity. There were 17,743 Hispanic and 8.879 black residents, the second and third most common racial or ethnic groups.
The median age of all people in Lorain was 37.6. Native-born citizens, with a median age of 37.4 were generally younger than foreign-born citizens with a median age of 41. However, the population in Lorain is getting younger. In 2014, the average age of all (native and foreign-born) Lorain residents was 38.
What To Do in Lorain
Lorain International Festival
One of the highlights of the summer season is the Lorain International Festival. This gathering is a week-long celebration that begins the last full week of June every year, with numerous separate events mainly in downtown Lorain. Various nationalities, cultures and the community are celebrated with the sharing of gifts from a variety of homelands through food, music, costumes and tradition.
The three day bazaar takes place along the scenic Black River and features a multitude of foods with a wide variety of ethnic cuisine to sample. There is wonderful entertainment throughout the weekend including on-going live performances.
The city features fun and relaxing activities to participate in, and destinations to visit, while visiting or living in Lorain. Some of the most popular attractions include:
Lorain Port Authority
Lakeview Park
Fligner's Market
Palace Theater
Sara J Fishing Charters
Lorain Harbor Lighthouse
The LoCo Yak Shak
Rebman Recreation Inc
Sprenger Stadium
Noah's Ark Lake Erie Fishing Charter
Black River Billards
The Bootleggers Den
Sprenger Stadium
The stadium is about a 20-minute drive from Lorain. Sprenger Stadium is a baseball park in Avon, Ohio. It's the home of the Lake Erie Crushers, a Frontier League team that was created in 2009. Since 2012, the ballpark has hosted the Mid-American Conference Baseball Tournament held in late May. The winner of this tournament earns the conference's automatic bid to the NCAA Division I Baseball Tournament.
Government, Crime and Education in Lorain
Government
Politics in the city have traditionally been closely tied to the local Democratic party. However, throughout the years Republicans occasionally have been able to win offices.
Voter turnout for the 2016 General Election in Lorain was 24,198, registered 40,885 voters of a 59.1 percent turnout rate. Democrat Hilary Clinton captured 15,192 (62.78 percent), Republican Donald Trump captured 7,584 votes (31.34 percent), Independent Gary Johnson captured 613 votes (2.53 percent) and Green Jill Stein captured 222 votes (0.92 percent). Other candidates had marginal amounts of write-in votes; additionally, it is possible that some voters did not select a presidential candidate when casting their ballot.
The mayor of Lorain is currently Chase M. Ritenauer, Democrat. Federally, most of Lorain is part of Ohio's 9th congressional district, represented by Democrat Marcy Kaptur. A tiny section in the south is in Ohio's 4th congressional district, represented by Republican Jim Jordan.
Crime
The crime rate in Lorain is considerably higher than the national average across all communities in America from largest to smallest, although at 35 crimes per one thousand residents, it is not among the communities with the highest crime rate. Relative to Ohio, Lorain has a crime rate that is higher than 89 percent of the state's cities and towns, regardless of size.
The violent crime rate is one of the highest in the nation, across communities of all sizes. Violent offenses tracked included rape, murder and non-negligent manslaughter, armed robbery and aggravated assault, including assault with a deadly weapon. There is also data on Lorain's drug and alcohol rehab statistics.
Education
Lorain City School District operates ten elementary schools, two middle schools, and Lorain High School.
At the collegiate level, Lorain awarded 227 degrees in 2015. The student population of Lorain is predominately female, with 21 male students and 206 female students. The largest universities in Lorain, Ohio, by number of graduates are Ohio Business College-Sheffield and the Northern Institute of Cosmetology. The most popular majors are Medical Assistant and General Cosmetology.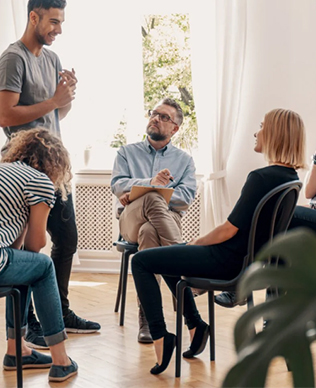 Questions?
Our Recovery Advocates are ready to answer your questions about addiction treatment and help you start your recovery.