Springfield, Ohio: History, Drug & Alcohol Rehab
Last Updated: November 3, 2022
Jump to Section
The "Champion City." The "Home City." The "City of Roses." Springfield, Ohio, holds many monikers, with a wealth of history and culture behind each name. In Newsweek's 50th anniversary issue, it hailed Springfield as an "All-American City," and the town holds true to that accolade to this day.
Springfield traces its long and varied history to its founding in 1801, before it blossomed into a city township in 1850. Located in southwestern Ohio, Springfield draws nature and hiking enthusiasts to its forests and hills, while being a short distance from the more metropolitan areas of Columbus. Springfield rests on three bodies of water: the Mad River, Buck Creek and Beaver Creek. As the county seat of Clark County, Springfield offers opportunities for young families, retirees, and everyone in-between.
Article Overview
The "Champion City," by the numbers:
59,087
The number of residents who occupy Springfield, according to the 2017 U.S. Census.
4.7 percent
Springfield's unemployment rate has steadily declined since 2010.
$32,165
The median household income in Springfield has held steady from 2012–2016.
361
Springfield saw far too many drug overdose deaths in 2016.
There's more to Springfield, Ohio, than statistics can show. The city's vibrant history, geography and famous landmarks paint a picture of life in Springfield that captivates residents and visitors alike.
History of Springfield
Established in 1801 by Kentucky-native James Demint, Springfield, Ohio, was originally named for Springfield, Massachusetts. However, this new Springfield has something Massachusetts did not: the National Road. For nearly 10 years, politicians debated over the direction of this innovative highway, which ended in Springfield, Ohio. With this industrialization came innovators of all kinds. One of the most historic structures in Springfield, the Ohio Bushnell Building, was where the Wright Brothers first claimed the patent to the airplane.
In the early 20th century, Springfield gained one of its most beloved nicknames, the "Home City." Organizations like the Masonic Lodge, the Odd Fellows and the Knights of Pythias built homes for orphans and elderly members of each order in Springfield.
Springfield is also known for its agricultural roots. Springfield is the birthplace of one of the country's largest youth development organizations, 4-H. In 1902, the superintendent of schools for Springfield Township in Clark County established a "Boys' and Girls' Agricultural Club," which taught the tenets of gardening, food preservation and elementary agriculture. From these humble beginnings in Springfield, Ohio, the nationwide 4-H Club was born.
Pieces of Springfield's Colorful History
The town's first jail was said to have been guarded by a black bear.
In 1919, Springfield's 33 greenhouses produced more roses than any other city in the country, thus earning the town the nickname "City of Roses."
Two of Ohio's former governors grew up in Springfield: Asa Bushnell and James Rhodes.
Despite popular belief, Springfield, Ohio, is not the setting for the cartoon show "The Simpsons." Matt Groening, the show's creator, revealed the real location to be Springfield, Oregon.
Springfield Climate
Springfield spans 25 square miles throughout southwestern Ohio. The city sits 997 feet above sea level and boasts a comfortable climate for the majority of the year. The average temperature hovers around 51 degrees Fahrenheit in Springfield (the annual low is 40 degrees), with about 179 sunny days a year. In terms of precipitation, the city receives around 38 inches of rain each year, and almost 19 inches of snow in the winter. Overall, the city has a temperate climate, and scores a 48 out of 100 on Sperling's comfort index, while the national average is a 54 on the same scale.
Springfield Population and Demographics
According to the 2017 U.S. Census, Springfield hosts a population of 59,087. The population has decreased since 2010, when 60,608 people occupied the city of Springfield. Today, the largest percentage of residents (52 percent) are female, and 23 percent of all residents are under 18 years old. The majority of residents in Springfield, Ohio, are Caucasian, with 74 percent of people being white. Among Springfield's 24,474 households, the median household income in 2016 was $32,165. This number is in stark contrast to the poverty rate, which was a startling 27 percent in 2016.
Notable People Born in Springfield:
Singer and songwriter John Legend (aka John Stephens)
Actress Lillian Gish
Actor Justin Chambers
Football quarterback Braxton Miller
Photographer Berenice Abbott
Former Ohio State head coach Randy Ayers
What to Do in Springfield
Springfield has no shortage of interesting activities, parks to visit and sights to see. The "Home City" offers entertainment to suit every interest, and locals and visitors alike enjoy popular Springfield attractions like:
Frank Lloyd Wright's Westcott House
Heart of Ohio Antique Center
Little Miami Scenic Trail
Hartman Rock Garden
Buck Creek State Park
George Rogers Clark Park
Heritage Center of Clark County
Springfield Museum of Art
Springfield's Snyder Park
Carleton Davidson Stadium
In addition to the sights of Springfield, the food scene offers a little bit of everything to please every palate. Serving up everything from comfort food to fine cuisine, Springfield's top-rated local eateries include:
Guerra's Krazy Taco
Seasons Bistro and Grille
Taqueria Señor Piquin
Collier's Family Restaurant
Un Mundo Cafe
Bada Bing! Pizzeria
Mikey's Pizza
Cecil and Lime
Olympic Coney Island
Coffee Expressions
Government, Crime and Drug Use in Springfield
Government
Overall, the party affiliation of Ohio is Democratic. Political shifts in 1988 moved the majority of Ohio regions toward the Democratic party. On the city level, the government of Springfield operates in a council-manager setting with elected officials dedicated to making the city safer, more efficient and prosperous for years to come. The current mayor of Springfield is Democrat Warren R. Copeland, and the assistant mayor is Joyce Chilton.
Crime
Sadly, Springfield has one of the highest crime rates in the nation, with various types of serious crimes being reported in communities large and small. Criminal activity is only increasing as Springfield saw a stark rise in crime in the past few years. Between 2012 and 2014, violent crime rose by 21 percent, and in 2015, the city's crime rate reached a 14-year high. Reported offenses in the city of Springfield include non-negligent manslaughter, rape, armed robbery and aggravated assault with a deadly weapon.
Drug Use
Ohio is not immune to the nationwide drug epidemic. In 2016, 3,050 lives were lost to drug overdoses in the state, and 361 of these deaths occurred in Springfield. By April of 2017, the city saw a total of 368 fatal overdoses, topping the previous year's total in just four months. The illicit opioids heroin, fentanyl and carfentanil were involved in the majority of these deaths. Springfield continues to struggle with prescription and illicit opiate misuse.
However, Springfield isn't the only city that faces an increase in drug and alcohol abuse. There is also data on Hamilton's drug and alcohol rehab statistics.
Treatment for Drug Addiction in Springfield, Ohio
This trend of Springfield overdose deaths doesn't have to continue. If you or a loved one face an addiction to alcohol, opioids, prescription drugs or other substances, finding effective treatment may be easier than you think. The Recovery Village offers a full continuum of drug and alcohol rehab programs, including:
Medically assisted detox
Residential treatment
Partial hospitalization programs
Intensive outpatient programs
Outpatient programs
Aftercare planning
Each program balances medical support with counseling for co-occurring mental illnesses like anxiety and depression, so you can heal from the inside out. Please contact us if you have any questions or have a loved one looking for drug or alcohol rehab in Springfield, OH. The Recovery Village centers provide comprehensive rehab treatment across the country, with one facility conveniently located just outside of Springfield in Groveport, Ohio. Want to learn more about what's involved in treatment? Unsure of which type of program meets your needs? A telephone call to The Recovery Village is toll-free, completely confidential, and you don't have to commit to a program right away. You can find life beyond addiction — call today to get started.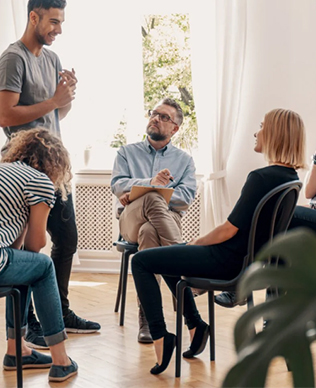 Questions?
Our Recovery Advocates are ready to answer your questions about addiction treatment and help you start your recovery.