First Health Drug & Alcohol Rehab Insurance Coverage
Last Updated: August 30, 2023
Jump to Section
Rehab can save your life or the life of someone you love, and insurance companies like First Health will often cover the costs.
One of the key elements of effective addiction treatment is that it's highly accessible. Unfortunately, one perceived barrier to treatment is the cost of rehab. However, many insurance companies and plans cover addiction treatment costs, including inpatient and outpatient programs. The Recovery Village Columbus is in-network with most of the country's major insurance companies and smaller regional companies, including First Health.
First Health Provider Overview
First Health is a company that merged with Aetna 10 years ago and since then has operated nationwide, providing health coverage for around 5.5 million people, primarily in Colorado, Michigan and other states. Because of the partnership with Aetna and the relationship with Cofinity, First Health Group offers an expansive network of providers for rehab and addiction treatment.
First Health Plans and Coverage Levels
First Health offers a range of different plans, including PPO plans. These may cover more out-of-pocket costs, but you should check with First Health or a Recovery Advocate from The Recovery Village Columbus to find your specific benefits.
Does First Health Insurance Cover Drug and Alcohol Addiction Treatment
It's very common for drug and alcohol addiction treatment to be covered by insurers, including First Health. There are a few reasons for this. First, research and science have helped guide a deeper understanding of addiction than existed previously. It's now understood that addiction is a complex chronic disease requiring comprehensive, professional and evidence-based treatment.
The Affordable Care Act also helped insurers become more inclusive in their rehab and addiction treatment coverage. The passage of the ACA required that marketplace insurance plans include coverage for rehab as an essential health benefit.
While you may have some level of coverage for rehab through your First Health plan, you still might have to work with an insurance specialist to ensure you meet the criteria for coverage. This approval process is required for many types of treatment, not just rehab.
Does First Health Cover Inpatient Rehab?
Inpatient rehab is intensive and holistic. It's often the first step in a treatment process, taking you away from your substance abuse environment. Inpatient rehab is residential, so you live onsite as you prepare for lifelong recovery. First Health may cover inpatient rehab, depending on your plan, location, where to go to rehab and your medical needs.
Does First Health Cover Outpatient Care?
Outpatient treatment can be a first step for some people or a step down from a more intensive or residential treatment program. Regardless, First Health will usually cover outpatient care similarly to inpatient treatment. Outpatient rehab programs can include partial hospitalization programs, intensive outpatient programs and standard outpatient rehab.
First Health Mental Health Services Coverage
Mental health services include behavioral therapies such as cognitive-behavioral therapy and eye movement desensitization and reprocessing. Behavioral therapy and mental health services can be an essential part of a rehab program, and many people with addiction disorders will also have co-occurring mental health disorders. First Health covers the costs of mental health services when they're medically needed, and it's part of your specific plan. You may still have to meet certain out-of-pocket requirements before your First Health insurance kicks in for mental health coverage.
Addiction Treatment Options for First Health Members
A continuum of care is an evidence-based approach to addiction treatment. In a continuum of care, you begin your treatment plan with an intensive care level, such as residential rehab. Then, as you are ready and stronger in your recovery, you gradually move into lower care levels, working toward an outpatient program. First Health may cover multiple types of treatment as part of a continuum of care, which can include:
Medical detox to help with a comfortable, safe withdrawal process.
Inpatient residential programs are structured and holistic.
Partial hospitalization programs at The Recovery Village Columbus include living onsite.
Intensive outpatient programs include onsite living, and at The Recovery Village Columbus, treatment is five days a week.
Outpatient treatment where you live off-site, whether at home or a sober living house, but continue to receive supportive services.
First Health Treatment Duration
Staying in treatment long enough is considered one of the most important factors for your recovery. The inpatient part of an addiction treatment program is usually 30, 60 or 90 days, but it depends on the person. First Health may cover all your treatment duration, based on your plan and medical needs. They'll assess your treatment program and other details specific to you in determining how long of a stay to cover.
Ohio Rehab Facility Accepting First Health
The Recovery Village Columbus is one of the nation's leading addiction treatment centers. We accept First Health and are in-network with most of the country's main insurance providers. If you'd like to learn more, contact our Recovery Advocates or complete our insurance verification form. You can also reach out directly to First Health to learn more about the details of your plan and coverage.If you're ready to explore what recovery could mean for you or someone you love, contact a Recovery Advocate today.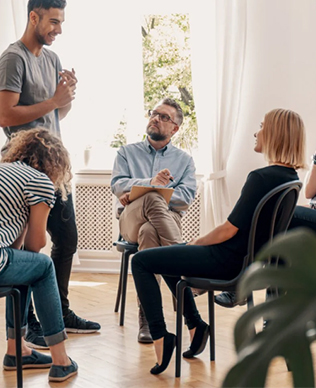 Questions?
Our Recovery Advocates are ready to answer your questions about addiction treatment and help you start your recovery.