Paying for Addiction Treatment with Mines and Associates
Last Updated: September 19, 2022
Mines and Associates is a national psychology firm that offers behavioral health managed care programs and employee assistance programs (EAPs). Headquartered in Littleton, Colorado, Mines and Associates serves individuals, couples, families, and companies.
Mines and Associates provides mental health services for:
Stress
Depression
Family problems
Work-related issues
Financial problems
Currently, the United States is experiencing a drug crisis deadlier than that of the crack-cocaine epidemic of the 1980s. As a result, many people dealing with a substance use disorder are seeking treatment. Does Mines and Associates offer coverage for drug or alcohol treatment?
Does Mines and Associates Cover Drug and Alcohol Detox?
Mines and Associates provides management services and consultation to people in a drug or alcohol detox facility. The company manages what the patient needs. Mines and Associates often works with insurance companies and processes claims.
Mines and Associates also works with treatment centers. Because the company manages an individual's behavioral health needs, Mines and Associates can decide whether additional treatment is needed beyond a 30- or 90-day stay. If a person makes strides in their treatment, Mines and Associates may recommend a lower level of care.
Benefits Offered from Mines and Associates for Addiction Treatment
Mines and Associates offers several services that can benefit people with a substance use disorder. The company provides drug and alcohol counseling services, ranging from three to eight sessions per week.
The company also offers wellness services, including nutrition and fitness coaching. Eating healthy foods and engaging in physical activity can reduce the likelihood of substance abuse and contribute to improved mental health.
Will Mines and Associates Cover My Entire Stay for Addiction Treatment?
Mines and Associates does not offer health care coverage. As a result, the company does not provide addiction treatment coverage outside of counseling services.
Clients who have insurance through another company, such as Humana, can be managed by Mines and Associates through Mines and Associates' benefits administration and medical management department.
Through its expertise in mental health, Mines and Associates offers a Preferred Provider Organization (PPO) network of specialized providers. A PPO network is a type of health plan that contracts with health care providers, such as hospitals, to produce a network of participating providers.
Find Out More About What My Mines and Associates Plan Covers
To find out more information about Mines and Associates, visit the company's website. It contains information about Mines and Associates, including the services it offers and frequently asked questions. You could also contact Mines and Associates at (855) 501-1497 to receive more information about the company and its services.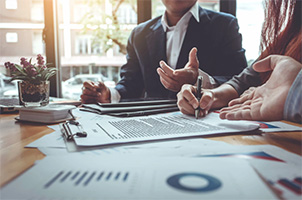 Verify Your Insurance Online
See if your insurance will cover treatment at The Recovery Village Columbus.