Alcohol Rehab and Detox in Columbus, Ohio
Last Updated: November 9, 2022
Jump to Section
It can be hard to take the first step toward alcohol addiction recovery, but compassionate, evidence-based treatment at The Recovery Village Columbus makes it easier.
Alcohol addiction is a disease that few people expect themselves to develop, yet many do. A person may believe they feel happier, less stressed and more fun when they drink, so they start using alcohol to cope with negative feelings. Eventually, their mind will start to crave the substance, and their body will depend on it to function. It can progress to the point where a person may be in physical and mental pain if there isn't alcohol in their system.
Hundreds of thousands of Ohioans struggle with alcohol addiction every year. Nearly 531,000 residents had an alcohol use disorder (AUD) in 2017; of these, around 494,000 needed treatment but did not receive it.
Signs That It's Time for Help
It can be scary to take an honest look at your drinking habits, and it's even scarier to admit you might have an unhealthy relationship with alcohol. If you're wondering whether you might be struggling with alcohol use, the key signs of addiction can include:
Drinking even though it hurts your physical or mental health
Losing interest in relationships with family and friends
Losing interest in hobbies or activities you used to enjoy
Dedicating a lot of time to drinking or recovering from drinking
Hiding your drinking or lying about it
Drinking alone, frequently or early in the day
Missing work, school or important events due to drinking
Lacking control over the amount or frequency of drinking
Engaging in dangerous or risky behaviors
Constantly thinking about when you'll get to drink next
Trying to quit drinking but being unsuccessful
See Related: Benefits of Quitting Alcohol
Don't Face Alcohol Withdrawal Alone
Addiction treatment facilities help people begin the path to lifelong recovery, but they also address the more dangerous aspects of quitting alcohol. People may experience uncomfortable withdrawal symptoms as their body detoxes from alcohol.
Especially in those with severe alcohol addiction, these symptoms can be life-threatening. Detox programs reduce these risks to make the withdrawal process safer and more comfortable for clients.
Alcohol withdrawal symptoms may include:
Anxiety, depression and mood changes
Restlessness
Headaches
Nausea and vomiting
Rapid heart rate
Clammy skin
Sweating
Lack of energy
People with more severe alcohol addictions can have more extreme symptoms, such as:
Delirium tremens (which can be fatal)
Grand mal seizures
Hallucinations
Full body tremors
Confusion
Safe, Professional Detox and Treatment in Columbus
At The Recovery Village Columbus, we believe in an all-encompassing approach to treatment. Effective recovery requires addressing the underlying causes of a person's substance use — not just their addiction.
Ongoing support is also an important factor in success, which is why we provide aftercare programs, alumni support and other resources that support lifelong health and recovery. Our ultimate goal is to help each client repair their lives and transition back into their communities without needing to rely on substances.
The AUD Treatment Process
Our evidence-based approach to treatment has helped many people end their relationship with alcohol and find healthier ways to cope with life's challenges. The general treatment process is:
Intake: We figure out what type of treatment the client requires, how severe their addiction is and what specific needs they may have.
Detox: A team of medical staff monitors the client during the withdrawal process, providing support as needed to help relieve uncomfortable symptoms.
Rehabilitation: Our addiction experts help clients address their substance use, learn strategies for avoiding relapse and discover healthier ways to deal with difficult circumstances.
Aftercare: We routinely check in with clients to monitor progress, address new concerns and provide ongoing support throughout recovery.
Types of Treatment
Clients may go through a variety of different treatment programs, depending on the severity of their addiction and the progress they make. Stages of treatment at The Recovery Village Columbus include:
The Components of an Effective Treatment Program
It's not enough to just stop drinking alcohol. The same problems, feelings and situations that led someone to drink in the first place still exist. Effective treatment programs like The Recovery Village Columbus offer clients:
Break Free From Alcohol Addiction
We are dedicated to your recovery. Let us build a treatment plan that is tailored to your needs today. Top Reads About Alcohol Addiction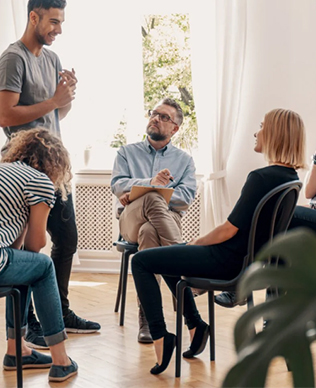 Questions?
Our Recovery Advocates are ready to answer your questions about addiction treatment and help you start your recovery.