Drug & Alcohol Treatment Centers & Resources Near Columbus, Ohio
Substance Abuse Resources in Columbus, OH
An increasing number of individuals in Columbus, OH, are battling substance abuse issues, from alcoholism to opioid addiction. Ohio's substance abuse numbers have consistently been above the national averages. According to a report from the Substance Abuse and Mental Health Services Administration (SAMHSA), nearly one in 12 Ohio adults battled a substance use disorder in the past year, of whom a significant proportion live in the city of Columbus. The city has committed to finding solutions and providing valuable resources for those seeking help and recovery.
This includes a range of treatments, such as inpatient and outpatient services, medical detox, counseling, support groups, and more. Many state-funded and private organizations provide these vital services in Columbus, ensuring that help is within reach for all struggling with addiction. Recognizing the necessity for substance abuse treatment is the first step on the path toward recovery. Continue to explore the resources available in Columbus, OH, for the assistance needed.
About Columbus, OH
Columbus, the state capital of Ohio, is known for its vibrant and diverse culture. Situated in the heart of the Midwest, this populous metropolitan area is replete with a vibrant arts scene, fascinating historical landmarks, and a dynamic and thriving economy.
With a population of over 879,000 individuals, according to the U.S. Census Bureau, Columbus is the third most populous state capital and the second most populous city in the Midwest, after Chicago. It is a melting pot of diverse cultures and communities, all of which add to the exciting cosmopolitan atmosphere of Columbus.
Despite the abundance of amenities and opportunities, Columbus, much like other urban areas, faces certain challenges. One perennial issue the community is grappling with is substance abuse which affects a substantial segment of the population, including young adults, the working class, and the homeless.
According to the Ohio Department of Health, drug overdose deaths in the state have increased significantly in the past decade, with Columbus witnessing a surge in substance abuse cases. Local government and various organizations have been tirelessly working to address this issue, launching programs aimed at prevention, rehabilitation, and support for those affected.
While the issue of substance abuse remains a substantial challenge, the resilience and efforts of the Columbus community continue to shape a city that is a worthwhile place to live, work, and explore.
Our Closest Facility
If you're in Columbus, OH, and seeking help for substance use and co-occurring mental health disorders, our closest facility, The Recovery Village Columbus Drug & Alcohol Rehab, is an excellent option for you.
Located conveniently at:
3964 Hamilton Square Blvd,
Groveport, OH 43125
You can contact us directly at:
(614) 362-1686For more detailed information about our services, please visit our website:
The Recovery Village Columbus Drug & Alcohol RehabWe are recognized for our commitment to providing individualized, comprehensive treatment plans that cater to the specific needs of each client. Our caring and experienced team of professionals is focused not just on treating the symptoms but on tackling the underlying problems, helping to ensure sustainable recovery. Don't hesitate to reach out to us and start your journey to recovery today.
Overview of Rehab Programs for Treating Substance Abuse near Columbus, OH
Welcome to help, hope, and recovery. We are The Recovery Village Columbus Drug & Alcohol Rehab, conveniently located at 3964 Hamilton Square Blvd, Groveport, OH 43125. We understand that substance abuse is a significant challenge that people from all walks of life face. Our mission is to aid those who are on the journey to recovery from addiction, offering an array of comprehensive rehab treatments tailored to the individual needs and conditions of our clients.
Our focused approach to dependency provides profound healing and comprehensive medical care to those suffering from substance misuse, whether it be alcohol, opioids, or other drugs. Dealing with substance abuse is not something anyone needs to do alone, and our dedicated team of healthcare professionals is here to provide support every step of the way. Whether you or your loved one needs help, we are just one phone call away. You can reach us at (614) 362-1686.
Our rehab programs are designed to tackle the underlying issues of substance abuse, with medical detoxification, residential treatment, partial hospitalization programs, intensive outpatient programs, and outpatient programs available. We believe that everyone is capable of recovery, and we prepare them for lifelong sobriety with our full continuum of care. To learn more about these programs and their specifics, visit our website, The Recovery Village Columbus Drug & Alcohol Rehab.
Closer to Columbus than any other rehab center, we are committed to serving the local community by providing access to top-rate care and resources. With quality treatment plans, experienced professionals, and a supportive, healing environment, we are dedicated to seeing you thrive and guiding you to a life free from addiction.
Common Co-Occurring Disorders in Columbus, OH
In Columbus, OH, several co-occurring disorders are commonly encountered. These are conditions in which an individual suffers from both a mental health disorder and a substance abuse disorder simultaneously. They can also include a combination of mental health disorders.
The most commonly reported co-occurring disorders in Columbus are Major Depressive Disorder and Substance Use Disorders, particularly alcohol and opiate addiction. This condition poses a significant challenge as it complicates both diagnosis and treatment methods since one disorder can often exacerbate the other, leading to a harmful cycle of symptom escalation.
The Substance Abuse and Mental Health Services Administration(SAMHSA) states that approximately 8.9 million Americans have co-occurring disorders. In Ohio alone, data suggests that nearly half of the people seeking treatment for either a substance use disorder or mental health disorder also suffer from the other condition.
Another common co-occurring disorder in Columbus is anxiety disorder combined with substance abuse disorder. The Alcohol, Drug, and Mental Health (ADAMH) Board of Franklin County suggests that anxiety disorders, though widely varied, can often lead to the development of substance abuse disorders as individuals might attempt to self-medicate against the symptoms of their anxiety.
It's crucial to remember that co-occurring disorders are highly treatable, and a number of effective options are currently available in Columbus, including comprehensive, integrative treatment programs that address both conditions simultaneously. The journey toward recovery is often complex and challenging, but with the right treatment and network support, a healthier life is certainly attainable.
Recovery Resources in Columbus, Ohio
The state of Ohio, local teams, and governmental bodies offer several recovery resources for anyone struggling with drug or alcohol addiction. Below are the key resources that can provide help.
Ohio Department of Mental Health and Addiction Services
This state agency provides public health services for addiction and mental health issues. They offer a range of prevention, treatment, and recovery resources.
Website: https://mha.ohio.gov/
Franklin County ADAMH Board
The Alcohol, Drug, and Mental Health Board of Franklin County supports recovery services, education, and treatment options in the area.
Website: https://adamhfranklin.org/
The Recovery Village Columbus Drug & Alcohol Rehab
Located in central Ohio, The Recovery Village offers comprehensive treatment for drug and alcohol addictions and co-occurring mental health conditions. Dedicated teams provide a range of treatment options, from detox to aftercare, to help clients lead healthier lives.
Address: 3964 Hamilton Square Blvd, Groveport, OH 43125
Contact number: (614) 362-1686
Ohio Substance Use Recovery Helpline
This confidential 24/7 helpline provides immediate treatment support for those facing a mental health or addiction crisis.
Phone: 1-800-587-2336
Common Substances of Abuse in Columbus, Ohio
Substance abuse remains a pressing issue in Columbus, Ohio. Just like any other city in the United States, Columbus struggles with various types of popularly abused substances. Some of the most commonly abused substances include:
Alcohol
Alcohol is unquestionably the most commonly abused substance in Ohio. The Ohio Department of Health reported that in 2019, 53.0% of adults in Ohio consumed alcohol within the past 30 days. Although it is a legal substance, its abuse leads to a multitude of health risks and poses a significant problem, especially when it comes to drunk driving incidents.
Opioids
Ohio is one of the states hit hardest by the opioid epidemic. The U.S. Department of Health and Human Services highlighted that in Ohio in 2018, there were 46.3 opioid-involved overdose deaths per 100,000 persons, significantly higher than the national rate of 21.6 deaths per 100,000. Similarly, Columbus, as the state capital, remains highly affected by this crisis.
Methamphetamines
While opioids continue to be a prime concern, Methamphetamines are surging as a substance of abuse in Columbus. The rise in meth usage is reportedly attributed to the strict regulations on opioid prescriptions, which push individuals to seek alternatives. Data on a state-wide scale is limited, but local law enforcement and health departments warn about the increasing number of meth-related incidents.
Marijuana
Marijuana is the most widely used illegal drug in Columbus. With the recent legalization of medical marijuana in Ohio, the rate of recreational use continues to rise. In 2016, the Ohio Department of Health reported that 15.1% of Ohio adults and 21.3% of high school students used marijuana in the past year.
Substance abuse is a prevailing issue in Columbus, Ohio, that necessitates collaborative effort. Tackling this issue involves personalized treatment programs, proactive policing, and effective public health measures that target the root cause of the problem.
Substance Abuse Warning Signs for Columbus, OH Residents
Identifying substance abuse can be challenging, as signs and symptoms may vary depending on the individual and the substance. However, there are some common signs that might indicate a problem with substance abuse. The following are possible warning signs:
Unexplained changes in behavior or personality
Neglecting responsibilities at work, school, or home
Engaging in risky behaviors while under the influence
Having legal troubles, such as arrests or charges related to substance use
Experiencing withdrawal symptoms when not using the substance
If you or someone you love is exhibiting one or more of these signs, it may be time to seek professional help. If you live in Columbus, OH, you're not alone. The Recovery Columbus offers resources and treatment for those struggling with substance abuse.
Remember, seeking help is a sign of strength, and recovery is always possible. Please contact us directly if you have any concerns.
Alcohol Addiction Treatments in Columbus, OH
For those suffering from alcohol addiction, there are numerous viable treatment options in Columbus, OH. The city has resources that can provide immediate and long-term help to individuals and families dealing with alcohol misuse.
These techniques include, but are not limited to:
Medical Detox: Supervised detoxification to manage withdrawal symptoms safely.
Individual Counselling: One-on-one psychotherapy to identify co-existing disorders and understand the root causes of addiction.
Group Therapy: Mutual support meetings to share experiences and coping strategies.
Family Therapy: Therapy to repair relationships, improve communication, and foster healing for the whole family.
Medication-Assisted Treatment (MAT): Use of medications, in combination with counseling and cognitive therapies, to manage withdrawal symptoms and prevent relapse.
Aftercare Programs: Support and relapse-prevention programs for maintaining sobriety post-treatment.
It's important to understand each individual will require a unique treatment plan tailored to their specific circumstances, needs, and recovery goals.
The Recovery Village Columbus Drug & Alcohol Rehab
In Columbus, one of the leading facilities for alcohol addiction treatment is The Recovery Village Columbus Drug & Alcohol Rehab. This facility caters to those in need of thorough, in-depth treatment plans.
Located at: 3964 Hamilton Square Blvd, Groveport, OH 43125
You can easily reach us for inquiries at (614) 362-1686. This facility offers a wide range of services, including medical detox, outpatient programs, residential treatment, and aftercare planning – all geared toward the patient's long-term recovery and well-being.
Our team of healthcare professionals is dedicated to providing effective, evidence-based treatment in a caring and supportive environment. The Recovery Village is committed to helping individuals regain control of their lives and walk the path of recovery.
The Opioid Epidemic in Columbus, OH
Columbus, Ohio, is among the cities most affected by the escalating opioid crisis, a national public health emergency declared by the U.S. Department of Health and Human Services. This crisis is characterized by an alarming increase in opioid-overdose fatalities and significantly increasing numbers of people grappling with opioid addiction.
Opioid Epidemic Statistics
According to Ohio's Department of Health, there were 4,028 opioid-related fatal overdoses in Ohio in 2020 alone, a significant number of which occurred in Columbus.
Available Addiction Treatment Options
Fortunately, there is hope for those seeking help with opioid addiction in Columbus. There's a range of addiction treatment options available in the city, incorporating medically supervised detox, cognitive behavioral therapy, medication-assisted treatment (MAT), and peer support groups.
Medically Supervised Detox:
This program involves health professionals overseeing the withdrawal process to ensure safety and mitigate the discomfort of withdrawal symptoms.
Cognitive Behavioral Therapy:
This program helps patients to recognize and restructure harmful thought patterns underlying substance use.
Medication-Assisted Treatment (MAT):
It combines FDA-approved medications (like buprenorphine, methadone, and naltrexone) with therapy and counseling to treat opioid addiction. The Substance Abuse and Mental Health Services Administration (SAMHSA) supports these treatments as effective forms of therapy.
Peer Support Groups:
Supportive networks of individuals who are also struggling with addiction play a significant role in maintaining the sobriety and overall well-being of the in-person or online attendee.
Government Resources
The State of Ohio is committed to combating the opioid crisis and provides various resources, including funding, treatment programs, and educational initiatives. Governor Mike DeWine's RecoveryOhio initiative (RecoveryOhio) is a comprehensive effort to address the state's mental health and addiction crisis. Moreover, federal support can be sought through the Substance Abuse and Mental Health Services Administration's (SAMHSA) national helpline, which offers free and confidential treatment referrals and information.
Your Path to Recovery Starts Here
We understand the struggles of addiction, and we believe in the hope for lasting recovery. Here in Columbus, OH, you have a strong ally on your recovery journey — and that's us. We encourage everyone seeking support to reach out to us. Speak with our dedicated Recovery Advocate, and let us assist you as you embark on your path toward recovery.
You are not alone in this journey. With us by your side, lasting recovery is not just possible – it's achievable.
We're here for you.
Our facility, conveniently located at 3964 Hamilton Square Blvd, Groveport, OH 43125, is staffed with a team of dedicated professionals ready to offer the help and support you need.
You can reach us by phone at (614) 362-1686. Don't hesitate to call us. Our Recovery Advocates are standing by, ready to help you find lasting recovery.
For more information about our services and how we can help, please visit our website https://www.columbusrecoverycenter.com/.
Your Hope. Your Recovery. Your Life.
We emphasize hope because we believe in your strength and ability to recover. We are committed to providing the necessary support to help individuals in the Columbus area build a brighter future free from addiction. This is your journey, and we're here to guide you every step of the way.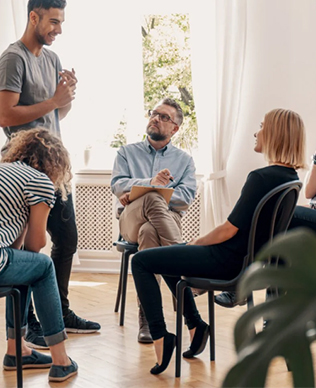 Questions?
Our Recovery Advocates are ready to answer your questions about addiction treatment and help you start your recovery.