Drug & Alcohol Treatment Centers & Resources Near Dublin, Ohio
Substance Abuse Resources in Dublin, OH
In Dublin, OH, a city within a state equally grappling with substance abuse issues, there is a consistently increasing need for substance abuse resources. Ohio has consistently ranked high for overdose death rates in the U.S., a clear indicator of large-scale substance abuse. In 2019, the state had a rate of approximately 39.2 drug overdose deaths per 100,000 people. Within this larger context, Dublin, too, faces critical substance abuse problems with alcohol, tobacco, marijuana, opioids, methamphetamines, and other substances being widely abused.
It is essential to provide relevant resources to help battle this crisis. Dublin, OH, offers various substance abuse resources, including organizations that provide comprehensive treatment, support groups, prevention programs, education, and recovery resources. These resources aim to aid those struggling with addiction in their journey toward recovery and to support their loved ones.
About Dublin, OH
Dublin, a city in Franklin, Union, and Delaware counties in the U.S. state of Ohio, is a suburban city known for its high quality of life, picturesque surroundings, and rich history. Tracing back to 1802, Dublin was originally a small, rural community until the construction of Interstate 270 led to significant growth and development, transforming it into the beautiful and prosperous city it is today.
As per the latest census, Dublin, OH, is home to over 47,000 residents. Known for its vibrant and friendly vibe, the city boasts top-rated schools, an extensive park system, vast business opportunities, and the renowned Jack Nicklaus-designed public golf course hosting the annual Memorial Tournament, a PGA Tour event.
Despite its high livability, Dublin, OH, like many other cities across the U.S., grapples with substance abuse issues. Alcohol, opioids, and methamphetamine are the primary substances of abuse in the city. Substance abuse has been a growing concern, with negative impacts on public health, safety, and the overall well-being of certain sections of the community.
Various organizations like The Alcohol, Drug, and Mental Health (ADAMH) Board of Franklin County and Syntero provide resources to the community in order to combat this issue. With joint community efforts and continued commitment, Dublin aims to mitigate substance abuse issues and establish an even safer and healthier community for its residents.
Our Closest Facility
If you're in Dublin, OH, and seeking help for substance use and co-occurring mental health disorders, our closest facility, located in Groveport, is ready to serve you. We are The Recovery Village Columbus Drug & Alcohol Rehab – a nationally recognized addiction recovery organization dedicated to providing the best treatment services to those who struggle.
Our Facility's Details:
The Recovery Village Columbus Drug & Alcohol Rehab not only offers a robust variety of treatment options but also provides an environment that nurtures and supports recovery. Our experienced staff is dedicated to understanding the specific needs of each patient and developing a dynamic treatment plan to address those needs. We believe that holistic treatment is the key to effective and sustained recovery.
Our close proximity to Dublin, OH, allows us to serve as a convenient and easily accessible option for you. With quality care, supportive staff, and a peaceful environment, we feel we are the ideal choice for those taking the first steps toward recovery.
Overview of Rehab Programs for Treating Substance Abuse near Dublin OH
The journey to sobriety can seem daunting, but with the appropriate support, it can be feasible, fulfilling, and ultimately life-altering. For individuals who are battling substance abuse near Dublin, Ohio, there are numerous comprehensive and high-quality rehab programs available.
Among these, the standout choice is The Recovery Village Columbus Drug & Alcohol Rehab. Our facility has established an impressive record in treating substance abuse, providing professional, compassionate, and evidence-based treatment methods to help clients overcome addiction and begin their journey toward recovery.
The Recovery Village Columbus Drug & Alcohol Rehab
Located at 3964 Hamilton Square Blvd, Groveport, OH 43125, The Recovery Village Columbus Drug & Alcohol Rehab is a full-service substance abuse treatment center. We offer a range of rehab programs, including inpatient residential, outpatient, and aftercare services. Our multi-disciplinary team of experienced professionals is well-equipped to address the complex challenges of substance abuse and guide our clients along the path to recovery.
For more information about our services or to begin the admission process, please reach out to us at (614) 362-1686. You may also visit our website at https://www.columbusrecoverycenter.com/.
In a supportive and non-judgmental environment, our clients can address the root causes of their addiction, develop effective coping strategies, and work towards establishing a healthier, substance-free lifestyle.
Choosing the Right Rehab Program
Choosing the right rehab program is crucial to achieving a successful recovery. A good rehab program will not only address the symptoms of addiction but will also consider its underlying causes and associated issues. At The Recovery Village Columbus Drug & Alcohol Rehab, we understand the complexities of addiction and design our programs accordingly to provide our clients with the best chance at lasting recovery.
Common Co-occurring Disorders in Dublin, OH
In Dublin, Ohio, like many other regions, individuals often suffer from co-occurring disorders. This term refers to the simultaneous presence of both mental health and substance use disorders. The range of these disorders varies widely, but some combinations occur more frequently than others.
According to the Substance Abuse and Mental Health Services Administration (SAMHSA), some of the most common co-occurring disorders include depression and alcoholism, anxiety and sedative abuse, schizophrenia, and cannabis abuse, among others. These disorders can often complicate one another, exacerbating symptoms and making treatment more challenging.
Substance abuse problems are prevalent in the Dublin area, much like the rest of the United States. Alcoholism, opioid abuse, and misuse of prescription medications are among the most pressing substance use issues. Furthermore, mental health disorders such as depression, anxiety, post-traumatic stress disorder (PTSD), and bipolar disorder are also frequently observed in the community.
Co-occurring disorders need comprehensive treatment that addresses both substance use and mental health disorder. Integrated intervention, where both mental health and substance abuse issues are treated simultaneously, tends to be the most effective approach. In Dublin, OH, resources are available through hospitals, clinics, and community health centers to support those experiencing co-occurring disorders.
Dublin, OH Recovery Resources
Here is a comprehensive list of recovery resources available in Dublin, OH. All resources included here are either state, local or government resources. Ensure to utilize the resources that may assist you in your recovery path.
The Recovery Village Columbus Drug & Alcohol Rehab
Our nearest facility at 3964 Hamilton Square Blvd, Groveport, OH 43125, can be reached at (614) 362-1686. More information is available on our website.
Ohio Department of Mental Health and Addiction Services
They provide state-wide solutions and resources for substance abuse and mental health issues. Visit their website for more details.
Dublin Counseling Center
Offers comprehensive mental health and recovery services in Dublin. Learn more on their website.
Franklin County Public Health
They provide multiple health services, including addiction recovery support. Visit their website for more information.
Alcohol, Drug, and Mental Health Board of Franklin County
Provides financial support for residents seeking addiction recovery. Find more details on their website.
Substance Abuse in Dublin, Ohio
Substance abuse can have devastating effects on communities, individuals, and families. In Dublin, Ohio, like many cities in the U.S., this is a growing issue. Determining the most commonly abused substances can provide insights into the local and state-level trends, which may then be used to inform targeted prevention and treatment strategies.
The following are some of the most commonly abused substances in Dublin, OH:
Alcohol: As of 2018, about 54% of Ohio adults (aged 18 years+) reported consuming alcohol in the past month, according to the Substance Abuse and Mental Health Services Administration (SAMHSA). Excessive drinking can lead to numerous health issues, including alcoholism, liver disease, and an increased risk of accidents.
Opioids: Opioid overdose deaths in Ohio have been on the rise over the past decade. According to the National Institute on Drug Abuse, there were 46.3 opioid-related deaths per 100,000 people in Ohio in 2018, significantly above the national average of 21.7 deaths per 100,000.
Marijuana: While marijuana is legal for medical use in Ohio, recreational use remains illegal. National surveys point to marijuana as one of the most commonly used drugs, and it is likely a commonly abused substance in Dublin, Ohio as well.
Tobacco: As per a report by the American Lung Association, about 21.1% of adults (18+ years) in Ohio were smoking as of 2019, thereby leading to a potential increase in cases of lung cancer and other related diseases.
A comprehensive approach involving education, prevention, and treatment is necessary to combat substance abuse in Dublin, Ohio, and across the state.
Warning Signs of Substance Abuse for Dublin, OH Residents
Recognizing the warning signs of substance abuse can be the key to preventing long-term damage or even possibly saving a life. Although these signs can vary greatly from person to person, collective indicators can form a clearer picture of a potential issue. While one isolated behavior may not necessarily point directly to substance abuse, a recurring pattern of these behaviors should not be overlooked:
Physical Changes: Unexplained weight loss or gain, bloodshot or glazed eyes, and erratic sleep patterns can all be indications of substance abuse.
Behavioral Shifts: Drastic changes in personality, mood swings, and neglect of daily responsibilities may be signals of a problem.
Financial Inconsistencies: Bouts of financial instability, where the person may have a sudden lack of money, can be a warning sign.
Secrecy: An increased need for privacy and attempts to avoid meaningful conversations could indicate substance abuse.
If you recognize these signs in yourself or someone you know, it's important to seek help immediately. Contact our local A.A. chapter or the Substance Abuse and Mental Health Services Administration for resources and support.
Please note that this information is meant to assist in identifying potential signs of substance abuse and should not be used to self-diagnose or replace proper medical advice. If you are in an emergency or the person is in immediate danger, do not hesitate to call 911.
Alcohol Addiction Treatments in Dublin, OH
For individuals struggling with alcohol addiction, healing and recovery is possible. Various therapies and support groups are available in Dublin, OH, for those who have chosen to begin their path to sobriety. Alongside the locally available services, you may also consider the accredited programs and specialized services provided by recovery facilities such as The Recovery Village Columbus Drug & Alcohol Rehab.
Treatment Options
There are numerous alcohol addiction treatments available, each catering to different degrees of addiction and individual needs:
Outpatient treatment: This type of treatment is ideal for individuals who have daily commitments such as work, school, or caregiving duties. It involves regular counseling sessions, educational workshops, and group therapies.
Intensive Outpatient Programs (IOP): These are more comprehensive than regular outpatient treatment, given that they require a higher attendance in therapy sessions each week. IOPs are ideal for individuals who have a moderate level of alcohol addiction and require a more structured approach to recovery.
Residential treatment: Also known as inpatient treatment, this involves living within the treatment facility to receive round-the-clock care, support, and supervision.
Sober living homes: These are designed to provide a safe, substance-free living environment for individuals who have completed their initial stage of treatment and are transitioning back into society.
Alcohol counseling: This could be either on an individual basis or in a group setting. Therapists assist individuals in identifying the root causes of their addiction and developing healthy coping strategies.
The Recovery Village Columbus Drug & Alcohol Rehab
For those seeking expert and compassionate care, The Recovery Village Columbus Drug & Alcohol Rehab provides a comprehensive list of treatment options. The facility is located at 3964 Hamilton Square Blvd, Groveport, OH 43125. We offer outpatient services, residential treatment, intensive outpatient programs, and more.
To learn more about our approach to treating alcohol addiction and the dedicated support we provide, contact us at (614) 362-1686 or visit our website.
Taking the first step toward recovery can be challenging, but you don't have to do it alone. With a variety of treatment options suited to your unique needs, Dublin, OH, and its surroundings are equipped to support you on your journey to sobriety.
The Opioid Epidemic in Dublin, OH, and Addiction Treatment Options
The opioid epidemic has deeply affected many states in the U.S., including Ohio, and cities like Dublin are not immune to its devastating effects. Opioids, which include both prescription medications and illegal drugs such as heroin and fentanyl, are highly addictive and can lead to fatal overdoses.
According to a report by the Ohio Department of Health, the number of opioid-related deaths in Ohio has skyrocketed over the past decade, reaching a peak in 2017.
Treatment and Government Resources in Dublin, OH
Fortunately, there are numerous resources available to individuals struggling with opioid addiction in Dublin, Ohio. Below are some of the available treatment options and governmental resources:
The Ohio Department of Mental Health and Addiction Services (OhioMHAS) provides several programs for opioid addiction treatment and prevention, including outpatient treatment, residential treatment, medication-assisted treatment, and detoxification services.
The Substance Abuse and Mental Health Services Administration (SAMHSA) also provides an online tool for finding local treatment facilities, including those in Dublin, OH.
Furthermore, in Dublin, Ohio, residents can also benefit from local non-profit organizations such as the Dublin Police Community Intervention Unit, which uniquely pairs officers with clinical therapists to help individuals struggling with opioid addiction.
Recovery from opioid addiction is definitely possible. It requires comprehensive treatment and continuous support from healthcare professionals, family members, and the community. The aforementioned resources can provide the necessary help to those affected by the opioid epidemic in Dublin, Ohio.
Need Immediate Assistance?
If you or someone else is in immediate danger due to an overdose, please contact emergency services at 911 immediately. Alternatively, you can reach the national helpline for the Substance Abuse and Mental Health Services Administration at 1-800-662-HELP (4357) for immediate help and guidance.
Hope for Lasting Recovery in Dublin, OH
We understand the arduous journey to recovery and how important it is to have unwavering support through the process. It brings us immense pleasure to express our hope and absolute belief in the potential for lasting recovery for individuals in Dublin, OH.
We extend our hands to the individuals who are struggling, reminding you that you are not alone in your path to recovery. Our dedicated Recovery Advocates at our facility in Groveport, OH, are always available and ready to provide the help that is needed.
Contact us today and start your journey toward lasting recovery. Let us reassure you that with resilience, dedication, and effective professional help, it is entirely possible to break free from the challenging chains of substance dependency.
Contact Our Recovery Advocates Now
Located just a short drive away in Groveport, our state-of-the-art Columbus Recovery Center facility is dedicated to enabling lasting recovery with comprehensive, personalized care. Visit us at:
Columbus Recovery Center,
3964 Hamilton Square Blvd,
Groveport, OH 43125
Give us a call at (614) 362-1686. Our Recovery Advocates are readily available to offer all necessary assistance. Don't hesitate to reach out; your call could be the first step toward lasting recovery.
For additional resources and information, please visit our website https://www.columbusrecoverycenter.com/.
We believe in hope, recovery, and a healthy future. With our support, the path to lifetime recovery is possible. We look forward to hearing from you soon.
T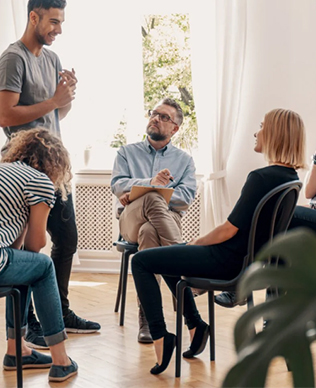 Questions?
Our Recovery Advocates are ready to answer your questions about addiction treatment and help you start your recovery.