What Ohioans Should Know about Crack Detox
Last Updated: October 26, 2022
Jump to Section
If you or any of your loved ones are smoking crack cocaine, this article is for you. The rate of crack abuse in the Columbus and greater Ohio region remains alarmingly high, so please understand that while it may have been a series of unfortunate choices that led to this point in life, you are not alone, and help is available. The Recovery Village Columbus offers a judgment-free environment to help you detox and achieve a lasting recovery.
Understanding Crack Withdrawal
When you stop using crack cocaine, your body will go through a period known as withdrawal, in which you will feel ill. This is because you have built up a tolerance over time that makes you crave the substance. As a result, you will have physical and psychological cravings for it once use is discontinued. As is the case with withdrawal from any drug, this feeling may make you question your decision to quit using. This is why it is so important to find a reputable rehab program who can get you through the withdrawal practice safely with minimal discomfort, helping you to stay the course and continue your recovery.
At The Recovery Village Columbus, some patients enter rehab having already completed detox and others may need support with this process. When this is the case, the process is usually evaluation, followed by detox, then therapy and aftercare to support you as you go through the phases of crack recovery.
Why You Cannot Quit "Cold Turkey"
Most crack addicts are aware that their addiction is harming them and want to quit by any means necessary. However, crack addiction is particularly severe, and stopping it all at once without medical support can carry dangers. Some may try to do it alone at home, locking themselves in a room and trying to use sheer willpower to stop the cravings. This is not only dangerous, but it is also not useful and is more likely to cause a relapse than anything. The safest way to undergo detox and withdrawal is in a medically supervised environment where you can get the medication and emotional support you need. The Recovery Village Columbus has the staff and facilities you need to get you through this challenging first step and help you find the continued care options that fit your lifestyle when you are ready.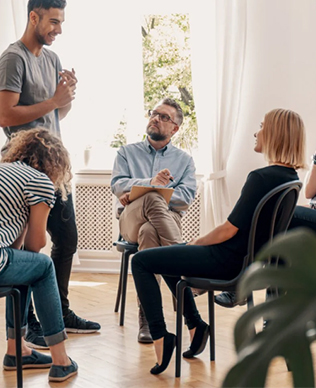 Questions?
Our Recovery Advocates are ready to answer your questions about addiction treatment and help you start your recovery.