Opioid Epidemic Makes It Harder to Get Needed Pet Prescriptions
Last Updated: November 10, 2022
Jump to Section
The National opioid epidemic is responsible for turning the lives of people with opioid addictions and the lives of their families upside down. Due to recent laws, furry family members may start to be affected by the changes in legislation regarding prescription opioids.
States across the US have started to implement legislation that makes it more difficult for people to be prescribed opioids and for pharmacies to fill large prescriptions. Recent changes in states like Minnesota may affect pet owners being able to get prescription opioids for their animals.
Minnesota Opioid Prescribing Laws Change
In an effort to find solutions to Minnesota's opioid epidemic, there have been recent changes in Minnesota's opioid laws affect people as well as pets. Part of the new law places a time limit on when prescriptions for opioids can be filled — whether a patient has two legs or four.
Board of Pharmacy executive director Cody Wiberg explains, "An opioid prescription needs to be filled within 30 days of the time it's issued for the first fill, and then if it can have refills it needs to be filled every 30 days after that." Wiberg says that the 30-day rule is meant to bring patients back into their doctor or veterinarian to be re-evaluated to see if an opioid is still necessary for treatment.
The law will apply to prescriptions for animals as well because some pet owners would fill opioid prescriptions meant for the pet, but use them for themselves prior to the new legislation.
Pet Owners Struggle to Get Prescriptions Filled
Pet owners who have prescriptions for their pets will now have to visit the pharmacy much more frequently. For example, a previous prescription for tramadol may have been filled four times a year, but due to the language of the new legislation, pet owners can only get opioid prescriptions (like tramadol) filled once every 30 days.
Additionally, while tramadol won't require an examination each time the drug needs to be refilled, some stronger classes of drugs will require an appointment before the prescription can be refilled, according to the new opioid laws in Minnesota. This will require pet owners to visit both the pharmacy and their veterinarian more frequently, which will also increase the expense of taking care of their pets.
Opioid Epidemic has Increased Fraudulent Prescriptions
Though Minnesota's board of pharmacy is considering changing some of the bill's language in the next session, the initial goal of making it more difficult for people to get access to opioids was in place because people who misused opioids were taking advantage of veterinarians prescribing their pets' opioids. The severity of the opioid epidemic has caused people seeking out opioids to use various methods to achieve their goal.
For example, pet owners have used their pets in an attempt to receive an opioid prescription. While most vets don't prescribe the most commonly abused opioids like fentanyl and oxycodone, they do have access to others like tramadol.
PetMeds, also known as 1-800-Pet-Meds, has been accused of selling opioid prescriptions meant for pets to humans. In addition to pet owners misusing their pet's opioid prescriptions, veterinary and animal clinic employees may also misuse the opioids that are available at the facility. Employees often have access to the opioids vets may prescribe animals and have the opportunity to take these drugs from work.
Recognizing Signs of Opiate Abuse
In a report on Florida's WPBF news, the owner of Gardens Hospital in Palm Beach Gardens, Florida, Lisa Ciucci, DVM told reporters that pet owners often become "blacklisted" when they ask for drugs for their pets by name. Pet owners may come to their veterinarian asking for drugs like tramadol, Xanax and Valium by name. Ciucci said pet owners would make excuses like that they spilled the bottle of pills on the floor. Some may even go as far as hurting their pet to get more medication.
In addition to pet owners asking for opioid prescriptions by name, there are other signs that vets, facility employees and loved ones can look for to determine if opioid abuse is possible. Some behavioral signs of opiate abuse include:
Ignoring or avoiding loved ones
Forgetting responsibilities
Starting arguments
Becoming domestically violent
Lying to avoid being caught using opiates
Physical symptoms of opiate misuse include:
Dry mouth
Constipation
Feeling light-headed
Lack of coordination
Nausea or vomiting
Oversleeping
Psychological symptoms of opiate use include:
Confusion
Loss of appetite
Irritability
Mood swings
Depression
If you or someone you know is exhibiting any combination of these signs and symptoms, they may have opioid use disorder. Help is available at The Recovery Village Columbus. A team of professionals can talk to you about your individual needs and a treatment program that could best work to address your substance use as well as any underlying co-occurring disorder. Call and speak with a representative to find out which program could work for you.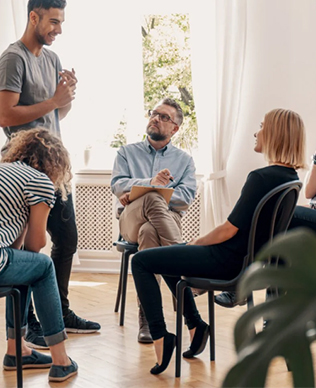 Questions?
Our Recovery Advocates are ready to answer your questions about addiction treatment and help you start your recovery.