Schools Stock Narcan in Response to Ohio Opioid Epidemic
Last Updated: January 17, 2023
Jump to Section
Ohio leads the nation in opioid misuse, with almost 3,000 overdose deaths in 2015 alone. But the problem is overwhelmingly an adult issue, with less than one percent of teens ages 12–17 even trying illicit drugs like the state's biggest offender, heroin.

The numbers are also improving for prescription opioid use amongst teens, with only 12.8 percent of kids reporting misuse in 2013 compared to 21.3 percent in 2011, according to the 2013 Ohio Youth Risk Behavior Survey. But if teen drug use is in decline, why was legislation recently passed to have Narcan, a nasal spray used to treat opioid overdose, available in Ohio public schools?
Legislation for Change
In 2016, Senate Bill 319 was approved 33 to zero before being passed by Governor John Kasich in January, 2017. In addition to regulating painkiller distribution and pharmacy technician credentials, the bill also ensures that naloxone is readily available at schools, homeless shelters, halfway houses and treatment centers. Although most opioid users are adults, having Narcan available at schools is a preventative measure that could impact the entire state and save lives.
Chad Wyeb, the superintendent of Mad River Schools in Dayton, explains, "We have events that go on in the evening and on the weekends, and we have a number of family members and community members that come in every single day into our buildings, not knowing what they are bringing in." Ensuring that students and visitors alike are protected is imperative as Ohio faces an ongoing surge of opioid overdoses reported in public. And while the number of teens using opioids is low, there are still many who find themselves entangled with the substances.
More than 75 percent of high school heroin users tried it after sampling prescription painkillers.
Teens Who Use
In 2016, 17-year-old Rachel Anne DeMaio died of an overdose after taking carfentanil, a synthetic opioid significantly more potent than fentanyl and heroin. Remembered by her friends and family as a bright volleyball star and caring friend, the Akron teen's story is a sad reminder that opioid use isn't reserved for adults or at-risk youths.
In fact, many teens stumble into opioid addiction accidentally. A study published in Drug and Alcohol Dependence states that more than 75 percent of high school heroin users tried it after sampling prescription painkillers. In Ohio, heroin is more readily available and cheaper than most prescription opioids. Many are turning to the unknown contents of heroin cut with deadly additives to satisfy an addiction that often begins at the doctor's office.
Robby Brandt is one such young adult who fell into heroin addiction by way of prescription opioids. It all started with a simple dental procedure and a painkiller prescription. During his sophomore year at Olmsted Falls High School, the Cleveland suburbanite found himself hooked on the high that prescription opioids produced. Within a few years, he had transitioned to heroin, dying from an overdose just seven months after first trying the illicit drug at age 20.
But Robby's story isn't an anomaly. With the proliferation and relatively low cost of heroin, people are taking risks and subsequently becoming addicted to harder drugs as their prescription counterparts become harder to access.
Robby and Rachel both prove how dangerous and silent opioid use can be, particularly for teens and young adults. There isn't a target demographic for drugs like heroin and carfentanil; they are available to and used by people of all ages and walks of life. Vince Caraffi, who leads the Cuyahoga County Opiate Task Force under the Board of Health, said that 55 percent of Ohio heroin overdose victims were suburbanites in 2012.
Preventing Opioid Overdose
With the widespread use of opioids across Ohio, particularly in suburban areas, the mass distribution of Narcan is one of the the largest reactionary measures taken to squash the deadly effects of the drug. By making the antidote available to those at risk, local communities can come together to save lives and reverse the trend of heroin and opioid use.
The Ohio Department of Health's Project DAWN (Deaths Avoided With Naloxone) works to train communities to recognize and treat opioid overdoses, as well as provide Narcan to those in need of it. With a list of centers providing free Narcan training and distribution, more lives can be saved as Ohioans learn to identify and treat opioid overdoses.
And while the use of lifesaving medication is vital, prevention is key to incite long-term change throughout the state. Local school districts are fighting back and it's working for teens. With teen drug use at a record low despite adult dependence, there is hope for Ohio's opioid epidemic. Both Rachel Anne DiMaio and Robby Brandt are doing their part to posthumously prevent more deaths. Friends and family have come together to create Rachel's Angels and Robby's Voice, two groups that work to educate students and adults alike about the dangers of opioid use.
In addition to preventative education in schools, there are also treatment facilities throughout the state for those already struggling with opioid use. From prescription pain medications to heroin and carfentanil, The Recovery Village helps treat addiction with medical detox, residential inpatient care, outpatient services and more. With facilities across the country (including a brand-new center in Columbus, Ohio) and The Next Generation Village, a teen rehab center located in Florida, The Recovery Village network of centers is there to treat any level of substance abuse disorder. With the right resources, Ohio can overcome opioid addiction and encourage the next generation to live free from the confines of substance abuse.
If your teen is struggling with opioid abuse, you don't have to face it alone. Call the Recovery Village today at 855-980-4768 for resources to help your child take the first step toward drug-free living.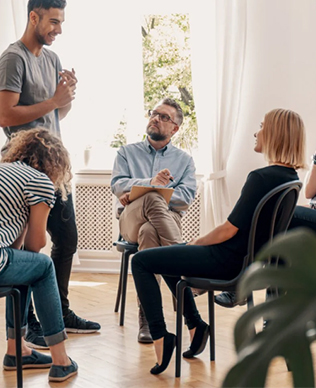 Questions?
Our Recovery Advocates are ready to answer your questions about addiction treatment and help you start your recovery.