What's That? What Ohioans Should Know about Opioids and Hearing Loss
Last Updated: January 17, 2023
Jump to Section
As the nation continues to battle a sweeping opioid crisis, Ohioans, in particular, are feeling the burden of this widespread and devastating addiction. While most residents of Ohio are well-aware of the costs of growing opioid dependence on their loved ones or perhaps even on themselves, one lesser-known side-effect that fails to get people's attention is the risk of hearing loss associated with abusing opioid drugs over time.
Overcome addiction with evidence-based, expert care.
Understanding the Connection
Going back to the 1990s, researchers began to observe that some patients who use excessive amounts of Vicodin experience hearing loss over time. If discovered early enough, a course of steroids can be administered to reverse the damage. However, if a patient continues to abuse drugs such as hydrocodone-acetaminophen painkillers over an extended period, it is likely that the hearing loss can be irreversible and harder to manage.
Prescribed under names like Lortab, Norco, Hysingla, and Vicodin, Hydrocodone is a semi-synthetic opioid that provides powerful pain relief as well as secondary side-effects like flooding your brain with dopamine, which can give users a temporary feeling of relaxation and well-being. However, when taken in an excess amount over a significant period of time, this substance becomes toxic to the body and the ear (ototoxicity) causing hearing loss or ear ringing.
The exact connection between opioids and hearing loss is still unknown, but medical experts believe that it has something to do with a loss of circulation throughout the body and to the ear as brought on by long-term intake of acetaminophen that is used in drugs like hydrocodone. Keep in mind, some patients have gone entirely deaf over time, so it is essential to get help quickly if you suspect that you have a drug problem and that it is affecting your ability to hear well.
Getting Help
While hearing loss is a potentially serious consequence of substance abuse, it is by no means the only serious result you may encounter when you become addicted to drugs. It is important to care for your body and get the help you need to break the cycle of addiction and bodily harm.
No matter where you live in Ohio, you can gain access to a number of services to help you with substance abuse issues. The Recovery Village Columbus is centrally located in the middle of the state to make it accessible to many Ohio residents with minimal disruption to their daily lives.
Are you experiencing early hearing loss yet find yourself unable to stop using opiates? Break free of the chains of addiction and get your life back to normal. The Recovery Village is here to help. Whether you need outpatient counseling or inpatient detox, we offer an array of treatment options to help you get clean and start living a healthier life. Do not fight addiction alone or hope that it will get better by itself. Contact us to learn about admissions and take the first step toward reclaiming your health. Our addiction specialists are just a quick phone call away!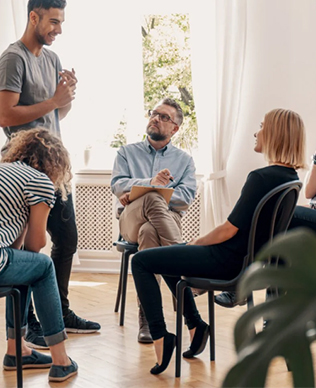 Questions?
Our Recovery Advocates are ready to answer your questions about addiction treatment and help you start your recovery.