PTSD Treatment for First Responders
Last Updated: February 16, 2023
Jump to Section
Veterans and first responders, such as paramedics, law enforcement officers and fire service members, may need treatment for PTSD given the stressful and sometimes traumatic nature of their work. If you are a first responder living with PTSD, it's important to seek quality treatment that considers your specific needs.
What Is PTSD?
If you're experiencing mental or emotional distress in response to job-related incidents, you may be wondering if you have PTSD. PTSD, or post-traumatic stress disorder, is a mental health disorder that occurs following exposure to a traumatic event, such as death, serious injury or sexual violence.
A person may develop PTSD after experiencing the event themselves or witnessing the event happen to someone else. First responders are often diagnosed with PTSD after being repeatedly exposed to traumatic events like death or child abuse.
When a person has PTSD, they may experience the following symptoms after exposure to the traumatic event:
Repeated memories of the event
Upsetting dreams related to the event
Flashbacks of the event
Extreme distress around things that trigger a memory of the event
Attempting to avoid memories, thoughts or reminders of the trauma
Being unable to remember certain aspects of the event
Ongoing negative emotions or being unable to feel pleasant emotions like happiness
Feeling detached from others
Feeling uninterested in participating in usual activities
Developing a negative attitude toward yourself or the world in general, such as believing that the world is an evil place
Outbursts of anger, sometimes rising to the level of physical aggression
Hypervigilance and being easily startled
Difficulty concentrating
Sleep disturbances
On the physiological level, individuals who live with PTSD experience "fight or flight symptoms" like increased heart rate and elevated skin temperature when exposed to something they perceive as threatening. This means that when someone with PTSD is reminded of the event or somehow triggered, they will experience heightened physiological symptoms even though the threat of the original trauma has passed.
PTSD in First Responders
Police officers, paramedics, fire service members and other first responders are often exposed to violence, death or serious injury in the course of their work, which can result in PTSD symptoms.
Statistics on PTSD in first responders tell just how problematic this condition is among these professionals:
On average, approximately 15% of officers in the U.S. experience PTSD symptoms.
In a study that involved 220 firefighters and paramedics, 26% experienced symptoms of PTSD.
A review of 18 different studies that assessed mental health symptoms in ambulance personnel found that 11% of these professionals had PTSD.
Signs and Symptoms of PTSD in First Responders
Common PTSD symptoms include flashbacks of the traumatic event, attempts to avoid memories of the event, and feelings of being detached from other people. Some symptoms that may be specific to first responders, according to research, include:
Avoidance symptoms, including missing work
Extreme irritability
Intense anger
Constant hypervigilance
Sleep problems from nightmares
Conflict with spouses, children and colleagues
If you have experienced repeated traumatic events in the course of your work as a first responder, and you begin to notice some of the above symptoms, it may be time to reach out for PTSD treatment. Know you are not alone, and there is specialized treatment available.
PTSD and Substance Abuse
Some first responders who experience PTSD symptoms may cope by using alcohol or drugs to avoid flashbacks or memories of the event. While under the influence of drugs, painful memories of a traumatic event may feel like they've faded away.
One study involving a sample of urban police officers found that 18.1% of male officers and 15.9% of female officers had experienced negative consequences related to alcohol abuse. In addition, 8% of officers in the study had experienced an alcohol addiction throughout the course of their lives.
A second study with female firefighters found that 40% of them had engaged in binge drinking in the month prior to the study. Among those who drank, 16.5% met the criteria for problem drinking.
What these studies suggest is that substance abuse may provide an unhealthy coping strategy for PTSD in first responders. However, drug and alcohol abuse bring their own health and social problems and can make mental health issues like PTSD worse.
PTSD Treatment for First Responders
First responders living with PTSD symptoms that interfere with daily functioning would benefit from seeking treatment. Given the high prevalence of PTSD and related problems among these professionals, several treatments have been developed to address their needs.
PTSD treatments that show promise for first responders include:
Cognitive-Behavioral Therapy (CBT): Research has shown that CBT, which helps people develop skills for coping with stress, is effective for treating PTSD in first responders. In CBT, first responders can also learn to replace unhelpful thoughts with healthier, more rational ways of thinking so that negative views of the world are not so prominent.
Cognitive Processing Therapy (CPT): CPT is a common treatment option for PTSD. This type of treatment helps first responders identify their "automatic thoughts" related to PTSD, and then helps them reprocess the event and think about it differently. This helps them overcome maladaptive thoughts and beliefs about the event.
EMDR: Short for eye movement desensitization and reprocessing, EMDR has the client think about a traumatic event while engaging in specific eye movements. A recent study found that this type of treatment was effective for first responders coping with trauma symptoms.
Motivational Interviewing: Commonly used in substance abuse treatment, motivational interviewing is a non-confrontational approach that can help first responders correct unhealthy behaviors, such as smoking, drinking or poor stress management.
Psychoeducation/Life Skills: Sometimes, first responders who are living with PTSD may be unaware they are experiencing a mental health condition. They may not link their behaviors and emotions to PTSD, or they may be ashamed of seeking help. Education can help them better understand their condition and learn ways to manage it. LIfe skills training can also provide first responders with information on healthy stress management. Such treatments have been widely used with first responders.
FORTITUDE Can Help
If you or a loved one is living with PTSD as a result of work-related trauma, FORTITUDE is here to help. Our specialty track is designed to address your experiences with licensed therapists and clinicians trained in clinical interventions for veterans and first responders.
The FORTITUDE program treats substance use disorders and co-occurring conditions like PTSD, depression and anxiety. We offer a full continuum of care, including:
Medical detox services
Residential and outpatient treatment
CBT, CPT and EMDR therapy for eligible clients
First-responder only group, individual and family therapy
Contact us today to learn more about the FORTITUDE program for veterans and first responders and get started.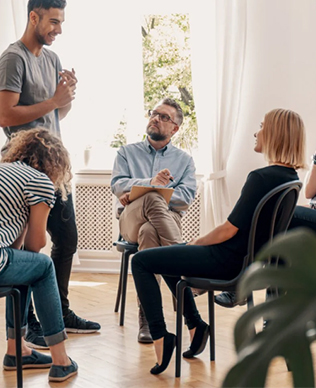 Questions?
Our Recovery Advocates are ready to answer your questions about addiction treatment and help you start your recovery.