Butler County, Ohio, Declared a High-Intensity Drug Trafficking Area
Last Updated: November 10, 2022
Jump to Section
It is an achievement that no one wants. Recently, Butler County, Ohio, has been designated as a high-intensity drug trafficking area (HIDTA). According to WCPO, "Butler County was one of 10 HIDTAs designated across the country." What does it mean to receive this designation, and what are Butler County and the state of Ohio doing to change the situation?
High-Intensity Drug Trafficking
According to James Carroll, the deputy director of the Office of National Drug Control Policy, making a designation like this is not just about receiving negative attention. It is also about finding federal resources to make the situation better.
Across the United States, there are 28 areas that have received a similar designation since 1988. The designation gives those areas more access to resources to fight the drug problems that exist in their county. Overall, the program supports efforts to:
Encourage federal, state, local and tribal law enforcement agencies to share information and work together on enforcement
Increase intelligence sharing among different agencies
Provide reliable intelligence to help design enforcement and operations strategies
Support coordinated strategies that better use resources to reduce the flow and supply of drugs
Trafficking in Butler County
Drug trafficking is a problem in counties around the nation, but why is Butler County particularly problematic?
The opioid crisis has hit the area hard. Opioids contribute to a full 80 percent of the overdoses in the county. Local authorities talk about how drug dealers are becoming more predatory by lacing drugs with others such as fentanyl, which is highly addictive and sometimes deadly. The problem has become so intense that public health alerts have been issued regarding overdose hazards due to fentanyl.
What Will the Funds Do For Butler County?
New funding to address drug trafficking in Butler County will allow the police to dig more deeply into drug trafficking cases to bring individuals to justice. The funding covers federal, state, local and tribal law enforcement agencies.
Ideally, this will ultimately reduce the burden of trafficking in the area. Sheriff Richard Jones stated that "the Butler County Undercover Regional Narcotics Taskforce will use the additional resources to target drug traffickers" and that he is also hoping to have federal agents assigned to the task force to help find those responsible and reduce drug trafficking. The funds not only pay for staff, but they pay for vehicles and legal fees as well.
The Need For Addiction Treatment Resources
Drug trafficking is not just about crime. It is also about the need for addiction treatment resources in Ohio. One of the elements that drug traffickers need to succeed is a strong market for those drugs. Without that market, they are not going to be there.
When you are struggling with a substance use disorder, you are the market. However, you do not need to be. You can take yourself out of the equation entirely by moving toward a life of sobriety. This allows you to become mentally and physically healthier.
Luckily, there are resources available to you to address your addiction. Treatment sometimes begins with medically-supervised withdrawal, and it culminates in aftercare programs that provide ongoing counseling and support. In between, there are a number of options such as intensive inpatient and outpatient therapies and alternative therapies that allow you to explore new ways to manage strong emotions, cravings and mental health challenges without turning to drugs and alcohol.
If you are struggling with a substance use disorder and you are looking for an addiction treatment center, contact The Recovery Village Columbus. We are here to help you find the sober life that you are seeking. Learn more about admission today.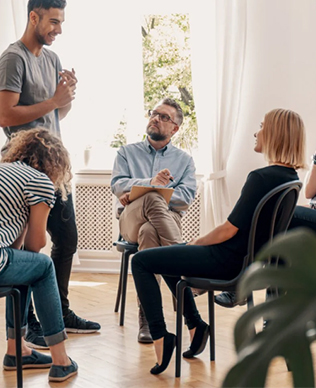 Questions?
Our Recovery Advocates are ready to answer your questions about addiction treatment and help you start your recovery.