How and Why Bullying Leads to Substance Abuse for Ohio's Kids
Last Updated: November 10, 2022
Jump to Section
Bullying is a serious issue with long-lasting detrimental effects for its victims and even for bullies themselves. In light of these negative effects, schools around the country are setting initiatives to educate kids about the dangers of bullying and hopefully curtail some of the bullying behaviors that commonly occur.
One often overlooked effect of bullying is that it can lead to an increased risk of substance abuse for both the bully and the victim.
How Bullying Affects
The Victims
Those who are bullied may experience negative effects, and these can travel into adulthood. Here are just some of the common effects:
Mental health issues – depression, anxiety, sadness, loneliness, sleep and eating problems
Physical health complaints
Lower school performance
In an effort to cope with these issues, victims of bullying may turn to substance abuse., which in turn can lead to developing addiction disorders.
How Bullying Affects the Bully
Research has shown that kids who engage in bullying have a higher incidence of substance abuse than their non-bullying peers. Those who bully often have less parental supervision than others in their age group as well, which may also be a contributing factor for substance abuse. Here are some negative behaviors and occurrences commonly seen in those who bully:
Abuse of alcohol and other substances as kids and adults
Early sexual activity
Traffic and criminal convictions
More violent behavior like getting into fights and abusive tendencies as adults
Higher risk of dropping out of school
Signs of Trouble for Your Child
If your child has engaged in bullying behavior or has been the victim of a bully, you will need to be especially vigilant to help your child avoid substance abuse and addiction. If you suspect your child may already be abusing drugs, here are some signs to help you identify potential danger. Watch your child for:
Withdrawal from normal activities
Loss of appetite
Sadness or depression
Not doing as well in school
Changes in sleep habits
Other behaviors not characteristic of your child's personality
While these signs may also be symptomatic of other issues, they are common signs of drug abuse as well.
How to Find Treatment
The good news is that Ohio parents have a place to turn to find assistance for children who are battling substance abuse issues. In Ohio drug rehab, you will find compassionate care that will help anyone suffering from an addiction disorder to effectively cope both with the addiction itself and with underlying issues such as negative feelings resulting from bullying or other co-occurring disorders.
Recovery Village Columbus offers a comprehensive, personalized treatment plan designed to help you develop the skills and strategies to overcome drug abuse and break free from addiction. If you or any of your loved ones need help for an addiction disorder, please do not delay. Every moment you wait is another moment lost to enslavement to addiction.
You can get help today. Contact us to learn about all your treatment options and take the first step to your new drug-free life right now.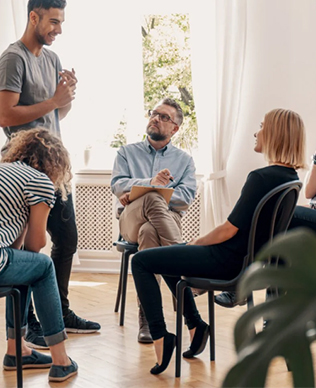 Questions?
Our Recovery Advocates are ready to answer your questions about addiction treatment and help you start your recovery.