Will Ohio Get Additional Funding for Needle Exchange Programs?
Last Updated: January 6, 2023
Jump to Section
What is a Needle Exchange Program?
At a needle exchange program, the focus is on keeping people free of blood-borne diseases. Unfortunately, sharing needles is a dangerous way to use drugs, since many diseases are transmitted through the blood. At a needle exchange, people who inject drugs are able to get free, sterile syringes and may be asked to bring in their used ones in exchange. Unfortunately, since the federal government allows the presence of needle exchange programs but does not give them any funding, these programs are often in dire need of funding.
Increasing Needle Exchange Programs in Ohio
According to Canton Rep, there has been a "near doubling in the number of HIV diagnoses associated with injection-drug use" between 2015 and 2017 in Ohio. There are also increasing cases of Hepatitis C, which is also transmitted by sharing needles. An increase in injected heroin and fentanyl could be to blame.
Needle exchange programs are feeling the pinch as they are being used by those who are struggling with the use of these and other substances. In fact, some may be faced with closure if they do not receive additional funding. There is $7.6 million in federal HIV-prevention funds available to the state until 2022; however, Ohio has to receive permission to use this funding to support the needle exchange programs. The state has been awaiting the response of the CDC. In the past, 33 states have been approved to use federal funds to support their needle exchange programs.
What Have Needle Exchange Programs Accomplished?
According to Harm Reduction Ohio, Ohio has eight needle exchange programs at the moment. These programs have worked well for the past 30 years and have consistently shown a reduction in the amount of infection from bloodborne diseases. For instance, Harm Reduction Ohio states that "for HIV/AIDS, the decline ranged from 17 percent to 50 percent."
Cleveland created a needle exchange program in 1995. However, the spread of exchange programs was slow after that until the opioid crisis hit.
In Columbus, Ohio, an organization called Safe Point has shown excellent improvements in needle exchange. Their innovation is to encourage people to get needles no matter whether they have old ones for disposal or not. This focus on needle access makes the program even easier for people with substance use disorders. They do not need to get organized and collect their old needles for exchange; they simply have a safe space to collect new ones.
Needle exchange programs are not designed to reduce addiction; they have been developed to reduce the harm that comes from sharing needles. In this area, they have excelled at creating a positive consumer environment for clean needles. Drug users do not want to get diseases, so they share clean needles, and the spread of these clean needles reduces the harm that comes from drug use.
At The Recovery Village Columbus, we are committed to furthering your learning and recovery skills. We have many Ohio addiction treatment resources to support families and individuals managing their substance use disorders. If you are looking for a comprehensive program that will help you move into recovery, contact us today and learn about admission.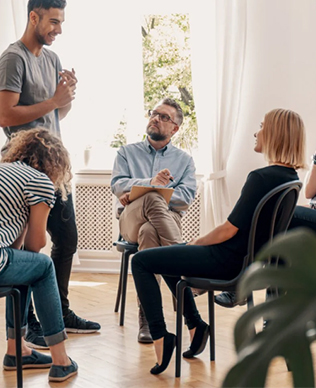 Questions?
Our Recovery Advocates are ready to answer your questions about addiction treatment and help you start your recovery.