4 Reasons to Find Aftercare Support in Ohio
Last Updated: February 15, 2023
Jump to Section
After going through rehabilitative addiction therapy, you should feel accomplished. After all, admitting that you need help and then taking the necessary steps to get it is never easy, nor is it always easy to stay clean afterward.
However, for long-term addiction recovery, a healthy aftercare support system is essential to making sure that your hard work in getting and staying clean does not go to waste with a relapse. After rehab, such as a stint at The Recovery Village Columbus, there are several excellent reasons to seek out support programs. Here are four of the top reasons why aftercare is recommended and some pointers for finding resources.
Improve Your Chances of Long-Term Recovery
Addiction recovery is not something you can get through with a specific date in mind because it is a lifelong process. According to William L. White, M.A., a research consultant on HBO's Addiction, an aftercare plan is essential because it improves a patient's chances of reaching the benchmark of five years clean and sober, which is considered to be a recovery from addiction.
Transition Back to a Normal Routine
One of the hardest things about leaving rehab is figuring out how to transition back into the "real world" afterward. Drug addiction is more than just a habit; it is a lifestyle — one that requires many shifts in behavior and mindset to walk away from. Leaving that lifestyle requires some tough sacrifices, such as leaving certain friends behind (i.e., other addicts and enablers) and changing activities you can and can not do (i.e., going to bars and clubs where drugs and alcohol are likely to cause temptation). A strong aftercare solution such as group therapy or outpatient counseling can help keep you accountable and prevent relapse as you transition back into regular life.
Develop Coping Skills
Besides keeping you accountable in recovery, aftercare can help you to learn ongoing coping skills. These will vary from person to person, but some of them include:
Attending 12-step programs
Diet, exercise, and yoga
Talking to friends, loved ones, or professional counselors
Hobbies and pastimes that encourage healthier living
Relaxation and stress management techniques
Religious or spiritual guidance
Emotional Support
Emotional support is perhaps the most critical aspect of an aftercare routine and one of the most preventative for relapse. Especially in the first three months after treatment, patients are vulnerable to falling back into old habits and may find sobriety lonely and overwhelming. Aftercare support networks help forge social connections and make those who are recovering feel less isolated in their journey. Counselors provide a confidential place to express themselves while encouraging them to reach out to others as well. Support groups can provide the kind of empathy that helps them to realize that addiction recovery is a process and nothing of which to be ashamed.
Are you ready to get the care and support you need for addiction recovery? Contact us today to learn how The Recovery Village of Columbus is helping Ohio residents reach their long-term wellness and recovery goals.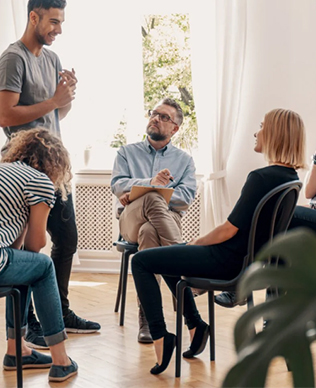 Questions?
Our Recovery Advocates are ready to answer your questions about addiction treatment and help you start your recovery.