Post-Acute Withdrawal Syndrome (PAWS) and Opiate Use
Last Updated: February 15, 2023
Jump to Section
Sometimes, opioid withdrawal symptoms can linger at a reduced level for weeks or months when a person stops taking opioids. This prolonged withdrawal stage is called post-acute withdrawal syndrome (PAWS) or protracted abstinence syndrome. Although statistics are not available regarding how common PAWS is, it is a known phenomenon that impacts some people. If you or a loved one take opioids, you should be aware of the possibility of PAWS and how to manage it.
What Is PAWS?
PAWS is a phenomenon in which withdrawal symptoms persist past the timeframe they would usually otherwise resolve. Often, these symptoms are less severe than they were earlier in the withdrawal process. PAWS symptoms can last weeks or months.
Besides opioids, PAWS can occur with any substance you can become physically dependent on, including:
Benzodiazepines
Barbiturates
Alcohol
Sometimes antidepressants
What Causes PAWS?
PAWS is generally believed to result from changes in the brain during substance abuse and immediately after stopping drinking or drug use. The brain is quite adaptive to behaviors and, as a result, accommodates the changes by rerouting available neurotransmitters.
Once you stop using a substance, a sudden change in neurotransmitters short-circuits your reward centers and shocks the brain, causing high excitability and distress during withdrawal. This means that the brain's capacity to deal with stress and disruptions to your routine (especially a cessation of substance use) is also diminished during this time.
How Long Does PAWS Last?
Most PAWS symptoms last weeks to months but can be longer depending on the extent of the brain changes from substance use.
PAWS & Opioids
PAWS symptoms are often specific to the type of drug a person previously took. In other words, PAWS symptoms for alcohol addiction may differ slightly from those for opioid or benzodiazepine addiction.
Regarding opioids, PAWS can occur regardless if a person was addicted to a long- or short-acting opioid.
Common symptoms of PAWS specific to opioid recovery include:
Depression
Anxiety
Not being able to take pleasure in activities
Insomnia
Fatigue
Feeling emotionally blunted
Irritability
Appetite loss
Drug craving
Impaired concentration and executive function
Sleep disturbances
Coping With PAWS
Everyone knows that recovery is not easy, but it is essential for those who want to live happier, healthier lives free from substance dependency. Coping with withdrawal symptoms and PAWS can be uncomfortable but manageable with proper professional care (and sometimes medication).
Most addiction specialists and healthcare providers are well aware of PAWS and its effect on recovering addicts. Unfortunately, many addicts and their loved ones are unaware of it, and the condition may be a nasty shock to those seeking help for their illness.
Self-Care
Self-care is important when you are struggling with PAWS. Taking the time to appreciate and celebrate yourself for taking steps toward recovery can help you continue to progress.
Self-care can take many forms, whether mental, physical or spiritual, depending on your needs. Eating healthy meals, exercising, getting enough sleep and maintaining good hygiene are all components of self-care.
Journal
Journaling can help you sort your thoughts privately and give you an outlet to express your emotions during recovery. Journaling is a coping skill that can give you additional insight into your addiction recovery process and yourself.
Avoid Triggers
Avoiding addiction triggers is crucial during PAWS, particularly because drug cravings can be a PAWS symptom for opioids. When you are feeling poorly, it might be tempting to lapse and use opioids again. Therefore, avoiding triggers is an important step in overcoming PAWS while reducing your chances of relapse.
Create a Support System
A support system of trusted individuals can help you during PAWS. Whether this consists of sober family members and friends, aftercare mentors or addiction support groups, having someone there to listen and validate your feelings and struggles can help you feel better as you overcome PAWS.
Treatment
For those struggling with opioid addiction, one of the most common concerns about entering rehab is dealing with withdrawal symptoms during and immediately after detox.
Thankfully, with proper treatment, overcoming PAWS is a manageable step on the road to recovery and should not derail anyone from getting clean. PAWS is temporary and will end after a few weeks or months. Medications like tricyclic antidepressants (amitriptyline, nortriptyline) and gabapentin can help a person overcome their PAWS symptoms so they can continue to focus on their recovery.
It is important to remember that much like the symptoms of addiction and the PAWS that can result were not created overnight; there is no "quick fix" for them. However, with proper treatment and self-care, many have successfully overcome this hurdle to recover fully.
Want addiction help for yourself or a loved one? Contact The Recovery Village Columbus in Ohio today to learn about admission and access information about how we can help with every aspect of addiction recovery.
Sources
Bartter, T & Gooberman, L L. "Rapid opiate detoxification." The American Journal of Drug and Alcohol Abuse. November 1996. Accessed June 21, 2023.
Legarda, Juan J. "Ultra-rapid opiate detoxification under anaesthesia (UROD)." The Lancet Journal. May 16, 1998. Accessed June 21, 2023.
American Society of Anesthesiologists. "General Anesthesia." 2023. Accessed June 21, 2023.
US Centers for Disease Control and Prevention. "Deaths and Severe Adverse Events Associated with Anesthesia-Assisted Rapid Opioid Detoxification — New York City, 2012." September 27, 2013. Accessed June 21, 2023.
Shah, Mansi & Huecker, Martin R. "Opioid Withdrawal." StatPearls. April 29, 2023. Accessed June 21, 2023.
Singh, J. & Basu, Debasish. "Ultra-Rapid Opioid Detoxification: Current Status and Controversies." Journal of Postgraduate Medicine. 2004. Accessed June 21, 2023.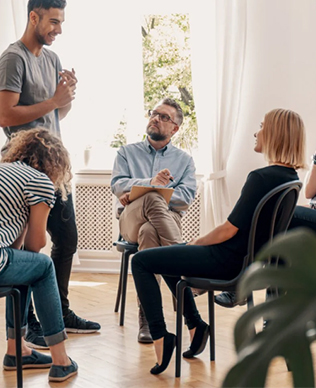 Questions?
Our Recovery Advocates are ready to answer your questions about addiction treatment and help you start your recovery.