How The Recovery Village Columbus Supports Ohio Alumni
Last Updated: February 15, 2023
Jump to Section
Addiction treatment is a huge step toward a healthier, happier life, but it only marks the beginning of the recovery process. The weeks and months following a rehab stay can be difficult, which is why aftercare planning is so important. Alumni need support to help them transition back into their day-to-day lives; otherwise, the hurdles of early recovery can become hard to overcome.
At The Recovery Village Columbus, all treatment programs include individualized aftercare plans that help clients thrive after rehab. These resources are particularly important in states like Ohio, where the opioid epidemic continues its devastation.
Protecting Yourself from the Opioid Epidemic
Opioids, such as fentanyl, heroin and many prescription painkillers, are highly addictive substances. Without professional treatment — and medications like methadone or buprenorphine, in many cases — it can be incredibly difficult to recover from opioid addiction.
Fentanyl is both more powerful and cheaper to make than heroin and painkillers, so criminal manufacturers often mix it in with other drugs to increase profits. The results are deadly: in Ohio, the synthetic opioid fentanyl was involved in 71% of 4,854 accidental overdose deaths in 2017 alone. Rates of opioid-related deaths have tripled since 2010, and fentanyl is the key cause.
Relapse is a common and even expected part of recovery, but because fentanyl is so powerful, relapsing and taking it unintentionally — even once — can be deadly. This is just one of the many reasons why aftercare is crucial for opioid addiction recovery in Ohio.
Aftercare Planning
During the rehab stay, clients work with a team of addiction experts to create an effective aftercare plan. Aftercare typically includes:
Relapse prevention planning and strategies
Maintenance medication
Ongoing group and individual therapy
Support groups, such as 12-step organizations or SMART Recovery
Sober living communities
Case management
Routine check-ins and follow-up appointments
On-demand access to recovery resources, services and tools
Aftercare allows someone to find a group of like-minded individuals who they can learn from, share stories with and contact when things are rough. Additionally, recovery progress is monitored to ensure alumni are continually able to navigate situations after rehab. These help alumni to safely continue the healing process in their day-to-day lives while having the safety net of peer and professional support.
Support Groups and Sponsorships
Support groups, including 12-step groups like Alcoholics Anonymous and organizations like SMART Recovery, are helpful communities for people in recovery. Members attend meetings, provide support, share stories and strategies, hold one another accountable and form close, healing bonds. It can be hard for someone to understand addiction without going through it themselves, so these environments are filled with understanding individuals who have gone through similar struggles.
Many of these groups include sponsorship programs in which a long-term member will mentor someone who's new to recovery. The relationship is one of support, guidance and accountability, as the sponsor will help the sponsee overcome difficulties throughout recovery and learn tried-and-true strategies for long-term success.
Sober Living Accommodations
For some clients, home can be a place full of situations that may trigger a relapse. They may have strained relationships with household members, or the environment may remind them of past substance use. Early recovery requires a calm, safe and supportive environment, so many clients opt for a sober living community after completing rehab. These are substance-free homes where people can practice sobriety techniques, form a stable foundation for long-term recovery and better prepare themselves for the transition back to regular life.
Alumni Access
As part of our aftercare programming, alumni gain access to a wide variety of helpful resources they can use at any time. These include online meetings, telehealth services, educational content, recovery apps and more.
Alumni Check-ins and Recovery Meetings
The Recovery Village Columbus regularly hosts alumni events and activities. We also routinely check in with alumni to address any concerns they may have throughout their recovery process, as well as provide advising services for career, financial and other life goals. In addition, alumni gain access to private social media groups and confidential chat rooms to connect with one another. Our online recovery meeting service allows alumni to gather virtually with family, friends, peers and other support group members via video chat.
Telehealth App and Patient Portal
Therapy can help the healing process continue after rehab, but it's not always accessible for busy individuals. Our telehealth app bridges the gap by allowing clients to connect with licensed mental health professionals from the comfort of home. All you need is a smartphone, tablet or computer in order to receive life-changing care, counseling and medication-assisted treatment.
Our patient portal also allows alumni to take control of their recovery in a variety of ways. After registering with this online service, alumni immediately gain access to clinical videos, holistic self-care strategies, educational recovery content, journaling tools and many other resources that promote physical and mental wellbeing.
Other Resources
Whether you've completed one of our treatment programs or you're simply curious about addiction recovery, we provide a variety of freely accessible resources online. The following will give you a better understanding of addiction, types of drugs, the effects of substance use, available treatment options and ways to manage long-term sobriety.
Video Resources
You can view educational recovery-related videos on our official YouTube channel. We cover a wide range of topics, including facility walkthroughs, client testimonials, frequently asked questions, relapse prevention, mental health concerns and much more.
Our website is also home to clinical education videos that cover similar topics. Through this content, you can learn more about addiction, mental health, and recovery.
On-Demand Addiction and Mental Health Webinars
As trusted leaders in addiction treatment, we host continuing education seminars to teach medical professionals about advancements in the scientific understanding of substance use disorders. We've made our webinar archives available to all, and through these expert-led presentations, you can gain in-depth knowledge of topics like self-care techniques, the role of family in addiction, the impact of trauma, and overdose prevention.
If you or someone you know is struggling with substance use, help is available at The Recovery Village Columbus. Contact us today to learn more about different treatment plans and recovery programs that can work well for your needs.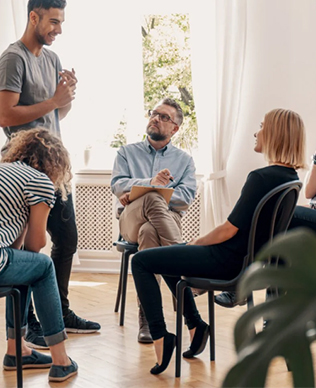 Questions?
Our Recovery Advocates are ready to answer your questions about addiction treatment and help you start your recovery.