Last Updated: February 16, 2023
Jump to Section
The drug overdose death rate in Ohio is one of the highest in the U.S. Unintentional overdose rates were high but declining pre-pandemic. Sadly, numbers are rising again, with a 3% increase from 2017–2020. Ohio drug rehab programs provide quality treatment and support for those with substance use disorders. However, follow-up after rehab is essential for continued recovery.
Many people are encouraged to attend 12-step meetings in their community after leaving an Ohio drug rehab facility. Peer support is considered a cornerstone of long-term recovery success, and 12-step meetings have a long history of helping people get and stay sober.
Those who don't connect with the philosophies of a traditional 12-step program may opt-out of participating in peer support, bypassing the potential benefits of being active in such groups. Fortunately, there are other options for ongoing support besides 12-step programs. SMART Recovery in Columbus, Ohio, is a non-religious, science-based program worth exploring as an alternative or in addition to 12-step programs.
What Is SMART Recovery?
The purpose of SMART (Self-management and Recovery Training) Recovery programs is to support people who wish to abstain or are currently abstaining from all types of addictive behaviors, including the use of substances or potentially addictive activities such as gambling.
SMART Recovery principles are based on current scientific knowledge and are not set in stone. As the science related to the disease of addiction evolves, so do the SMART Recovery program's guiding principles. SMART is committed to teaching individuals how to be more self-reliant and helping them increase self-empowerment. The program also teaches techniques for self-directed change to live a more satisfying life. SMART Recovery supports the appropriate use of prescription medications and encourages members to receive mental health treatment as needed as part of their recovery.
SMART Recovery vs. 12 Steps
Accepting the idea of a "higher power" is a major teaching of 12-step organizations. In theory, a higher power does not have to be viewed as the Judeo-Christian God. It is left up to the individual to define the term for themselves. However, accepting that a power greater than the individual is in control is core to the 12-step philosophy.
SMART Recovery does not refer to a higher power or religion. People from all religious backgrounds are welcome, even without religious affiliation. SMART teachings are based on a four-point program that provides participants with tools to change self-defeating habits.
SMART Recovery vs. AA
Alcoholics Anonymous, or AA, is the original 12-step program, founded in 1935 by Bill W. and Bob S. The idea of anonymity was important to the two founders, who understood the shame and stigma of addiction might prevent people from getting help. By omitting last names and asking participants to keep the confidence of other members, they hoped to create a safe and welcoming atmosphere where all are seen as equals.
Like AA, SMART respects members' privacy and upholds the standard of anonymity. SMART Recovery meetings are free, as are A.A. and other 12-step meetings. AA vs. Smart Recovery differs regarding who meetings are designed for. While AA is intended only for people with alcohol use disorder, SMART meetings are not restricted to a particular addiction type. Anyone struggling with a behavioral addiction or substance use disorder is welcome to attend the same meeting.
How Does SMART Recovery Work?
SMART Recovery views addiction as maladaptive behavior, not a chronic disease. The SMART approach is to offer tools, techniques and support that help people change their behavior and lead a life that aligns with their goals. The program focuses on the present and the future, not the past. The belief is that addiction can be transcended using the SMART four-point system. The four-point program includes:
Enhancing and Maintaining Motivation (to abstain from addictive behavior)
Coping with Urges
Problem Solving (using rationality to manage thoughts, behaviors and feelings)
Lifestyle Balance (balancing short and long-term satisfaction)
How does Smart Recovery work with the four-point program? Participants offer mutual aid and share their solutions to addiction-related challenges to help each other learn from and succeed with the four points.
SMART Recovery Toolbox
The SMART Recovery Toolbox is a collection of worksheets, exercises and methods to help participants self-manage their recovery and life. The tools are designed to develop cognitive thinking skills that support individuals throughout each recovery phase.
The SMART Recovery Toolbox includes the following:
ABCs: A rational emotive behavioral therapy exercise is used in cognitive therapy to help people examine their beliefs, some of which may cause negative behavior.
DISARM: A tool that helps participants recognize deceitful self-talk and rationalize and excuse negative behavior.
USA: Unconditional self-acceptance is the belief that every person has value, just as they are right now.
Change-plan Worksheet: A literal worksheet that helps participants identify the necessary steps to reach goals.
HOV: Being active in addiction can result in losing personal awareness. The Hierarchy of Values (HOV) encourages SMART members to reintroduce themselves to the values most important to them.
Goal Setting: The goal-setting exercise shows participants how to set realistic, measurable and short-term goals. Meeting short-term goals serves as a foundation for meeting larger goals.
DIBs: Irrational beliefs are those that do not make sense and are untrue and harmful. The DIB technique (Disputing Irrational Beliefs) provides tips for turning off irrational beliefs when they threaten personal wellness.
There are several other resources in the SMART Recovery Toolbox, and a Family and Friends Toolbox is also available. Each tool and technique fulfills a specific purpose and helps SMART members shift their behavior to align with their personal goals.
Why Choose a SMART Recovery Program?
Why should you choose SMART Recovery in Columbus, Ohio? While many options are available for recovery support, no single treatment method works for every person. SMART works with any addiction or unwanted behavior. Terms like "addict" and "alcoholic" are discouraged in the SMART program because it rejects the idea that a behavior defines who a person is.
SMART meetings are anonymous. Both in-person and online meetings are available and inclusive. People who attend 12-step or other recovery support meetings are welcome. The tools and techniques offered by SMART can enhance those learned in other programs. SMART Recovery encourages participants to explore their pathways and use every tool that helps them create a balanced life.
SMART Recovery at The Recovery Village Columbus
The Recovery Village Columbus offers comprehensive rehab services, including specialized programming for alcohol and substance use disorders, aftercare and post-rehab support, such as SMART Recovery. We are committed to helping people in Ohio and the U.S. struggling with addiction. We offer several locations where the SMART Recovery program is available. Our locations include:
The Recovery Village Cherry Hill at Cooper in Cherry Hill, New Jersey
The Recovery Village Palm Beach at Baptist Health in Lake Worth, Florida
The Recovery Village Miami at Baptist Health in Miami, Florida
Orlando Recovery Center in Orlando, Florida
The Recovery Village Umatilla in Umatilla, Florida
The Recovery Village Columbus in Columbus, Ohio
The Recovery Village at Palmer Lake in Palmer Lake, Colorado
The Recovery Village Ridgefield in Ridgefield, Washington
Denver Mental Health and Counseling by The Recovery Village in Denver, Colorado
IAFF Center for Excellence for Behavioral Health Treatment and Recovery in Upper Marlboro, Maryland
SMART Recovery Meetings Near You in Columbus, Ohio
Find SMART meetings near you in Columbus, Ohio, by visiting The Recovery Village Columbus. Visit the SMART Recovery website for SMART meeting schedules and other resources to help you in your recovery journey.
If SMART Recovery hasn't worked for you, it could be that you need more intensive medical care. The Recovery Village Columbus offers intensive medical detox and inpatient rehab for those with moderate to severe substance use disorders, and outpatient rehab for those with milder addictions.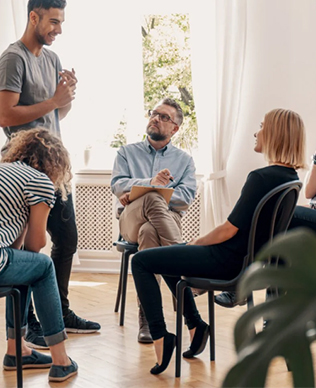 Questions?
Our Recovery Advocates are ready to answer your questions about addiction treatment and help you start your recovery.