Body, Mind, and Well-Being Resources
Last Updated: November 2, 2022
Jump to Section
What does it mean to be healthy? Ask varied respected and educated professionals and you may get an array of answers. Perhaps it's better to think of health as a set of disciplines that keep us mentally and physically in shape. Regardless of your definition of wellness, below you can find the best information dedicated to the body, mind, and state of well-being.
Psychology and Psychiatry Resources
Professionals have been exploring the human mind for just over a century, yet people have pondered the why of human behavior long before that. Here you can find links to official associations, job openings related to the field of psychology, doctor-approved articles, and opinion-based blogs.
American Psychological Association: Dedicated to advancing society and improving lives, the site has links to articles, books, continuing education, practitioners, and other psychological organizations.
AlleyDog.com: A student's best friend, the site leads to job openings in the field, notes to complement classes, a glossary, and more.
Association for Psychological Science: Dedicated to advancing psychology by combining efforts from multiple disciplines and international locations, this site provides career opportunities, articles, journals, and more.
National Institute of Mental Health: Dedicated to the research of mental disorders, the largest biomedical research agency in the world can provide you with a wealth of information and helpful resources.
American Psychiatric Association: Find links to certified professionals, students, and universities. This association aims to be the voice of modern psychiatry.
Center for Mind-Body Medicine: This is one resource for educating children, training educators, and supporting group and self-care. Find information about in-person training or sign-up for webinars.
Center Institute for Research and Education in Integrative Medicine: Find high-quality information about online education programs for health professionals as well as individuals seeking holistic treatment.
Association of State and Provincial Psychology Boards: This organization creates and maintains a written exam, used by most licensing boards.
Food and Fitness Resources
The connection between mind and body is undeniable. Here you can learn more about this connection, read ideas from novices or experts and peruse links about new exercise regimens, quirky gadgets, and healthy foods.
12-Minute Athlete: The site and app are packed with workouts, insights, and ideas for those who want to gain muscle and shed pounds.
Clean Eating Magazine: The magazine is dedicated to educating the public on clean ingredients. Also, get the scoop on foods making headlines, evaluating information other sources and other vital information.
The Greatist: This resource recruits and maintains a team of experts who write about fitness, life, and the latest health products.
Jillian Michaels: Jillian delivers insight on how to trim body fat, build muscle, and eat the right foods. Get your body strong and healthy through a regular rotation of food and fitness news from her site.
Daily Burn: Whether you want to know how to get the body you want, find fresh ideas to keep your regimen challenging or tools to attain your fitness goals, the Daily Burn is a helpful resource.
Fitness Blender: Get access to free videos and all kinds of fitness information. While advanced options require sign-up, the site offers plenty of free tools and additional resources.
Muscle and Fitness: This site has volumes of information on exercise, weight lifting, eating, and more. Whether it's your first day or tenth year, the site has something to improve your body and to get you closer to fitness your goals.
Kitchn: This may be your new go-to site for healthy recipes. Even those who already have a wealth of recipes can find something interesting and new here.
Changing Shape: Changing Shape is great for those seeking low-impact ways to stretch their limits, build lean muscle, and improve their mind and body connection.
Free Trainers: This is the place to go if you don't want to walk into a gym, or desire a customized workout to do on your own. You will find ways to tone your body, lose weight, and get in shape.
Summer Tomato: This site emphasizes mindful eating and a great resource for those who want to get healthy by learning to eat well.
Well-Being Resources
What does it mean to be mindful of your health? How can you improve the quality of your life? Here you can find links to online magazines, blogs, and personalities that can teach you about the mind, body, and soul connection.
MindBodyGreen: Find helpful tips on food, exercise, dating, and careers. Read individual articles or peruse tips supplied by dedicated professionals.
LifeHacker: Whether you're finding a way to keep your home secure or want to figure the best way to get the raise you've been needing, you can get practical advice here.
Nerd Fitness: The site lives up to its name by infusing elements of comic book and nerd lore with helpful and insightful diet and fitness tips. It's an alternative to those who don't want to pursue bodybuilding resources or head to the weight room.
Sleep Junkies: This is the place to go if you are obsessed with getting the best sleep of your life. Gain an education about sleep positions, bedtime rituals, and more.
4-Hour Workweek Podcast: Tim Ferriss, author of the acclaimed book, "4-Hour Workweek," delivers information about life, health, and work on this site. Spend less time chasing money and more time on your well-being.
Strength Sensei: The resource is all about getting stronger in a faster and more efficient manner. Get tips about rest, diet, and working out.
Smashfit: "American Ninja Warrior" is a popular ongoing television series that pits amateurs against one another as they blaze through a maze of highly intense physical challenges.
Mark's Daily Apple: Mark Sisson takes a primal approach to fitness. His personality is engaging and his body and level of fitness inspires others to think twice about their own exercise regimens.
The Kind Life: Actress Alicia Silverstone's vegan lifestyle blog is not what you might expect from a Hollywood starlet. The information presented here is great for all sexes and covers an array of health-related topics.
TED Talks: TED talks can be about inspirational stories, surprising facts, and an amalgam of human experiences, presented through a series of orations from an array of personalities. You may not be the same after hearing your first TED talk.
ApartmentTherapy: Learn to sit back and relax in your own home or apartment. Regardless of the space you have to work with, you'll find practical solutions and new ways of looking at the place you call home.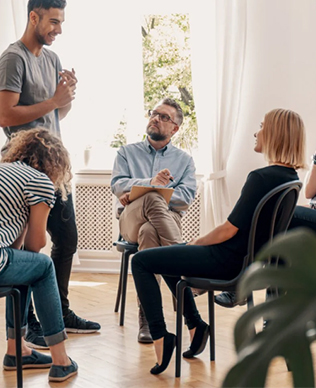 Questions?
Our Recovery Advocates are ready to answer your questions about addiction treatment and help you start your recovery.