Last Updated: February 15, 2023
Adderall is a central nervous system (CNS) stimulant that is FDA-approved to treat attention-deficit hyperactivity disorder (ADHD) and narcolepsy. This prescription drug is classified as a Schedule II medication under the Controlled Substances Act due to its potential for misuse and abuse.
While Adderall can be an effective treatment for ADHD and narcolepsy, it can create serious side effects when misused or taken with substances like alcohol.
How Long After Taking Adderall Can I Drink Alcohol?
While it is best to avoid alcohol entirely while taking Adderall, that may not always be possible. In general, you should wait at least four to six hours after taking immediate-release Adderall or eight hours after taking extended-release formulations before drinking alcohol. Always discuss any possible drug interaction with your health care provider or pharmacist to get the most specific information for your situation.
*The information we provide is not intended to be a substitute for professional medical advice, diagnosis or treatment. Consult your doctor if you have any questions or concerns regarding your medications.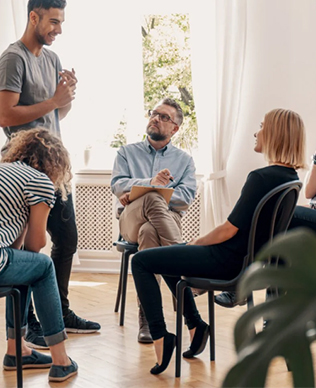 Questions?
Our Recovery Advocates are ready to answer your questions about addiction treatment and help you start your recovery.