Drug & Alcohol Treatment Centers & Resources Near Upper Arlington, OH
Substance Abuse Resources in Upper Arlington, OH
Ohio has been profoundly affected by substance abuse issues. In Upper Arlington, a suburb of Columbus, there is a significant need for easily accessible substance abuse resources. According to the Ohio Department of Health, the state saw more than 4,000 unintentional drug overdose deaths in just one recent year alone. Opioids, in particular, have been a severe problem for many Upper Arlington residents. This alarming statistic underlines the importance of accessible and effective substance abuse resources for the city's most vulnerable individuals. Our goal is to provide comprehensive information about available resources in Upper Arlington, from counseling and treatment centers to educational materials aimed at prevention.
About Upper Arlington, OH
Upper Arlington, Ohio, is a peaceful, lively community nestled in the heart of Ohio. Founded in 1918, the city quickly transformed from rural farmland to an urban neighborhood boasting picturesque tree-lined streets, exquisite dining options, a robust arts scene, and an enviable list of community events. It's known for its harmonious blend of old and new, showcasing a reviving mix of traditional and contemporary architecture.
The city is home to around 34,000 residents who enjoy a high standard of living. On average, the population is highly educated, with a considerable number of professionals working in various capacities, creating a close-knit community appreciative of the city's amenities and lifestyle. Residents describe the vibe of Upper Arlington as safe, friendly, and family-centric, further reinforced by the highly-rated public education system.
Despite the city's seemingly idyllic facade, Upper Arlington, like many communities nationwide, confronts the growing issue of substance abuse. A significant rise in opioid-related issues has been reported, affecting both adults and youths in the community. In response, various initiatives have been put in place, including educational programs, community outreach services, and dedicated rehabilitation centers to tackle this public health concern. The goal of these efforts is to create a supportive, understanding community that can help affected individuals seek recovery and reintegration.
Visit the city's official website to discover more about Upper Arlington, its charm, and the collective action toward substance-abuse recovery.
Our Closest Facility
We understand how important it is for individuals seeking help for substance use and co-occurring mental health disorders living in Upper Arlington, OH; regional proximity matters. Thankfully, our facility, The Recovery Village Columbus Drug & Alcohol Rehab, is conveniently located nearby.
The Recovery Village Columbus Drug & Alcohol Rehab
Address: 3964 Hamilton Square Blvd, Groveport, OH 43125
Contact: (614) 362-1686
Website: Visit Our Website
Our close proximity ensures that you will not need to travel far for effective treatment programs. We provide a welcoming, compassionate environment where you'll be treated with respect and receive the personalized care you need. Our multidisciplinary team of highly trained professionals focuses on delivering comprehensive services that foster physical, emotional, and mental well-being to help you reclaim your life from substance abuse and associated mental health disorders.
Don't let distance keep you from the quality care you deserve. Reach out to us today to start your recovery journey close to home.
Overview of Rehab Programs for Treating Substance Abuse near Upper Arlington OH
For residents of Upper Arlington, Ohio, who are struggling with substance abuse and addiction, recovery is closer than they might think. The Recovery Village Columbus Drug & Alcohol Rehab, conveniently located in Groveport, provides a comprehensive range of treatment options and support for those seeking to overcome substance abuse and addiction.
The cornerstone of our approach to treatment is individualized plans tailored to meet the unique needs and circumstances of each patient. Our rehab programs are designed to help individuals from Upper Arlington and beyond to hit the ground running in their journey towards recovery.
Included within our array of services, we offer inpatient programs, outpatient programs, medically assisted detox, and various therapy options that address not only the physical aspect of addiction but the psychological as well. Each of these strategies contributes to a comprehensive, holistic plan of recovery to ensure that every individual has the best possible chance of success.
At the Recovery Village Columbus Drug & Alcohol Rehab, we believe that recovery is a journey that extends beyond treatment. That's why we also offer aftercare programs to help our patients maintain their sobriety after leaving our facility. We remain committed to their success and are always there to provide the necessary support when they need it.
Your journey toward recovery can start today. We are located at 3964 Hamilton Square Blvd, Groveport, OH 43125. You can reach out to us anytime by calling (614) 362-1686. Additional information about our rehab programs and services can be found on our website.
Common Co-occurring Disorders in Upper Arlington, OH
In Upper Arlington, OH, it's crucial to understand that mental health is just as significant as physical health. Among various mental health disorders, co-occurring disorders are often seen. A co-occurring disorder, also known as dual diagnosis, is a condition when a person suffers from both a substance abuse problem and a mental health issue.
One of the common co-occurring disorders seen in Upper Arlington, OH, is the combination of depression and Alcoholism. People experiencing persistent sadness, loss of interest in favorite activities, or having difficulty with sleeping or eating might be suffering from depression. Some use alcohol to self-medicate their symptoms, leading to addiction.
Another commonly seen co-occurrence is Anxiety disorders and Drug Abuse. Anxiety disorders can include various conditions like generalized anxiety disorder, panic disorder, and social anxiety disorder. Some individuals use drugs as a coping mechanism to deal with their high levels of anxiety, which eventually can result in drug abuse.
Bipolar disorder and Substance Abuse also frequently co-occur. Bipolar disorder leads to dramatic shifts in a person's mood, energy, and ability to think clearly. Some people with bipolar disorder may abuse alcohol or drugs to cope with their symptoms.
In Upper Arlington, OH, appropriate help and intervention are readily accessible for people who are suffering from these co-occurring disorders. Establishments like the NAMI Ohio are dedicated to improving the lives of individuals and families affected by these co-occurring mental health disorders and substance use disorders.
Substance Abuse in Upper Arlington, OH
Substance abuse continues to be a pressing issue in many areas, and Upper Arlington, OH, is unfortunately no exception. Several commonly abused substances are having a substantial impact on the local community. However, understanding the scope and nature of this problem can pave the way toward adequate prevention and treatment efforts.
Alcohol
According to the Ohio Department of Health, alcohol remains the most commonly abused substance statewide. In many counties, including Franklin County, where Upper Arlington is located, it is implicated in approximately 50% of all substance-related admissions to treatment facilities.
Opioids
Opioids, both prescription and illicit, pose a serious threat to the residents of Upper Arlington. The Ohio Department of Health reports that in Franklin County alone, there were 560 opioid-related overdose deaths in 2020. This troubling statistic underscores the urgency of addressing opioid misuse and addiction.
Marijuana
While marijuana is the most widely used illicit drug in the U.S., its abuse still presents problems. The Ohio Department of Mental Health and Addiction Services states that marijuana was involved in 18% of drug treatment admissions among Ohio adolescents in 2019.
Tobacco
Tobacco, particularly when used in the form of cigarettes, remains a critical public health issue. In Franklin County, 20.7% of adults are smokers, higher than the Ohio average of 18.4% and the national average of 14%, according to the Centers for Disease Control and Prevention (CDC).
Conclusion
Addressing substance abuse in Upper Arlington, OH, requires a comprehensive understanding of the problem. Sharing this information can help community members recognize the severity of substance misuse and motivate collective action to mitigate its impacts. More importantly, it is critical to understand that treatment is available and recovery is possible.
Warning Signs of Substance Abuse
Substance abuse can often be subtle and hard to identify, especially at the beginning. It's crucial to be vigilant in recognizing the following signs in individuals:
Changes in mood, behavior, or appearance
Displaying secretive or suspicious behaviors
A sudden decrease in performance at work or school
Isolation from friends and family
Excessive spending or financial issues
Unusual sleep habits or patterns
Substance abuse can manifest in physical symptoms as well, such as:
Noticeable weight loss or gain
Bloodshot eyes or dilated pupils
Nausea, vomiting, or excessive sweating
Unusual smells on breath, body, or clothing
If you notice these warning signs in a family member, friend, or even yourself, it is important to seek professional help immediately. In Upper Arlington, OH, a variety of resources are available, including therapy and support groups that cater to different substance abuse struggles. Reaching out for help can make all the difference on the journey to recovery.
For more information and resources concerning substance abuse, please visit the Upper Arlington Local Health and Public Safety website.
Alcohol Addiction Treatments in Upper Arlington, OH
In Upper Arlington, Ohio, numerous options are available for alcohol addiction treatments – ranging from outpatient counseling and group therapy to comprehensive inpatient programs. The treatments are designed to aim at both physical and psychological dependencies.
Inpatient Treatment
Inpatient treatment is usually recommended for severe alcohol addiction. This treatment involves staying at a facility for a certain period of time, where patients are provided 24/7 medical care and emotional support. This kind of focused care is critical in helping patients handle withdrawal symptoms and provides a zero-tolerance environment to help encourage recovery.
Outpatient Treatment
Outpatient treatment can be as effective as inpatient treatment for some individuals. The treatment is less restrictive and allows patients to maintain their daily routines, such as work or school while attending counseling and educational sessions in their free time. These programs focus on providing knowledge and skills to overcome addiction and facilitate long-term recovery.
Group Therapy and Counseling
Group therapy and counseling sessions can offer much-needed supportive environments for individuals struggling with alcohol addiction. These sessions help to foster a feeling of community and understanding, encouraging individuals to share their experiences and gain insights from others in similar situations.
The Recovery Village Columbus Drug & Alcohol Rehab
If you're in Upper Arlington and are looking for a local facility to help you overcome alcohol addiction, The Recovery Village Columbus Drug & Alcohol Rehab is a great choice. This facility provides a broad range of treatment options, including inpatient and outpatient services, along with cognitive behavioral therapies.
Address: 3964 Hamilton Square Blvd, Groveport, OH 43125.
Phone Number: (614) 362-1686.
Remember, it's never too late to seek help for alcohol addiction. The road to recovery can be challenging, but with the right support and guidance, you can triumph over addiction and regain control over your life.
The Opioid Epidemic in Upper Arlington, OH, and Available Addiction Treatment Options
The opioid crisis has not spared any corner of the country, and Upper Arlington, Ohio, is no exception. According to the Ohio Department of Health data, in recent years, there has been a sharp increase in opioid-related overdose deaths in the area, illustrating the urgent need to address this crisis[1].
Fortunately, numerous addiction treatment options are available in Upper Arlington and the surrounding region to combat this pressing issue. Let's take a deeper look:
Government Resources and Initiatives
The State of Ohio, through the Ohio Recovery Initiative, offers an array of initiatives and resources to combat the opioid crisis. The initiative includes aggressive action to prevent drug abuse and overdoses, expand access to treatment, support law enforcement efforts, and provide necessary recovery support[2].
Local Addiction Treatment Centers
Numerous addiction treatment centers in and around Upper Arlington provide different types of therapies, counseling, and medication-assisted treatment. These include local facilities such as The Emerald Jennings House and the Mount Carmel Addiction Recovery Center, which offer comprehensive, personalized treatment plans for individuals battling opioid addiction[3] [4].
Support Groups and Community Resources
Alongside professional treatment options, numerous support groups and community resources like NA (Narcotics Anonymous) and SMART Recovery provide crucial ongoing peer support. The Ohio Department of Mental Health and Addiction Services offers an online portal to help residents find local support resources[5].
Combating the opioid epidemic in Upper Arlington and throughout Ohio is not a task that can be accomplished alone. It demands a comprehensive, coordinated response involving healthcare professionals, law enforcement, government, and community support.
Hope for Lasting Recovery in Upper Arlington, OH
Recovering from addiction is not a journey that should be walked alone. Recovery Advocates in our facility in Groveport are committed to helping every individual in Upper Arlington, OH, deal with addiction and guide them toward a hopeful future. If you, or someone you love, are battling addiction, don't fight this alone – we are here to help you through your journey.
With an enviable track record, we have been successful in helping individuals find the hope they need to overcome addiction. We have a Recovery Advocate waiting to speak with you. No matter the time, day or night, we're always available. Please don't hesitate to call us at (614) 362-1686.
For more information about our services, please visit our website: https://www.columbusrecoverycenter.com/
We believe in you, and we believe in a future free from addiction for all of Upper Arlington, OH. Together, we can achieve lasting recovery.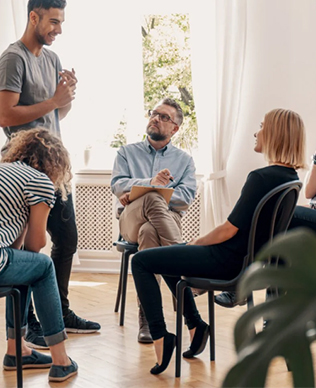 Questions?
Our Recovery Advocates are ready to answer your questions about addiction treatment and help you start your recovery.