Gabapentin Addiction Treatment & Rehab in Ohio
Last Updated: January 24, 2023
Jump to Section
Article Overview
Gabapentin is one of the most commonly prescribed drugs in the U.S.
An estimated 95% of gabapentin prescriptions are off-label.
The risk of misuse/abuse in the absence of other drugs is unclear.
Gabapentin is commonly co-used with drugs of abuse, primarily opioids.
Rehab programs can evaluate whether gabapentin use has become problematic and provide options for treatment.
Understanding Gabapentin Addiction Treatment & Rehab
Gabapentin (brand name Neurontin) is one of the most prescribed drugs in the U.S. Gabapentin is FDA-approved as an anti-epileptic drug to manage pain associated with a subset of neuralgia disorders (pain caused by nerve damage). However, an estimated 95% of gabapentin prescriptions are "off-label" (that is, it is prescribed to treat disorders it's not FDA-approved to treat). Between 2012–2016, gabapentin prescriptions increased by 64%, and in 2016, it was the 10th most prescribed drug in the U.S., with over 64 million prescriptions being written. It's been used to treat everything from restless leg syndrome to menopausal conditions to drug and alcohol use disorders.
Gabapentin exerts its actions by mimicking the signaling of inhibitory neurotransmitter GABA (it is a "GABA-mimetic"). The function of GABA is to prevent brain cells from getting over-excited. This is why gabapentin is so successful as an anti-seizure drug. If there is not enough internal GABA to calm the brain down, taking gabapentin can supplement GABA and successfully prevent a seizure.
Gabapentin use leads to tolerance (meaning that ever-increasing doses are required to achieve the same effect) and dependence (physical withdrawal symptoms occur when gabapentin use is reduced or eliminated). Both effects are common predictors of misuse, or using gabapentin in any way other than as prescribed. However, whether gabapentin itself is associated with abuse (using a drug with the intent to get high) remains controversial. It is also uncertain whether gabapentin use leads to addiction (an inability to control drug-seeking behaviors, even in the face of negative consequences).
Despite the lack of clear evidence indicating that gabapentin alone is associated with misuse or abuse, it is known that gabapentin is routinely abused among people who also abuse opioids. Like gabapentin, opioids increase GABA signaling, although they have a different way of doing so. Gabapentin enhances the effects of opioids, resulting in a more intense high. Additionally, four out of five gabapentin-related deaths involve opioids. In light of these observations, at least seven states have taken steps to limit access to gabapentin.
Regardless of whether research can clearly define the potential for gabapentin use or misuse, evidence suggests there is an overlap between opioid abuse and gabapentin misuse. People who abuse opioids are at increased risk of gabapentin addiction, and in some cases, people may develop addiction to gabapentin alone.
Hallmark signs of misuse include taking gabapentin at higher doses or more frequently than directed. Signs of abuse include using gabapentin with the sole intent to get high or taking it with opioids to enhance their effect. Either of these may cause dependence or even addiction that should be addressed by professionals.
Addiction Treatment Options
The specific treatment plan that should be pursued for gabapentin rehab is highly dependent on the context of misuse. If gabapentin is the only drug being misused and the dependence is mild, many people can successfully overcome a gabapentin use disorder without significant intervention. For stronger dependencies or for people who prefer the support and guidance of professionals throughout early recovery, there are several options for treatment:
What Does Gabapentin Rehab Cost?
The cost of gabapentin rehab can be quite variable and depends on several factors. For someone who has developed a serious dependence on gabapentin, a detox period under the care of medical professionals may be warranted.
A 30-day residential rehab program can range from several thousand dollars for a basic program to well over $25,000 for a luxury program. A 30-day outpatient program may cost anywhere from $1,000 to over $10,000. Any medical care on top of what is provided in the program (e.g., pharmacotherapies or unforeseen medical complications) will be included in the cost.
Does Insurance Cover Rehab?
Several insurance policies will cover at least some of the costs associated with rehab. Make sure your insurance policy considers the rehab facility you are evaluating as in-network, as out-of-network programs will be more costly.
Oftentimes, rehab without insurance is possible. Many rehab facilities offer grants, scholarships and sliding fee scales to help them accommodate people from all income brackets. Many states, including Ohio, offer some form of assistance to residents who are seeking rehab.
Choosing a Rehab Facility for Gabapentin Abuse
Gabapentin treatment programs should have a multidisciplinary staff equipped to deal with physical, psychological and medical components of recovery. Gabapentin is often co-used with other drugs, so finding a facility that can treat other forms of substance use disorders in conjunction with gabapentin treatment may be important.
Gabapentin is often misused because it can mask symptoms of mental health disorders (e.g., anxiety disorders, depression). Facilities that can diagnose and treat co-occurring disorders (substance use and mental health disorders together) can maximize the odds of success in long-term recovery.
Other factors to consider when you are evaluating a rehab facility include:
Accreditation: Finding a program accredited by either The Joint Commission or CARF International guarantees a certain standard of care.
Treatment options: The most comprehensive rehab programs will be carried out in facilities that can provide medically assisted detox, short- and long-term residential and outpatient programs, and aftercare. Programs that treat gabapentin use disorders should have staff on hand who have experience with gabapentin as a drug of abuse.
Location: While the closest facility may be the most convenient, it is not necessarily the best one for you.
Cost: Cost is, unfortunately, a major factor when finding the right rehab program. Look for a facility that accepts your insurance and one that can offer grants, scholarships and a sliding fee scale to keep out-of-pocket costs within your range.
Success rates: Many rehab facilities offer endorsements from former clients. Be skeptical of any program stating that they have 100% success rates.
Treatment duration: Treatment duration should be based on your progress, not a predetermined amount of time. Look for programs that tailor the program to your needs.
Staff-to-patient ratio: A low staff-to-patient ratio guarantees that you will have enough access to the staff to make sure your needs are met. This is especially important in a residential or intensive outpatient program.
What to Expect When You Go to Rehab
The first step in a rehab program is generally an intake and evaluation process. During the evaluation, you will discuss current and past drug use and medical history. It is important that you are as honest as possible for the facility to design the most effective program for you.
Throughout the program, you will participate in counseling sessions and group activities. Initially, you may be uncomfortable interacting with staff and peers, especially if you are experiencing withdrawal symptoms. However, being proactive about participating in these sessions is an important component of your long-term recovery. If you have used gabapentin with other drugs, there may come a point where you need to face mistakes you made as a consequence of your drug use. This can be difficult, but the reward for accepting these mistakes and moving past them towards a healthy future is well worth it.
You can also expect to develop relationships with mentors, make new friends and create a strong network of supportive people who are invested in your long-term success. By the time you've completed your rehab program, you will be equipped with new tools and techniques that will allow you to resist triggers and help you manage the stresses of everyday life without resorting to gabapentin or other drugs.
What Happens After Rehab?
It is important that you remain proactive after you complete your rehab program. Participate in aftercare programs offered by your rehab facility. In addition to the expected components of aftercare (therapy sessions, relapse prevention), many programs provide fun and educational opportunities and social events that can help you find healthy new activities and hobbies.
How Rehab Improves Recovery
Many people who develop gabapentin dependence are ashamed and embarrassed that they were unable to manage the disorder on their own. Participating in a rehab program shows you that you are not alone in your quest for recovery, and that can be very comforting for some people.
In addition, behavioral therapies like motivational interviewing can allow you to evaluate why you found gabapentin misuse necessary and identify goals for your future with the support of experts. If you received a dual diagnosis, a quality rehab center would develop a plan that addresses each disorder individually. These plans aim to give you a strong foundation for continued success in recovery.
Gabapentin misuse or abuse can be challenging to overcome. The Recovery Village Columbus offers comprehensive rehab programs that are tailored to suit each client's needs and get you on the road to recovery. Call us today to seek the help you or your loved one deserves.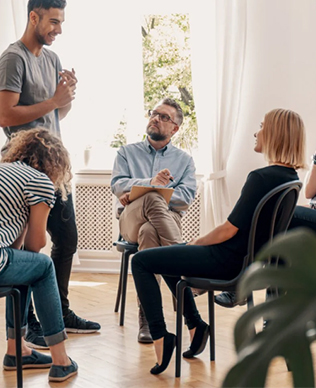 Questions?
Our Recovery Advocates are ready to answer your questions about addiction treatment and help you start your recovery.