Klonopin Drug & Addiction Treatment Rehab in Ohio
Last Updated: January 17, 2023
Jump to Section
Many cities across Ohio – like Cleveland, Cincinnati and Columbus – have turned their attention to the opioid epidemic, with drugs like heroin and medications like OxyContin and hydrocodone making headlines. However, there is another class of drugs that can be addictive and also destroy the lives of many individuals and families all throughout Ohio and the United States. This class of drugs is benzodiazepines, and one of the most popular benzodiazepines is Klonopin.
Fortunately, Klonopin rehab treatment in Ohio is available for anyone struggling with an addiction to this medication.
Klonopin Addiction
As a benzodiazepine drug, Klonopin comes with a risk of addiction. As experts explain, long-term use of the drug can lead to tolerance and physical dependence. Someone who is physically dependent on Klonopin will develop withdrawal symptoms when they stop using it. Klonopin tolerance refers to the need for larger and larger doses to achieve the same desired effect.
Both tolerance and withdrawal are signs of Klonopin addiction, which indicates that a person needs addiction treatment.
Klonopin Addiction Rate
Klonopin has the potential to be addictive, and Klonopin statistics confirm that people misuse this drug. An older study found that 23% of Klonopin users obtained the drug illegally, meaning they were not taking it as prescribed to them by a doctor.
Unfortunately, people may abuse benzodiazepine drugs like Klonopin even when taking them under the care of a doctor. According to a research report from the National Institute on Drug Abuse, about 17% of benzodiazepine users misuse their prescriptions, which can mean taking larger doses than prescribed, crushing up pills and snorting them or going to multiple doctors to get prescriptions.
Klonopin Addiction Symptoms
Someone who has Klonopin addiction symptoms is likely experiencing a substance use disorder, the clinical term for an addiction. Some signs that suggest a Klonopin addiction:
Taking larger amounts of Klonopin than prescribed by a doctor
Spending a great deal of time seeking out more Klonopin, such as by going to multiple doctors for prescriptions or stealing medication from someone else
Experiencing unpleasant side effects, such as anxiety, headache, tremors or sleep problems when not using Klonopin
Needing larger and larger doses of Klonopin to experience the same effects
Using Klonopin when it is dangerous, such as driving
Giving up other activities due to Klonopin use
Using Klonopin even when it causes health issues or gets in the way of work or family obligations
Klonopin Addiction Treatment Options
Anyone who has developed a Klonopin use disorder is advised to seek Klonopin rehab. Addiction is a diagnosable medical condition, and many people require professional intervention to recover. Most Klonopin treatment programs begin with medical detox, in which patients are supervised by medical staff 24/7. These programs provide supportive care and medication to keep patients as safe and as comfortable as possible as the body undergoes withdrawal.
Since Klonopin withdrawal can result in severe symptoms, including seizures, it is important to seek the advice of a medical professional instead of trying to detox on your own. After detox, patients should enter either an inpatient or outpatient treatment program to continue treatment.
Inpatient Rehab for Klonopin Addiction
Patients receiving inpatient Klonopin treatment live on-site at a facility. It is common for patients to transfer into an inpatient facility after completing detox, as these environments allow people to begin treatment without being faced with addiction triggers at home.
While in inpatient care, a variety of treatments are available, which can include individual and group counseling, medication, and therapeutic activities like yoga or art therapy.
Outpatient Rehab for Klonopin Addiction
After completing inpatient rehab, many patients transition to an outpatient program. There, they continue to participate in services like individual and group counseling, but they live at home and report to a facility for services rather than living on-site. Some patients may begin with an outpatient program if they have a supportive environment at home, or if they need to be able to work and care for their families while undergoing rehab.
Klonopin Addiction Treatment in Ohio
For those seeking Klonopin addiction treatment in Ohio, The Recovery Village Columbus offers a full continuum of care, including detox, residential services and outpatient care for those in the Columbus area and beyond.
Our 52,400-square-foot inpatient facility is conveniently located near airports and all that Columbus has to offer, but it is far enough from the city center that patients can recover in privacy. Our inpatient facility offers access to volleyball and pickleball courts, an exercise facility, an art studio and more, so patients can enjoy recreational activities while in recovery.
If you or someone you know is struggling with Klonopin addiction, please give us a call today. One of our addiction specialists will speak with you regarding your options. Help is only one call away.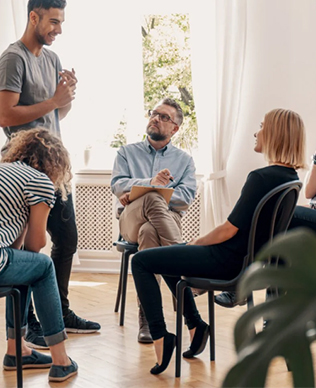 Questions?
Our Recovery Advocates are ready to answer your questions about addiction treatment and help you start your recovery.