Xanax Addiction & Abuse in Ohio
Last Updated: October 25, 2022
Jump to Section
If you are in an immediate emergency, call 911. If you are looking for more information on substance abuse treatment and it is not a medical emergency, call our 24/7 Xanax Helpline at 855-980-4768.
Xanax – the brand-name version of alprazolam – is one of the most commonly prescribed benzodiazepine drugs. These medications are typically prescribed to treat anxiety and panic disorders, as they help a person feel more relaxed by slowing activity in their brain and central nervous system.
While benzodiazepines can be helpful for many, there are still risks associated with these drugs — even when they're taken as prescribed. Xanax can lead to abuse, dependence and addiction, and it can easily cause a life-threatening overdose when combined with certain substances. This overview covers how Xanax addiction occurs, what risks it creates and how it can be treated in Ohio.
Understanding Xanax Addiction
Xanax is classified as a Schedule IV controlled substance by the Drug Enforcement Administration (DEA) in the United States. Xanax is fast-acting, meaning that the body quickly metabolizes it and its effects have a shorter duration when compared to other benzodiazepine drugs. These properties increase the likelihood that Xanax will be abused.
Xanax affects a brain chemical called GABA, which relaxes the brain and body. This is responsible for the calming, sedating effects of benzodiazepine drugs like Xanax. Unfortunately, these effects can also cause a Xanax addiction to develop, as a person may enjoy the sedation the drug provides or feel high when using it. Xanax and other benzos also activate a brain chemical called dopamine, which is associated with feelings of pleasure.
Another problem that occurs with benzodiazepine use is physical dependence. When a person is dependent on benzos, their body does not function the same without benzodiazepines and will undergo withdrawal when the person stops using these drugs. Withdrawal symptoms can cause extreme discomfort, leading people to return to benzodiazepines after they attempt to end use.
Withdrawal symptoms can be uncomfortable and unpleasant, but with Xanax, they can also be life-threatening. Benzodiazepine withdrawal can lead to seizures, which can be dangerous for patients. This is why a medically supervised detox program is essential for those who are trying to stop taking Xanax.
See More: What Are Xanax Bars?
Why do people abuse Xanax?
People abuse Xanax for various reasons. Its sedative effects are attractive to some people, and the dopamine release that occurs when people abuse Xanax can make the drug incredibly rewarding. One report found that nearly half of people who abuse benzodiazepines like Xanax do so to relax or relieve tension, and 22.4% do so to help with sleep. In addition, 11.8% of people abuse benzodiazepines to get high, and 10.5% are attempting to cope with their emotions.
See More: Commonly Abused Drugs
How do people abuse Xanax?
Xanax abuse occurs when the drug is taken in ways other than prescribed by a medical professional. For instance, if a doctor prescribes one dose of Xanax per day but the patient takes multiple doses, this would constitute abuse. According to research, the majority of people who abuse benzodiazepines get the medication from friends or family. Taking medication that is prescribed for someone else also constitutes Xanax abuse. People may abuse Xanax by taking it by mouth, or they may crush it up and snort it. People may also mix Xanax with heroin or cocaine.
Common Signs of Xanax Addiction
The clinical term for a drug or alcohol addiction is substance use disorder. Someone who has developed a Xanax addiction may show common substance use disorder symptoms, such as using larger amounts of Xanax than intended, using it even when it is hazardous and having strong cravings. For example, a person with a Xanax addiction may use large quantities of the drug and be unable to stop, or they may drive while under the influence of Xanax.
Keep in mind that addiction creates changes in the brain that can cause a person to continue using Xanax despite serious consequences. For instance, a person with a Xanax addiction may continue to use the drug even if they are unable to fulfill responsibilities at work or care for their children while under the influence.
Some signs that someone may be under the influence of Xanax include:
Lack of coordination
Drowsiness
Memory problems
Slowed reaction time
Issues with balance
Slurred speech
Continue reading at Signs, Symptoms and Side Effects of Xanax Abuse →
How To Avoid Xanax Addiction
Many people in America are living with anxiety disorders, and a number of these people could benefit from taking Xanax in the short term. However, they may be hesitant to start the medication because they are concerned about Xanax addiction.
The amount of time it takes to become addicted to Xanax depends on factors such as your physical and mental health, how long you take Xanax for and whether you have a history of addiction. Research suggests that people can become dependent on benzodiazepines like Xanax within three to six weeks, even when using them as prescribed. Further, 40% of people who take these drugs for more than six months will experience moderate or severe withdrawal when they stop using them.
The chances of developing a Xanax addiction are reduced if the dose is lower. However, there is still potential for abuse. If you are considering taking Xanax but are afraid of addiction, the best thing to do is speak to your doctor. If you do choose to take Xanax, it is important to take the medication only as your doctor prescribes it and to closely monitor side effects.
How To Help Someone Abusing Xanax
If a loved one shows signs of Xanax addiction, there are things you can do to help them. Numerous addiction treatment facilities are available in Ohio, with services ranging from outpatient care to intensive residential treatment. The most effective programs are also able to provide care for co-occurring disorders like anxiety or depression.
If you're concerned that your loved one is addicted to Xanax, it can be helpful to express your concerns in a non-confrontational manner. Be careful not to blame them for their problems or express judgment. Instead, offer your support and understanding.
To help your loved one get the treatment they need, consider the following approaches:
Finding Treatment for Xanax Addiction in Columbus, Ohio
If you or someone you love is seeking Xanax addiction treatment in Ohio, it is important to select an accredited facility that employs licensed professionals, such as addiction medicine doctors, counselors and social workers. You should also seek a facility that provides Xanax detox services or can refer you to an Ohio detox center so that you remain safe during Xanax withdrawal.
For those seeking Xanax addiction treatment in Columbus, Ohio, The Recovery Village Columbus offers a full continuum of services, including medical detox. Patients can begin Xanax addiction treatment with our medical detox program, which provides 24-hour-a-day support, and then transition into our inpatient or outpatient programs upon completing detox.
Contact us today to learn more about our treatment programs and get started on your journey to a healthier, Xanax-free life.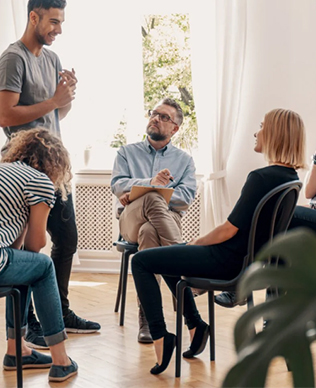 Questions?
Our Recovery Advocates are ready to answer your questions about addiction treatment and help you start your recovery.